Hosting a New Year's Eve and want more people to RSVP with a Yes? Here are tips for creating your New Years Eve invitation and get more people to come to your rocking party!
Plus, liven up your New Year's Eve invitation with these FREE awesome graphics! Patterns and character illustrations will be perfect to add to your New Year's Eve invitation. Don't miss out on this. Get your copy here for free and make your invitation (and other New Year's Eve visuals) so much more captivating.
Define Your Party
New Year's Eve party invitations are basically simple as with all other party invitations. It has to include details such as the date, the time, and the venue. However, there are certain details that you should specify depending on what theme, if any, your party will be having.
Family Party
Is your party going to be kid-friendly? Can people bring their babies or toddlers? You need to let everyone know if kids can tag along. You also need to inform them early so they can have time to arrange for a babysitter.
Booze For All
Will you be providing the drinks or is it going to be BYOB? You don't want your New Year's Eve party with every guest being under-intoxicated unless you specifically say so in your invites.
What To Wear
If it's going to be a themed party, let your guests know what they'll wear, what they'll bring, and what else they can expect. Sure you want it to be all fun and want people to come as they are. But you don't want anyone being left out of the fun of dressing up for the night.
The Wordings
Parties are about having fun so don't stress yourself too much just figuring out what to write on the New Year's Eve invitation. Of course, having a guide can make the task easier, here are some samples you can try. Remember that these are not hard and fast rules, explore your options to make them suit your party needs the best.
A dance party sounds wonderful,
Let's rave and jive on New Year's Eve.
Come join us.
Rose and Jack Peterson
request the pleasure of your company
as they get ready for the New Year
on Saturday, December 31
at 8:00 p.m.
123 Freedom Avenue
City, State
As mentioned above, let them know if kids are welcome:
Come Join Us For
A New Year's Eve Celebration
Friday, December 31, 6-10 PM
We'll Be Having Cocktails And Appetizers For the Adults
Spaghetti And Sodas For the Kids
You should also be specific to avoid confusion among your guests:
The New Year
2020!
Join Us for a Party
and Champagne Buffet
on December 31st at 9 p.m.
Anthony and Marie's Home
12345 Olive Place
City, State
BYOB – we'll have non-alcoholic drinks and champagne to serve at midnight
Or something more with more details such as this:
The Countdown is On!
Join Us For Dinner and Drinks
As We Ring in the New Year!
Monday, December 31st
9 pm until whenever
Paul and Erika's Residence
1234 Street Name,
City, State
RSVP before the 15th to Erika
You can also bring booze and food
if you want something special.
Don't forget to arrange for a ride home!
Where Social Media Comes In
You can always trust the mailman to deliver your invitations. But getting them on social media can spread the word around more easily and quickly. If you want a successful New Year's Eve party, create a digital version of your invites and post them on all your social media accounts.
Go Out of the Box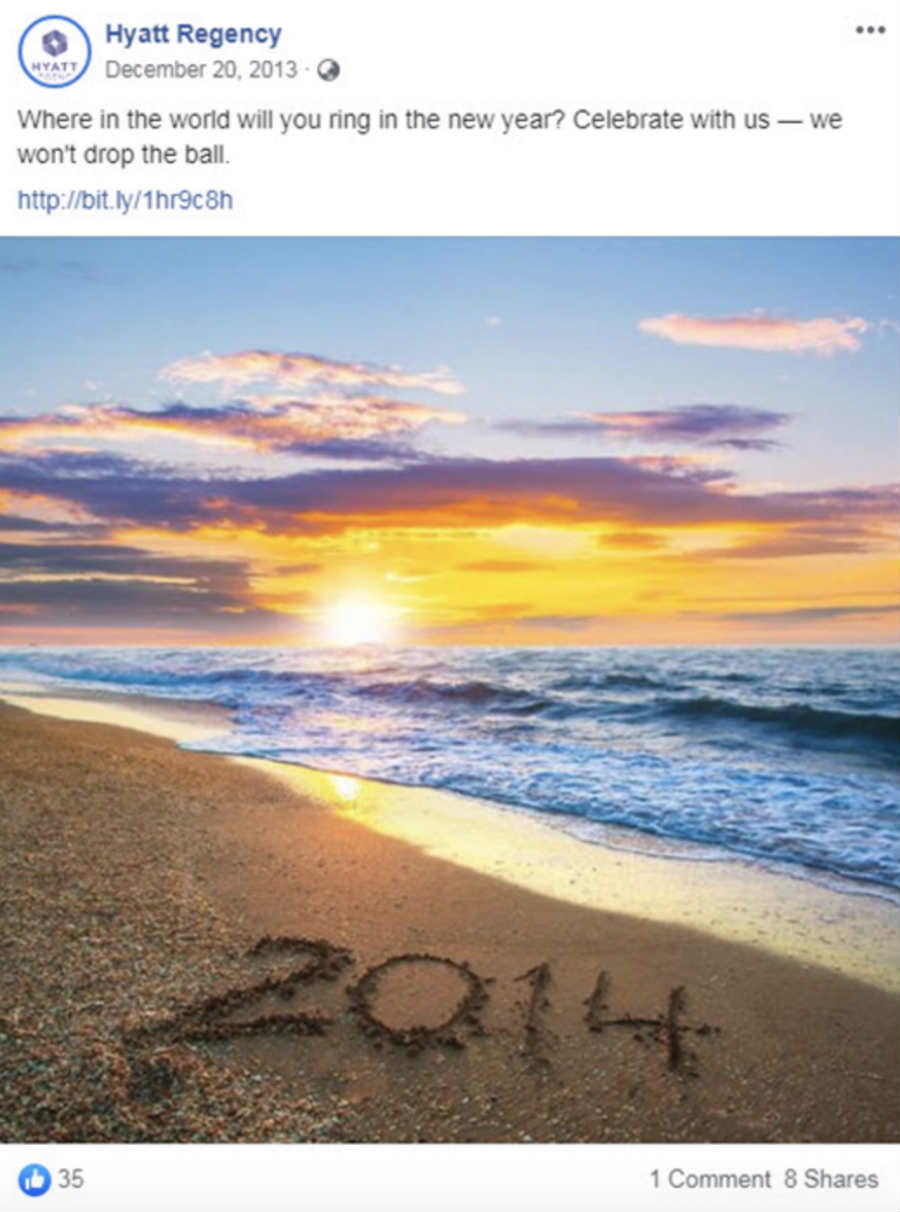 If you have a business and are planning to host an event for your customers, create invitations that will catch their attention. New Year's Eve parties abound and you must make people come to yours instead of theirs. You need to post social media invites that are engaging and eye-catching. This example from Hyatt Regency is a good example of going out of the box.
Forget the ball drop and the cold, freezing weather. This Facebook post for the New Year's will definitely grab the attention of your prospects. It suggests a different type of celebration wherein you lounge on the beach instead of being in a crowded street with a multitude of strangers.
The Traditional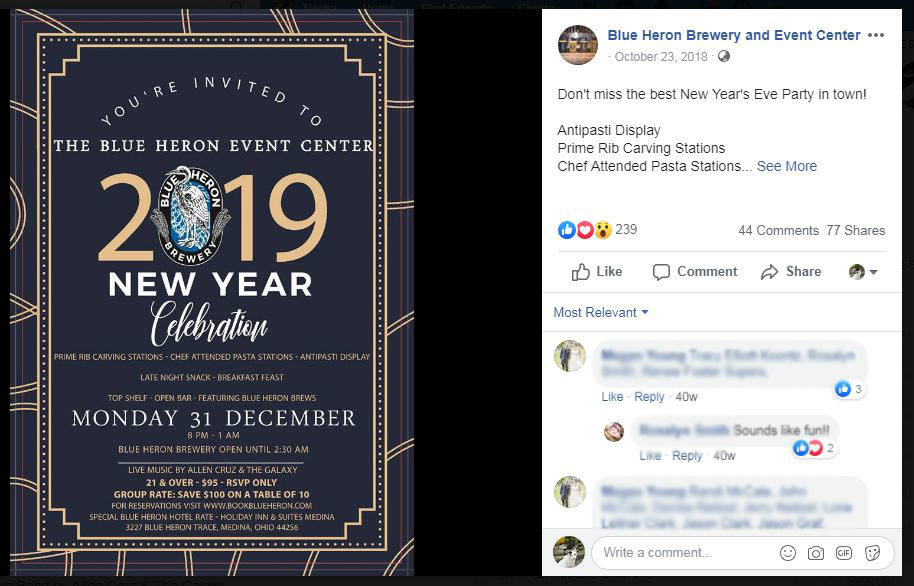 Of course, there's nothing wrong with going the traditional way of celebrating the New Year. This invitation from Blue Heron Brewery and Event Center has a festive look that's familiar with this type of event. The color combination of blue and gold, and the different types of fonts create a joyous and merry ambiance.
Kid-Friendly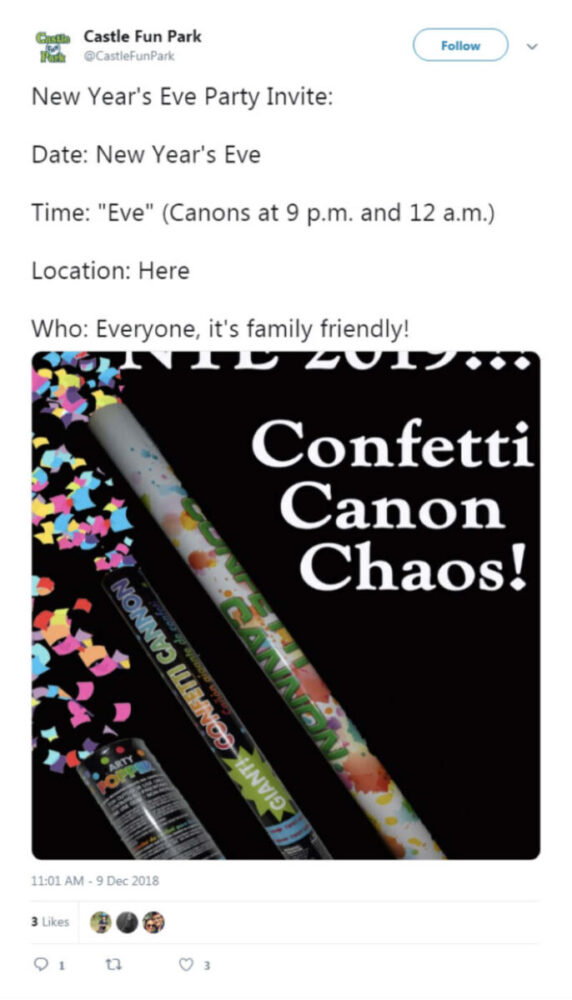 This New Year's party invitation from Castle Fun Park specifically says Who: Everyone, it's family friendly! The layout is superb as there are lots of open spaces. Plus, the addition of the images of a confetti cannon and art poppers translate to fun and chaos indeed!
A Unique Way to Celebrate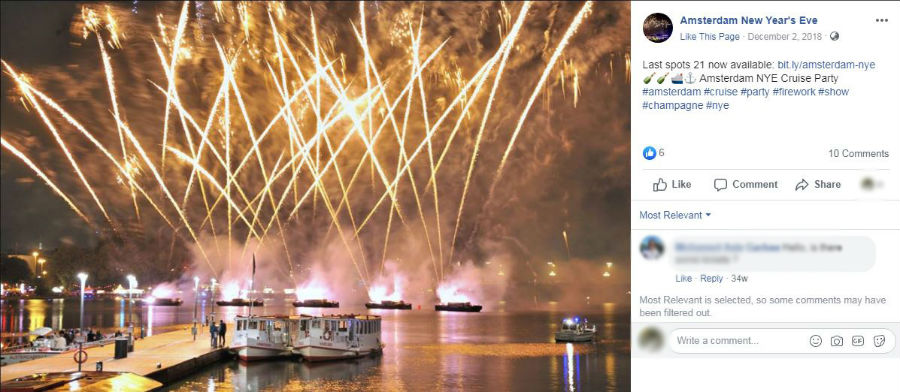 You don't need to be a design genius to create invites that are attention-grabbing. This invitation from Amsterdam Cruise is a perfect example. Just a photograph of their cruise ship on New Year's Eve is inviting enough to join them for the party.
Graphic Design for Your Invitations
A big part of hosting a New Year's Eve party is to make the experience memorable for you and your guests. Whether you're hosting for your family and friends or for your business, having a good time is the first and foremost consideration. A great New Year's Eve invitation can add a special touch to your event.
There are tools you can get to help you create the most ideal invite. But having a professional design team can create ones that will make an impact. Hosting an event can take a lot of your time and effort. And having someone take the designing off your shoulders is not only a welcome perk but one that would make the invitations more appealing and more engaging.
Use Penji for Your New Year's Party Invitation
We highly encourage you to try Penji's services as they have a user-friendly app that anyone could instantly navigate through. We will give you a quick overview of how the app works. It will only take you three simple steps to get your design.
Sign up and Click New Project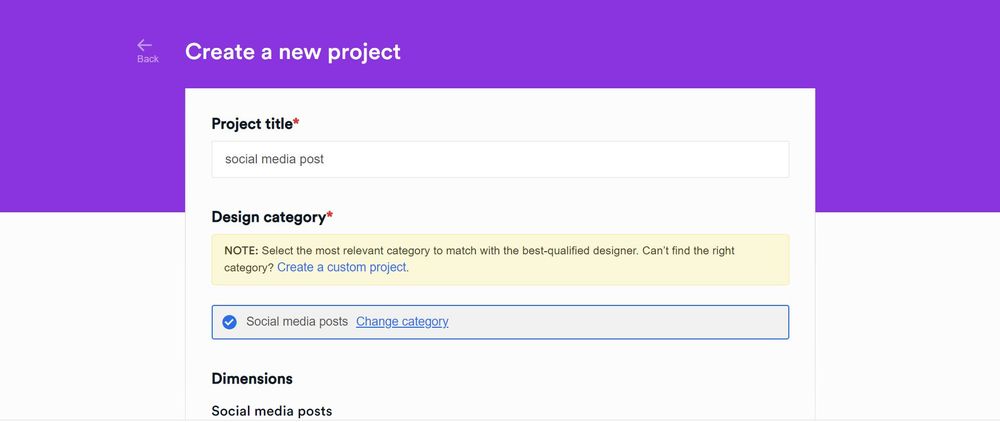 First of all, you need to sign up with Penji so you can access their platform. From their dashboard, click the New Project button. It should take you to a new page where you can send your project details.
Give as much information as you can to the designer. That way, they can easily visualize what you have in mind. If you have samples and other icons you want the designer to include, send those as well.
Revise the Initial Project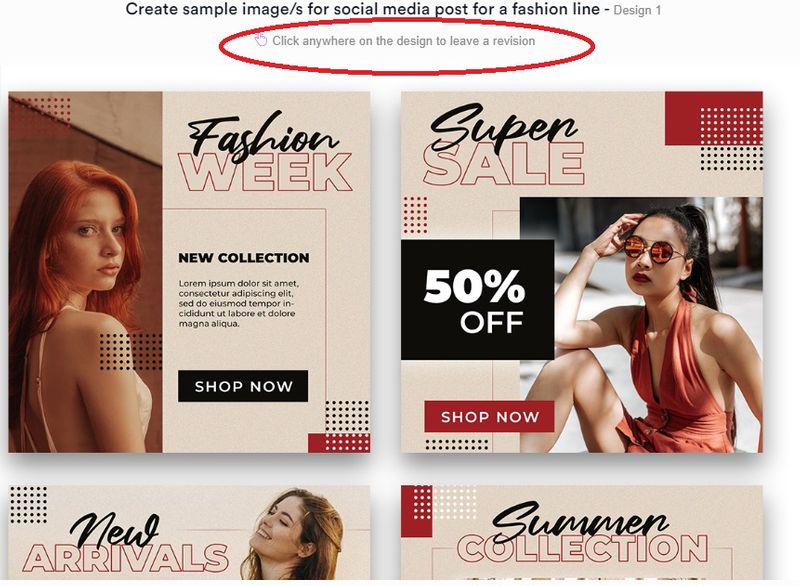 You will receive the initial design within 24 – 48 hours. If there are points for improvement, you can click the image, and a comment box will pop up. Type your feedback directly so the designer will know exactly what needs to be done.
Download and Send Your Invitations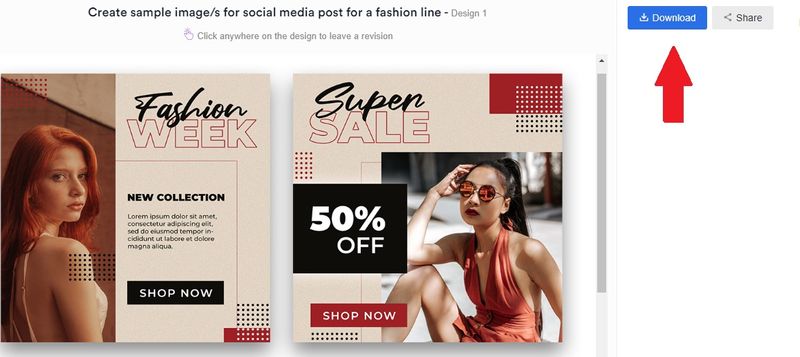 Everything looks perfect? If it does, you can now download your invitation and start sending it right away. You don't even have to wait for the designer to send the source files to you. These are always ready.
Penji has made its services accessible and affordable, most especially for startups. If you want to get impeccable invitations, try out their design plans right now.