Nowadays, so many people rely on the internet for mental health information. When we experience symptoms, our first thought is to Google and find out what they mean. Thanks to some of the best mental health websites by offices of mental health, organizations, and startups, people can find guidance during difficult times.
Design matters, especially when people are looking for vital information that could impact their lives. In this post, we'll explore some of the best mental health website designs.
What Do Mental Health Websites Offer?
Educational Resources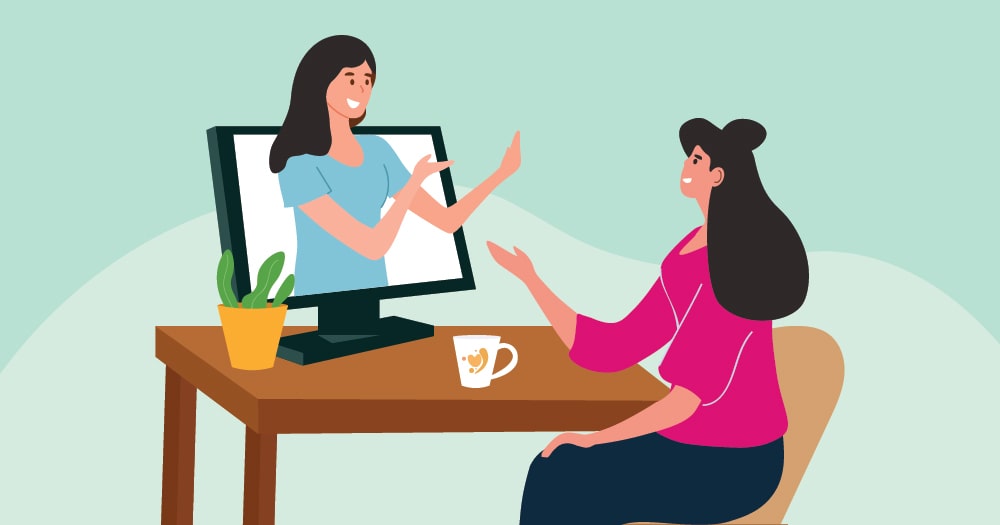 One of the best things any mental health website can offer is resources. From mental health conditions to self-care tips, you can use these resources for yourself or help others. Remember that while resources give you information, it's not a way for you to self-diagnose. A website or organization will educate you on mental health conditions, but you can reach out to psychiatrists if you need a diagnosis.
Access to Therapy
Therapy is a way for people to get treatment for their mental health conditions. And mental health websites can connect you to mental health therapists. Some are affiliated with therapists, but others provide only a directory to refer you to a therapist. Several websites would sometimes have free online chat therapies, and you can reach out to mental health professionals if you decide to push through with it.
Connection with Others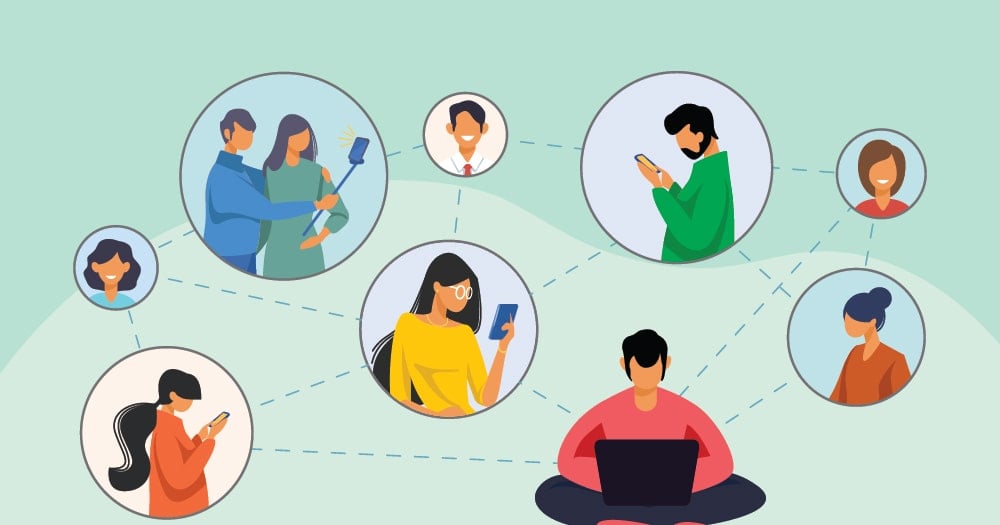 We've all heard the saying, "you're not alone." And that's the case for some mental health websites. If you're not ready to see a therapist yet or want to speak to others about what you're going through, talking to others through online communities can become helpful to you. Some websites might offer free online therapies through chat OR talking to others like forums or chat rooms.
10 Best Mental Health Website Designs
Aside from informational resources, mental health websites may offer recommendations for starting your self-care journey. For example, some websites would have meditation or CBT apps. This allows you to become independent if you're no longer going on therapy. Or you need extra therapeutic help to do by yourself.
1. The National Alliance on Mental Illness (NAMI)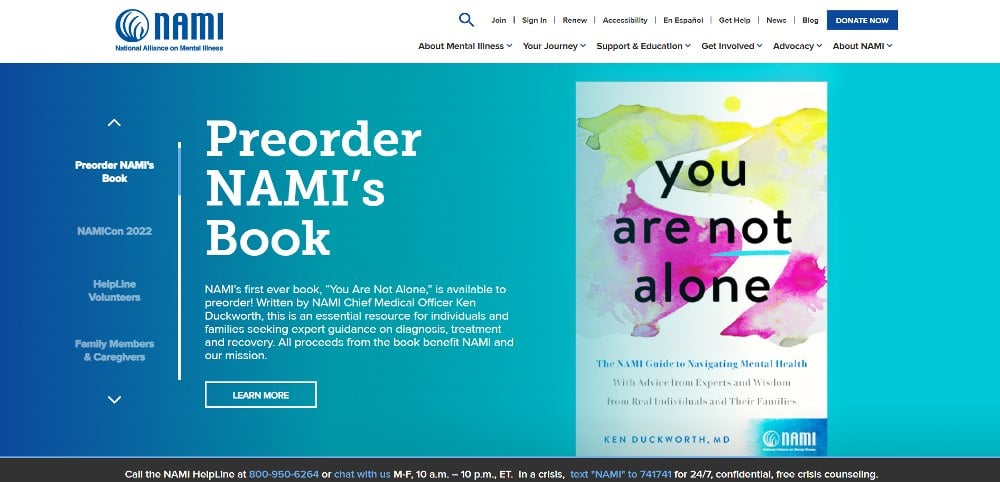 The National Alliance on Mental Illness is one of the leading organizations on mental health. And they have comprehensive resources and information about all things mental health. Whether you're a mental health provider or patient, you can get educated on conditions, help yourself and others, and become a volunteer or donor.
2. Psych Central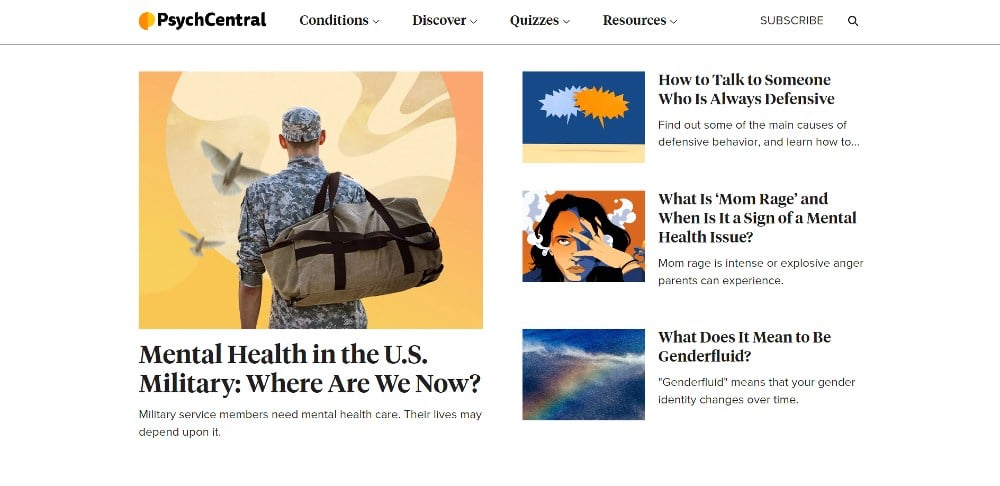 You don't need a psych degree to read things from Psych Central. This mental health website design is similar to NAMI, where you can read resources about mental health and well-being. But what makes it different from the organization is you can also answer quizzes and subscribe to their email newsletter. Plus, they make the topics easier to digest and read and have different information regarding conditions, such as ADHD, anxiety, and bipolar disorder.
3. Headspace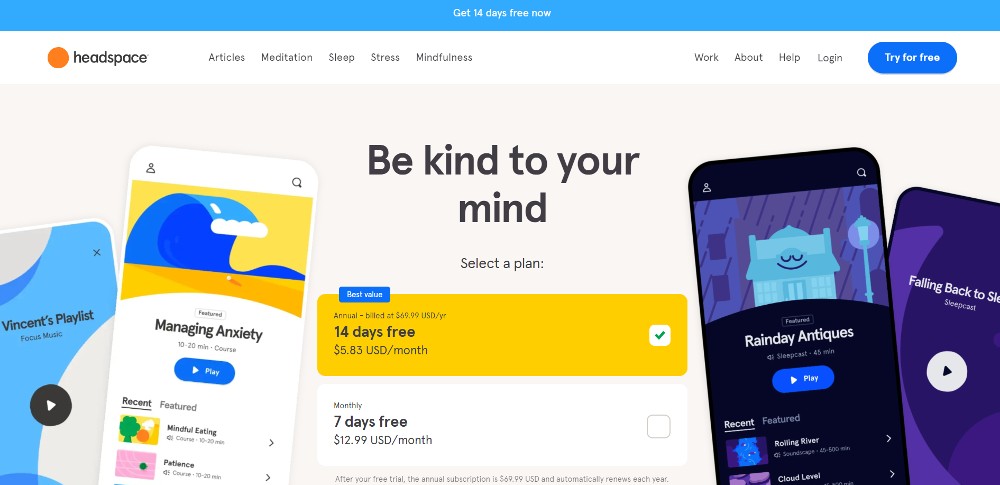 Headspace is a well-known meditation and mental health app. But visitors can also read articles about meditation, stress, mindfulness, and sleep-related articles. And if you're interested, you can subscribe to the meditation app through the website. Plus, they offer a list of global mental health resources to guide users in seeking help.
4. VeryWell Mind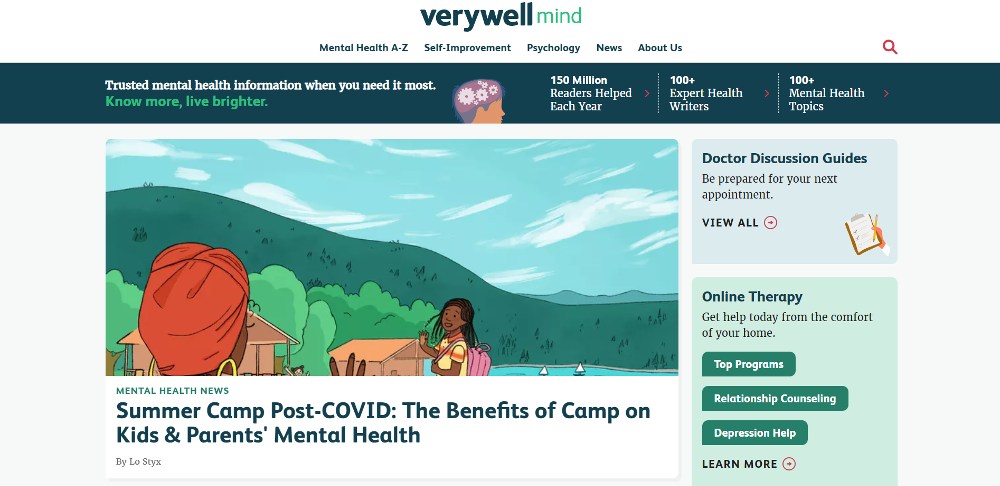 Similar to NAMI and Psych Central, VeryWell Mind is another resource to consider. But VeryWell Mind assures its readers that its resources are created by experts or medical professionals to ensure accuracy. Not only do they provide resources, but news too. Also, you can listen to their mental health podcast, where they feature famous guests and discuss mental health strategies and conditions.
5. BetterHelp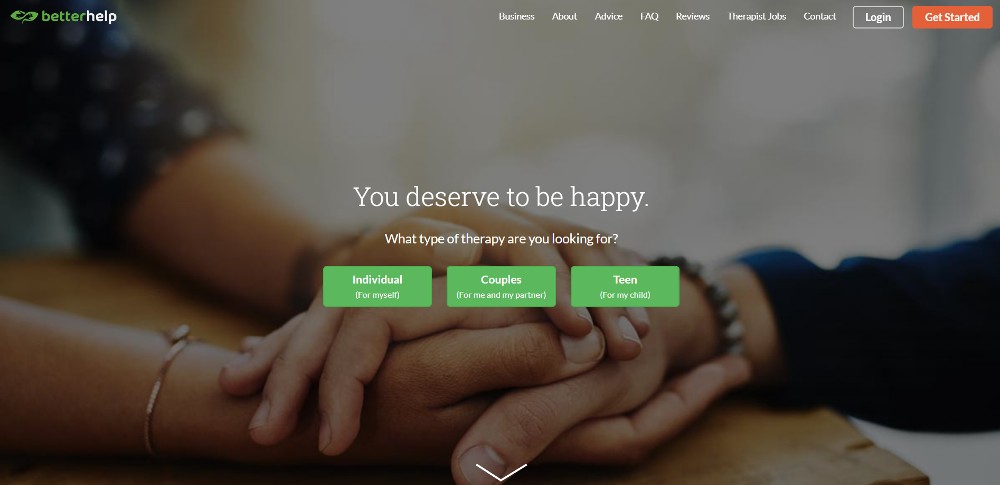 Although BetterHelp is a mental health app, they have an official website where you can read about how they can help you. You can read blog posts that serve as resources here. And if you're a business that wants to partner with BetterHelp for your organization, you can also get more info. Plus, providers get an opportunity to apply and become a therapist on the platform.
6. The Mighty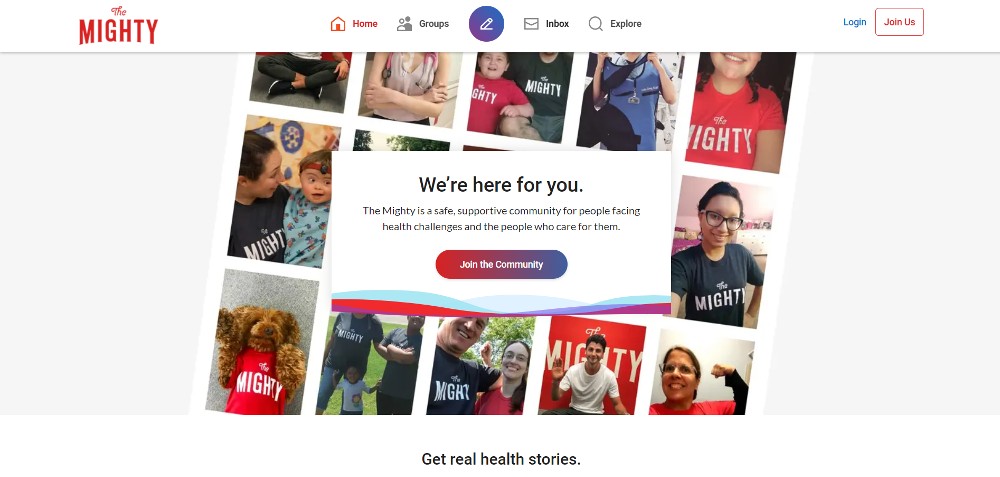 If you want to share your stories and connect with others, you can try The Mighty. It's an online community where you can submit stories about your health. Although their community is for health in general, you can share your mental health stories too, since they have communities for mental health conditions. Here are some of the available communities:
ADHD
Acute Stress Disorder
Anxiety
Bipolar Disorder
Borderline Personality Disorder
Depersonalization Disorder
Depression
Dissociative Identity Disorder
Generalized Anxiety Disorder
Major Depressive Disorder
Mood Disorders
Obsessive-Compulsive Disorder
Post-Traumatic Stress Disorder
7. 7 Cups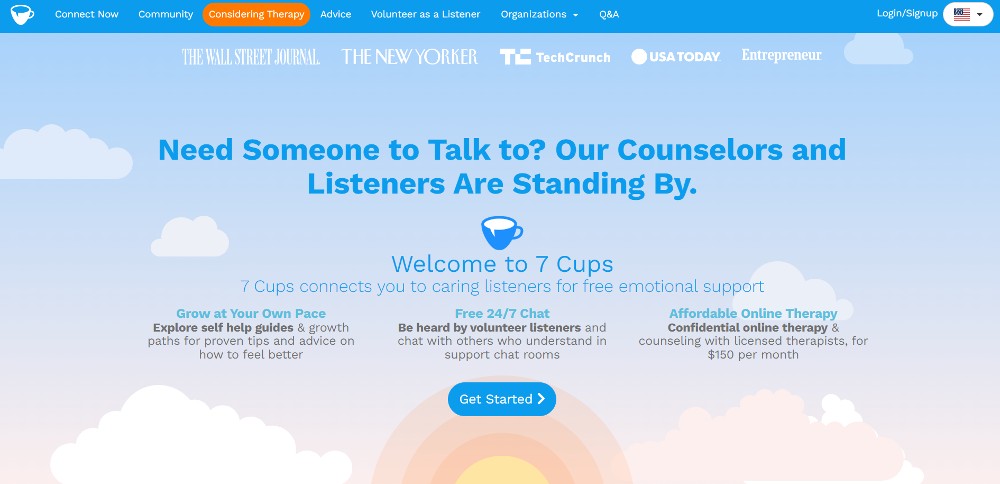 This mental health website design is like The Mighty. But the difference is that 7 Cups is focused on mental rather than general health problems. Here, you can sign up for free and talk to a listener if you want to talk about what's in your mind. Also, 7 Cups will connect you with a listener in a few minutes. Talking to a therapist starts at $150/mo.
8. Happiful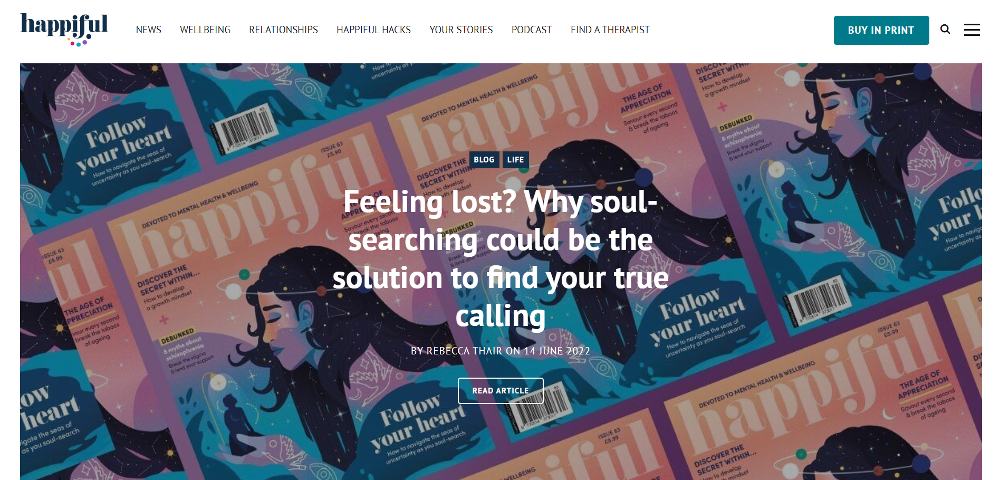 If you want to read about mental health stories, why not try reading from Happiful? Their goal is to destigmatize mental health by publishing relatable stories and providing information through their podcast. Plus, you can find a therapist through the Counselling Directory, a UK-based therapist directory.
9. Psycom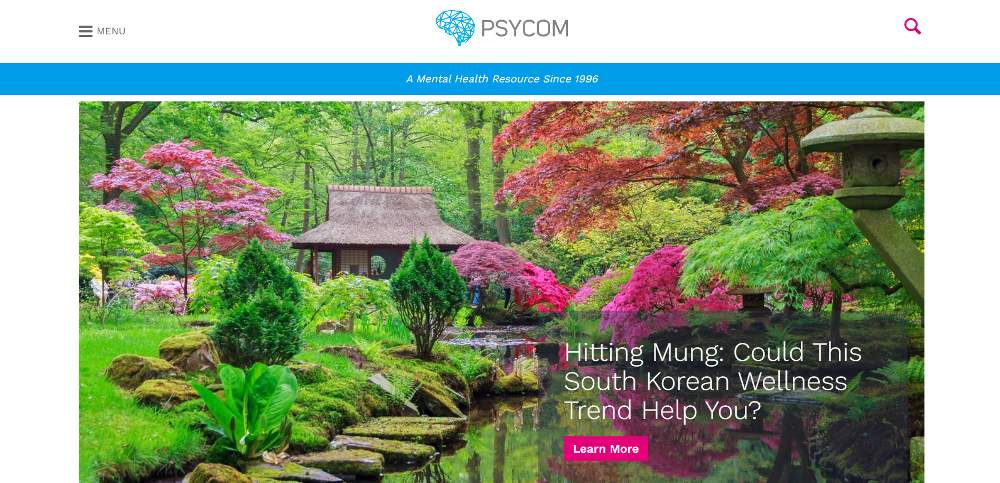 Psycom is one of the oldest mental health websites you'll ever stumble upon. They have been providing resources since 1996. Similar to NAMI and Psych Central, you can get info about mental health conditions and read articles about medications, living with mental health conditions, and self-care practices.
10. Calm Sage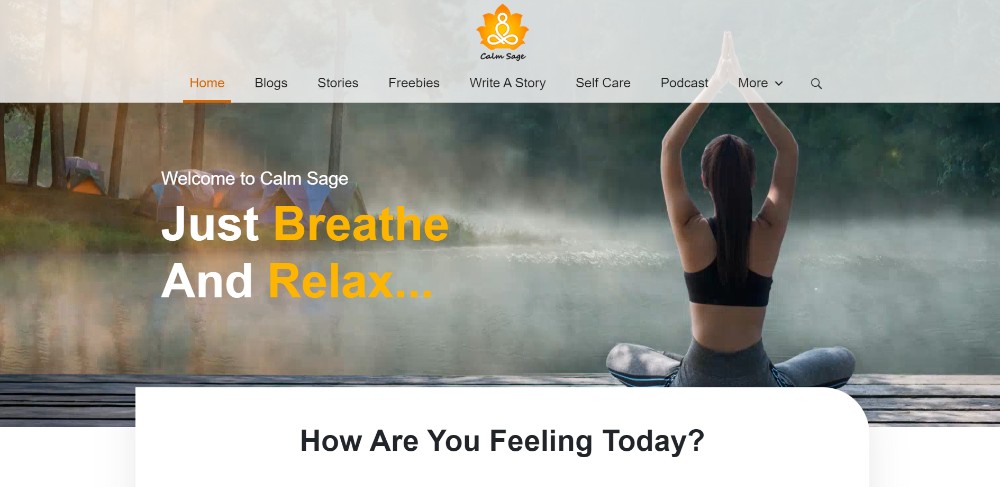 Make your story and journey known by submitting it to Calm Sage. Most stories shared on this site tell us about the triumphs people have achieved in their mental health journey. You can also read their blogs covering topics such as therapy, wellness, motivation, happiness, self-care, depression, communication, and relationship.
Design a Mental Health Website with Penji
Are you a mental health startup or organization that needs a user-friendly website or app? Penji is here to help. Our designers create logos, promotional materials, web designs, and anything that helps you get your message out.
Our turnaround time is as little as 24 hours, and you can request all the revisions you need until the project is perfect. Rest assured, your web design is in good hands with us.
Subscribe here and try Penji for 30 days risk-free.