Quality sleep is an essential factor in maintaining one's physical, emotional, psychological, and mental well-being.

Experts agree that a good night's rest brings numerous benefits. Some include maximized athletic performance, improved productivity, better mood, and a healthy immune system.

Unsurprisingly, many people strive to invest in products that promise a good night's slumber. White noise machines, sleep sprays, weighted blanket, memory pillows, and mattresses with the best features, to name a few.

According to statistics, the mattress industry in the United States alone generates an annual revenue of $7 billion. Over 35.9 million mattresses shipped yearly, including international and online purchases from mattress website platforms.

Moreover, these numbers are not likely to dwindle anytime soon. A study revealed 9 out of 10 respondents believe a comfortable mattress is essential in getting restful sleep.
15 Excellent Mattress Website Designs
Here are some of the online platforms that offer unique graphic design.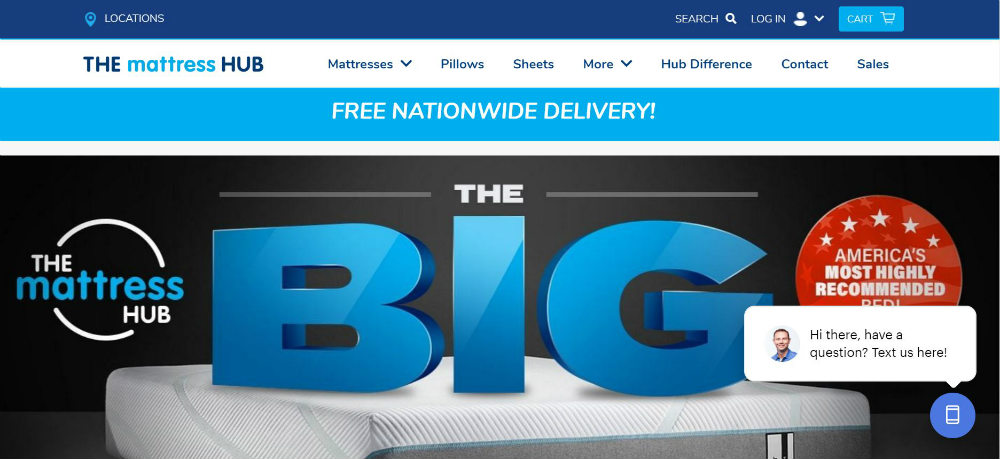 The founder of this Kansas-based mattress business believes that sound sleep is crucial for people to be their best selves. The website's color palette mostly consists of blue hues, including cobalt and ultramarine. Blue evokes feelings of peace and calmness. This palette is an excellent choice for a business that banks on the promise of providing consumers with better sleep.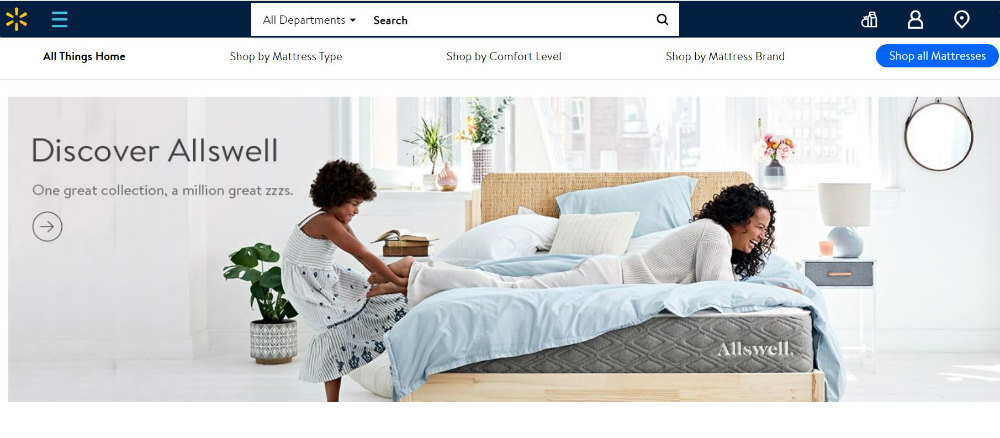 Despite being a generic retail company, Walmart makes it to our list of excellent sites. Simply because of their superb choice in images to highlight on their mattress page. It invites photos of families enjoying bonding moments on the mattress. Moreover, the website also features illustrations of mattress types like memory foam, innerspring, gel, and hybrid. This helps familiarize browsers with conventional categories.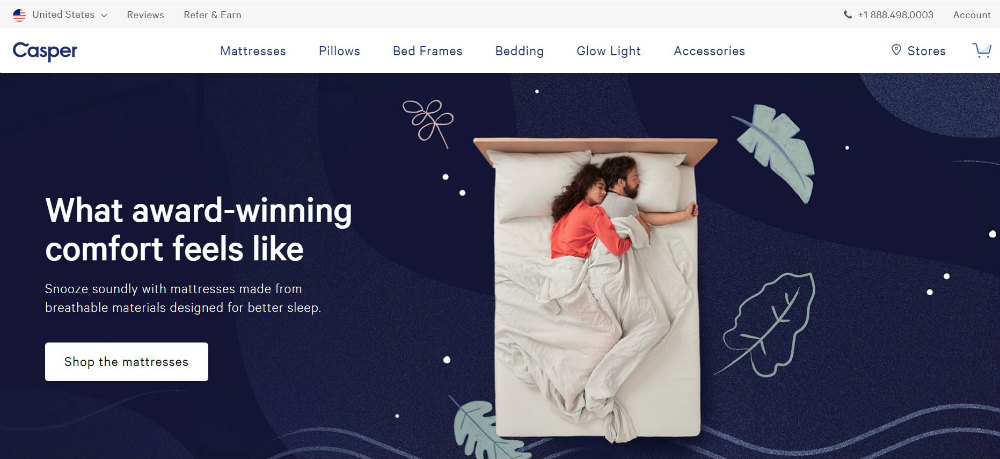 Casper's website features a color palette that includes calming hues of ultramarine, navy, and cornflower. The company prides itself on being a business built on years of studying the magic and science of sleep. The site features excellent visuals that combine outstanding photography with creative illustration. Most photos are very well-composed, just about any image on the homepage can be used for a Facebook ad.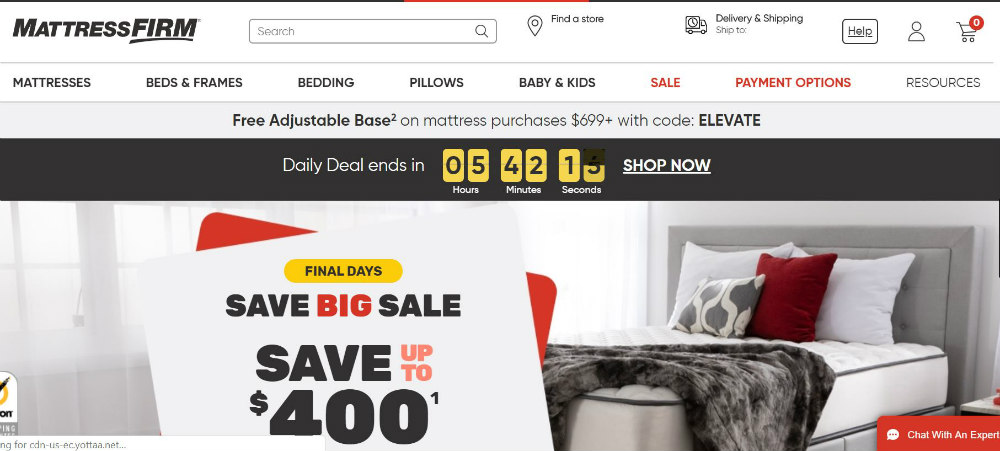 Most mattress website palettes displaying blue hues. Mattress Firm goes against the tide and opts for a white, red, yellow, and dark gray palette. The website doesn't look like it's trying to evoke calm. Instead, its striking crimson color and the graphic design's bold geometric shapes elicit vigor and energy.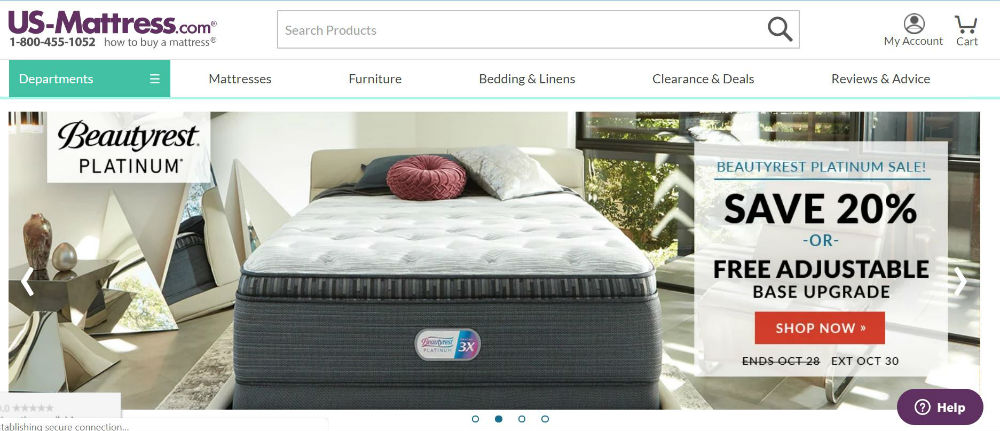 This Michigan-based company takes pride in offering a vast selection at affordable prices. The website canvas is white, with a few bright colors speckled as accents. Some are Egyptian blue, seafoam, dark orange, and red. The layout of the site, combined with the logo, and the choice of images exude enthusiasm and dynamism.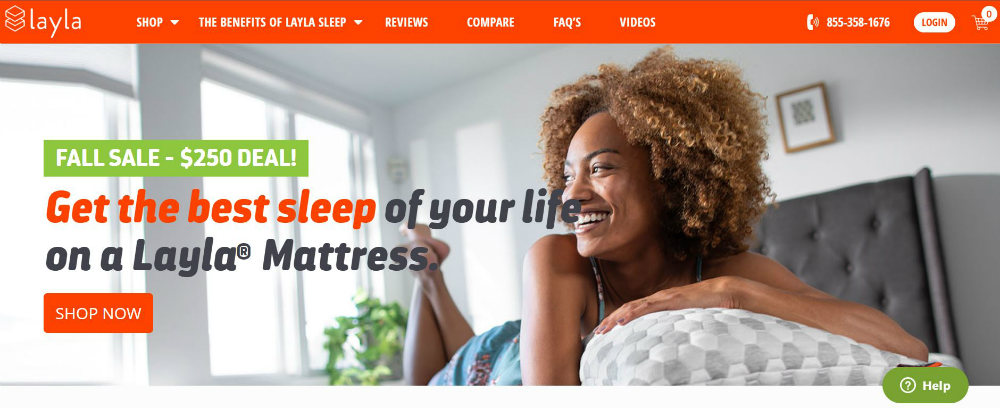 The orange-red hue of Layla's website, coupled with lime green accents creates a vigorous aesthetic. It encourages visitors to know more about the product. Furthermore, their copper mattress is purportedly excellent for "back sleepers, side sleepers, and twisted into a pretzel sleeper." Lastly, the company's fun and creative branding shine through in their online platform.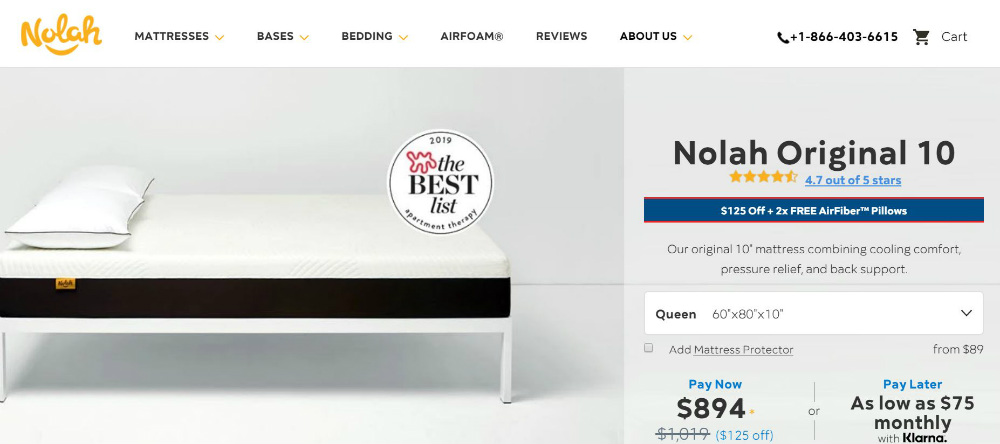 Nolah's logo and tagline, "Start Waking Up Happy," might look and sound giddy. However, all the other design components of its website are very professional-looking. They strike the right balance between fun and reliable.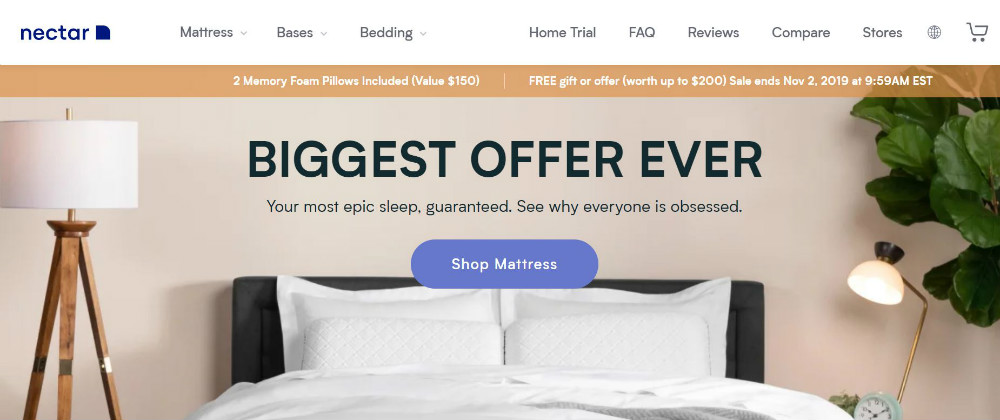 Nectar's website features a straightforward design with clean lines and smart use of negative space. The color is mostly white, accented with a touch of beige, tan and periwinkle. The neat layout is conducive for browsing. Lastly, the simple illustrations used throughout the site also helps to get their message across effortlessly.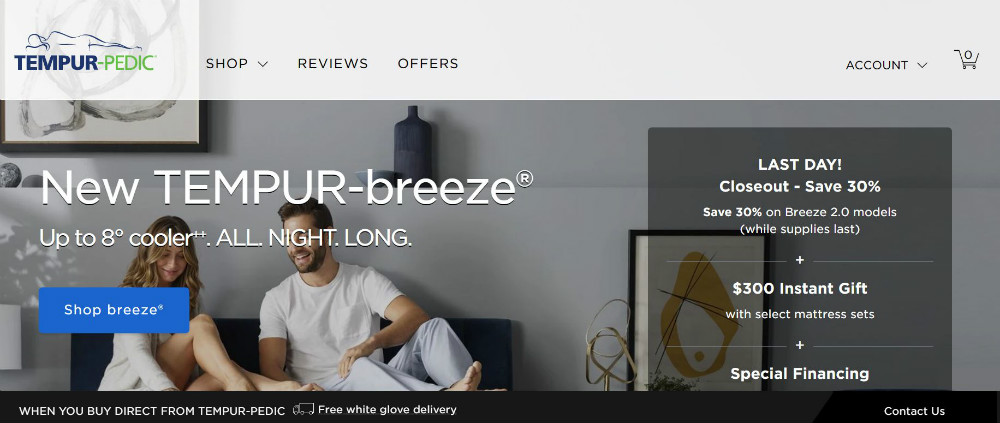 This mattress provider's unique selling proposition is the material's ability to adapt to the body's shape and weight. Moreover, they also highlight their mattress' pressure-relieving power that's purportedly 2x better than other brands in the market. Their eCommerce site reflects their USP: their logo shows wavy lines that portray a person lying on the side.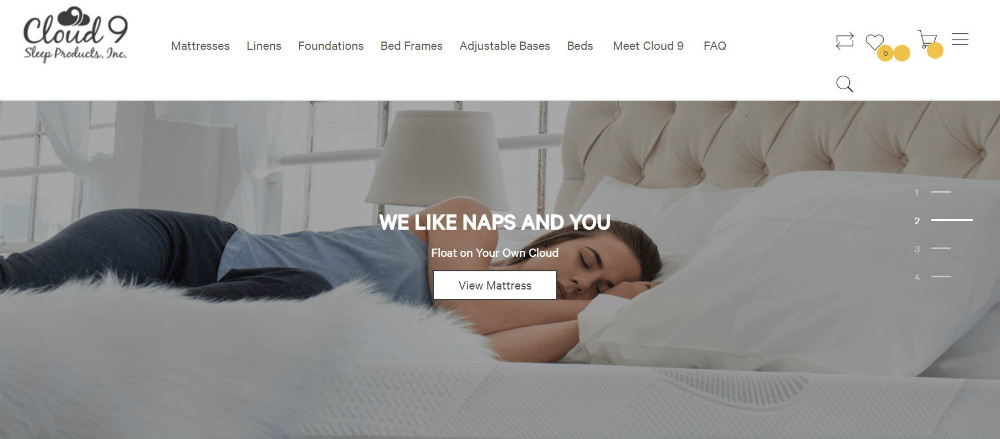 The appeal of Cloud 9's homepage relies on witty copy and excellent photos that complement the message of the text. The website offers a minimalist, mostly white look and neat layout that doesn't overwhelm the browser. These factors go well with the straightforward sans serif font used throughout the site.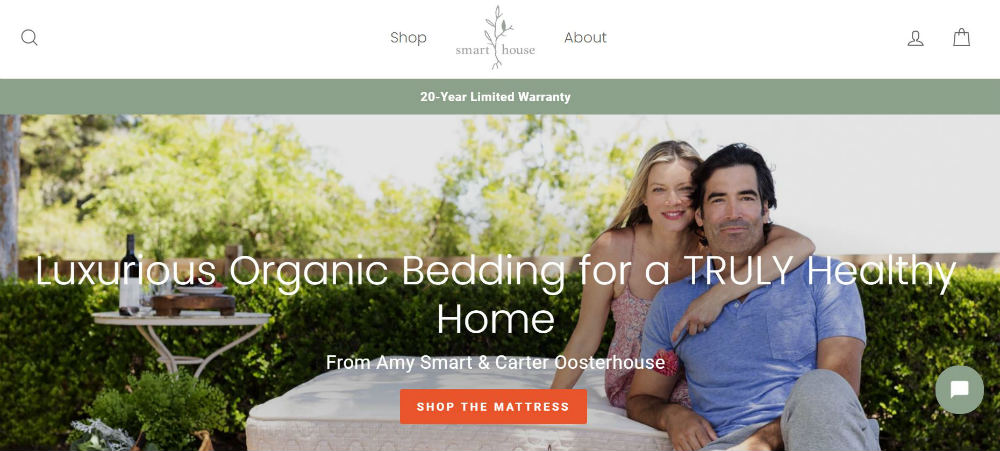 Smart House's branding banks on providing "luxurious organic bedding for a healthy home." This vision shines through its logo, which features an image of a plant at the center of the text. The white, sage and gray palette of the website makes for a delicate aesthetic. On the other hand, the salamander accents give it a pop of color.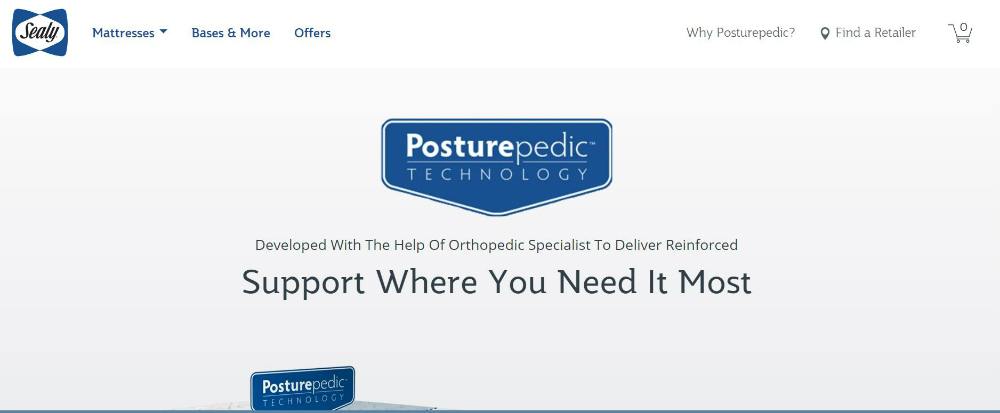 Other mattress brands try to assimilate a cozy, and homey feel. However, Sealy goes for the opposite end and opts for a professional look. This design technique makes the company appear dependable and trust-worthy. Likewise, any site visitor would instantly perceive it to be a company that knows what it's doing.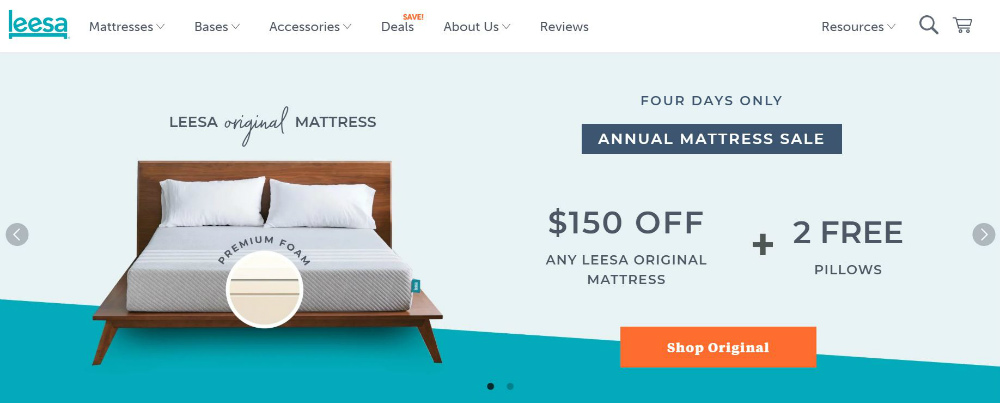 Aside from its memorably clever logo, Leesa offers a unique visual branding that paints the company as professional and familiar. The website uses a simple sans serif font, inserting a handwriting-style word in between. The cool colors complement the brand's teal logo. Lastly, they also run consistently throughout the site complemented by warm, neutral colors of wood.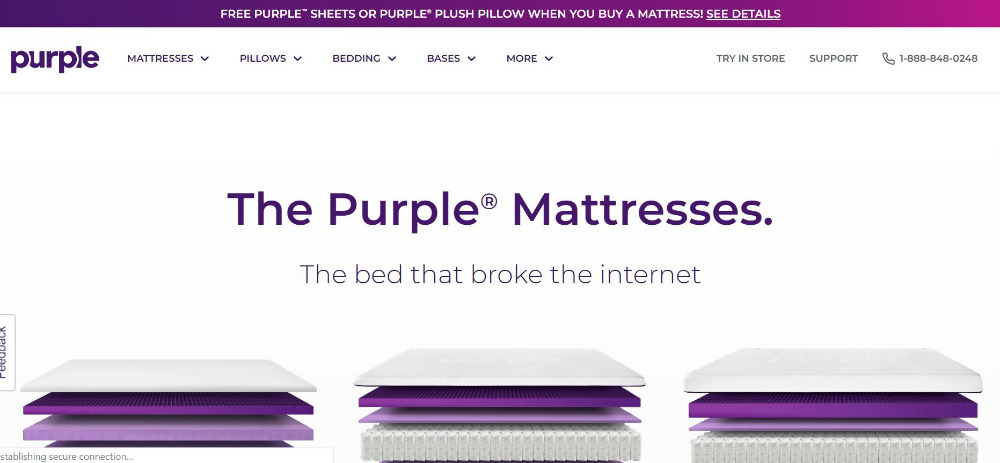 True to its name, this company's online platform displays a palette of purple, white, and magenta. What's great about their website is how it makes the most out of graphic design. They strive to best explain the composition and feel of their products. Their homepage, for example, features images of their primary products, clearly showing each individual layer.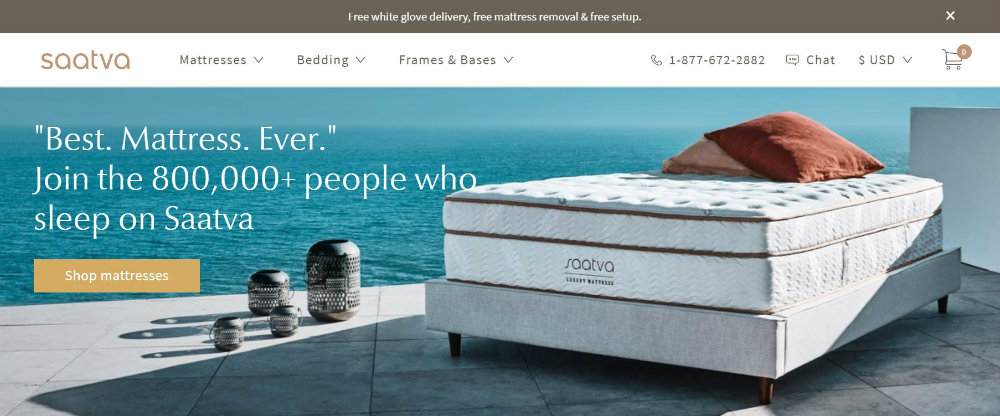 Saatva, New York-based company, specializes in luxury mattresses. They provide premium products that come with free white glove delivery and 24/7 "friendly sleep guides" customer service. The mattress website design depicts its brand identity as a business that offers opulent products. Its minimalist color palette of white, sand, tan, and black makes for an excellent canvas for beach-themed product photos.