15 Best Ways To Make Your Online Ads Stand Out
by Taylore Bryant, 04/25/18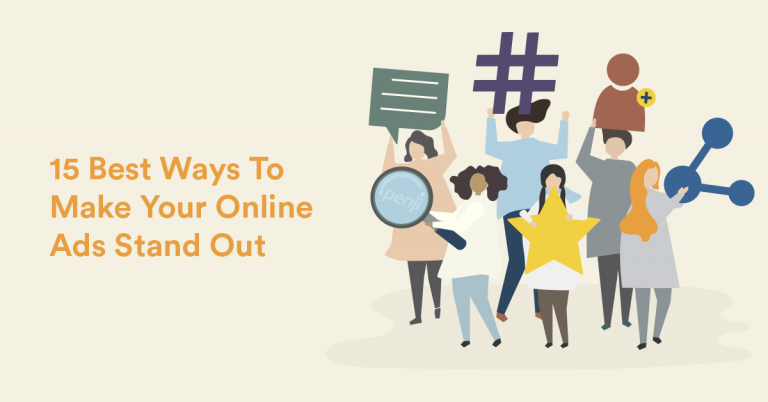 The internet has revolutionized modern day advertising. It has made it possible for small businesses to compete with large ventures on a fairground. Stand out advertisement may seem like a hard task. There are times it can feel like an elusive matter. Attention is exceedingly valuable. Make sure you tap into your potential for grabbing attention and hold on tight. Your business goal should be to make online ads that are memorable and unique, while at the same time engaging potential customers. Business is a science and sticking with what has worked in the past, may not benefit your business in the present times. Below are fifteen ways your online ads can stand out from the competition.
Originality
If your messaging relies on clichés, it's not going to resonate with any of your customers. Instead, find an angle that nobody has taken before. Follow the fads but put your own personal twist to it. Develop an image and tone that are your own. If you attempt to copy a competitor's ads, people won't have a reason to choose you instead of the competition. Do the research and know what your company is up against. You will also know exactly how to grab the attention of your target audience in an original and captivating way.
Be bold
Risk almost always leads to reward in branding. The boldest online ads aren't afraid to experiment with new techniques. This could mean taking a stance on controversial issues within the industry, or being the first to do something other companies might fret from. Offer ads with content and information that can't be found anywhere else. Unique points of view and opinions on important subjects with lots of supporting information tend to have higher viewership and engagement rates.
Identify your audience
You need to know your target market before you try to sell to them. This is an important step in any advertising strategy whether it be on or offline. Define an aspect of your brand that you can keep referring back to, to study the needs and wants of your audience. The right placement of your ad is just as important as purpose. Knowing when your audience is most receptive to your ad campaign will save you time, money and energy. Again, this may involve research and digging in to your target demographic. Ads aren't just pretty writing, they involve planning.
Don't make it harder than it has to be
Over explaining is just as harmful as not explaining your point or position well enough. Bulky tomes are awesome, but they are more suited to specific tasks. Your ad should cut the filler and get right to the topic at hand for your audience. A stand-out advertisement might seem like a hard task, indeed. It can often feel like an elusive matter, a rare substance. Rarity, however, adds value. And attention is extremely valuable. Make sure you tap into your potential for grabbing attention and hold on tight.
Display relatability with humor
Humor is the easiest way to related with your customers. Humor and sarcasm doesn't necessarily work for every brand. Your ad content and campaign need to reflect your brand voice and resonate well with your target audience. Done well, it works. Fail to hit your intended results and it can be an advertisement catastrophe. You decide if the risk is worth the reward.
Video
Innovated ads integrated with motion is a desirable combination that gives your business the opportunity to engage with consumers on a more intense level. Many videos ads on social media feature autoplay, so your ad shouldn't rely on audio alone. Your audience may not be listening, but they will always be watching.
Understand your competition
You should have a firm grasp on what the "other guys" is providing. The goal is to know what is out there so that you know exactly what isn't being done. Keeping track of your online presence against your competition may not necessarily help you with return on investment, but it will help you establish what is working for your business and what is not working. Explore your industry's top individuals and see if they can have any valuation in swaying your target audience's opinions.
Switch it up
Social media adverts make the mistake of constantly reusing the same ad copy in all of their campaigns. Network savvy users are likely to get tired of reading the same thing over and over again. When not corrected immediately, this will negatively affect your click- through rate. WIn both cases, there are a few best practices to keep in mind when constructing your ad copy. When creating new ads incorporate some sense of urgency and Include action verbs. This will entail people to pay attention to your ads while simultaneously increasing your viewership.
Multiple ads
Use ads in particular campaigns in a series of multiple ads that are each designed to appeal to a variety of users. Feature images with a different designs and content that might appeal to different groups of your target market. Each ad is able to target a very wide range of people. By using a campaign of multiple ads instead of one, your business is able to use one strong and coherent concept. You will also have the ability expand it a little further in terms of direct market targeting by using different people and genres. In shorten able to appeal not just to one specific type of person, but people who might benefit from your business as well.
The Headline
Make your headline newsworthy! People scan ads quickly. They come in contact with so many advertisements online, there was probably an ad popup on this website, that they can't possibly read each one. A release of a new product is great for keeping existing customers in the know. Most headlines are specific in their facts. Some headlines will even use negative angle to stand out. Instead of a header like "increasing profits" a headline like "cutting cost" might be more eye catching to the consumer whos looking to save money. This is why you have to make sure that your advertisement actually grabs people and, most importantly, keeps their attention.
Create a sense of urgency
Your ads need to use exciting words and persuasive language to create a sense of urgency with all potential customers. Use "call to action" words that encourage people to email your business for more information. These leads can join your monthly email newsletter or to purchase your product or service. It could even direct curious customers to click on your ad to take them to your website rather than just looking at the advertisement.
Graphics are everything!
Appeal to the visual interest that your clients have by adding electrifying graphics to your advertisements. Post a pictures of what your business has to offer. Post something that is going to grab attention. Your business will gain brand recognition with well designed graphics. When a potential customer remembers your ad, they are more inclined to become a permanent customer. An unlimited graphic design team will cater to your needs on one flat rate, saving you money for the long haul. When adding something visual will help draw more attention and interest to your company.
Consistency
Your ad's intent should be the same across every channel so customers can find you. This will not only ensure an increase in your online presence, but a boost in your brand's recognition as well. Your business will should have access to unlimited revisions and unlimited designs. In addition, you can request to design a series of ads that's not only cost effective, but also produces results for your business. Consistency is a good way to show just how dedicated and motivated your brand is to interact with its consumer base.
No Limits
It's easy to find security in pigeon holing ourselves. Being able to define ourselves in a nutshell makes us feel stable and safe.That might be fine for the average person but this has no place in business. Be courageous! Don't stop yourself to a certain manner or style of doing things. An ad campaign might benefit from both long and short copy. Be sure to allow yourself space to create and to switch gears if need be.
Cost
Effective advertising will require a significant investment of time and money out of your business. Good business owners are always testing to make sure they are still fulfilling the needs of their customers. You should be checking your analytics every single day. Advertising can have big price to pay for many small businesses. In the long term, advertisement is one of the best ventures business owners can ever embark on.