So you've decided to invest in an out-of-home advertisement.
Truthfully, that's a fantastic opportunity to expand your company's reach. The only problem is you don't know where to start. Perhaps you've decided on whether to create a transit ad or a billboard on the highway. Perhaps you've even got a good design in mind. However, your real problem is execution. Many advertisers are stuck wondering how to get their ideas printed onto that bus shelter or inside that mall. So many questions, and not enough answers.
Luckily, you do not have to do it alone. Outdoor advertising companies are your friend. Today, we'll list 5 of the most prominent companies, and let you decide what's best.
Clear Channel Outdoor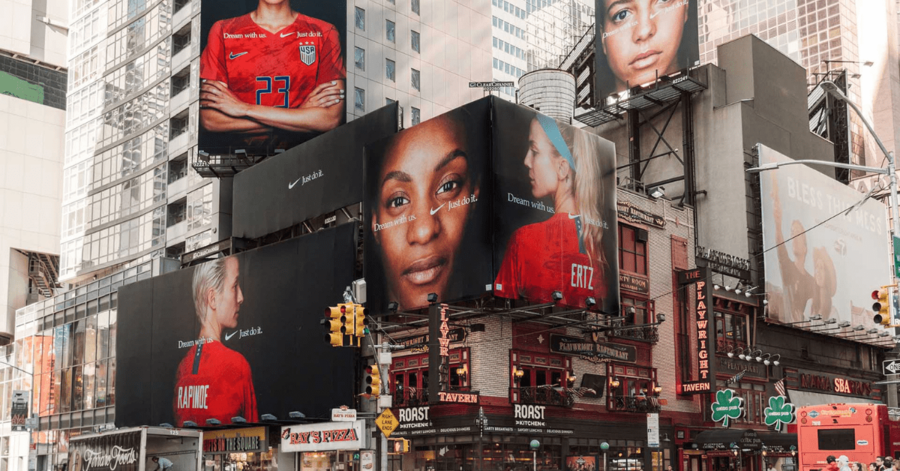 Let's begin with the oldest outdoor advertising company in the United States. Clear Channel Outdoor is a well-established agency, created in 1901. It went through a series of name changes and finally rebranded itself to Clear Channel Outdoor in the year 2001.
Although this company solely operates in the U.S., there exists another division – Clear Channel International- which covers ads in Latin America, Europe, and Singapore.
Anyone in the United States could probably look outside, and see this company all around them. After all, millions of billboards across the country are labeled with this name; their ads are spread across 44 states. Clear Channel Outdoors takes care of bus shelters, subways, transit vehicles, posters, street furniture, and most of all, billboards.
Clear Channel Outdoor has a full portfolio of high-profile collaborations. This includes Uber, Audi, and even NASA. One of their most successful campaigns included an ad for Nike in New York City. They plastered inspirational imagery of professional women's soccer players onto several billboards.
We recommend Clear Channel Outdoor to advertisers who wish to campaign with static, or digital billboards. It is their main strong suit, and it produces amazing results.
Lamar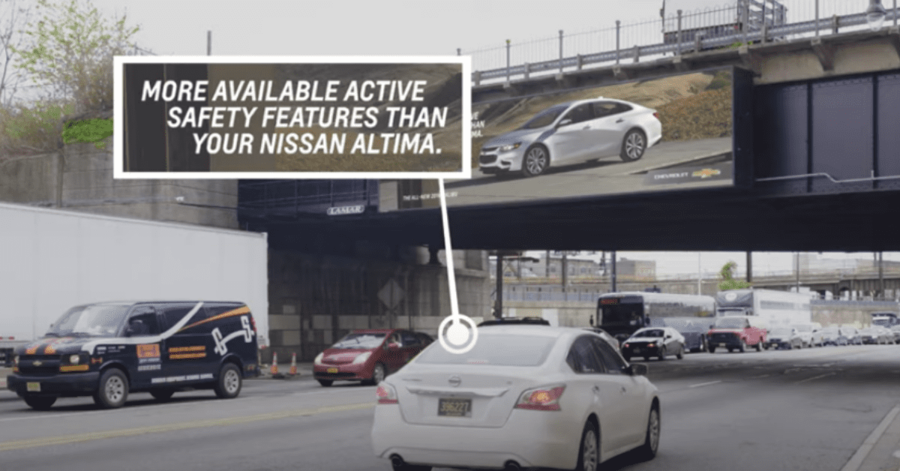 Both Charles M. Lamar and J. M. Coe. founded this media brand in 1902. Known for its extensive inventory of static and digital billboards, Lamar has over 340,000 beautiful displays throughout North America. The agency also has many airport and transit advertisements.
Although the outdoor advertising company isn't super experimental, it does offer quality traditional outdoor advertising. Lamar has a huge track record of successful promotional campaigns and has pushed the boundaries of outdoor advertising.
A great example of this is the company's work with Chevrolet. The car company influenced Lamar to display a digital interactive billboard. The innovative technology could detect the brand of vehicles that rushed by and would give each driver a personal message.
Overall, Lamar is great for any business that's looking for billboard advertising.
JCDecaux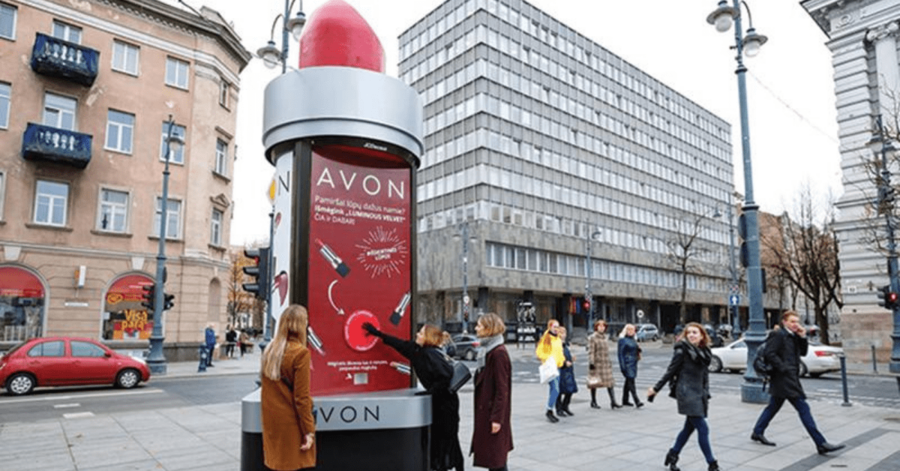 If you plan to create something extraordinary, then JCDecaux has you covered. This family-owned company was founded in France in 1984 by Jean-Claude Decaux. Hence the name.
This outdoor media brand has never been a stranger to experimental marketing strategies. They created several guerrilla marketing and interactive structures over the years.
JCDecaux is available in over 80 countries and is the global leader in street furniture advertising. They have an extensive portfolio filled with traditional outdoor advertising, as well as interactive ads, ambient ads, and alternative transit ads. It's safe to say; that this company is the best large brand for any guerrilla marketing campaign.
Not to mention, they're available all over the world. One of their best works involves a project in Shanghai. They transformed a busy metro station into a colorful, creative museum for Veet, a brand that produces hair removal products.
They're also the company responsible for the giant lipstick ad in Lithuania. The well-known brand, Avon, worked with JCDecaux to create a huge dispenser for free lipsticks.
Aside from guerrilla marketing, they also cover transit ads, billboard ads, digital, and traditional ads.
Outfront Media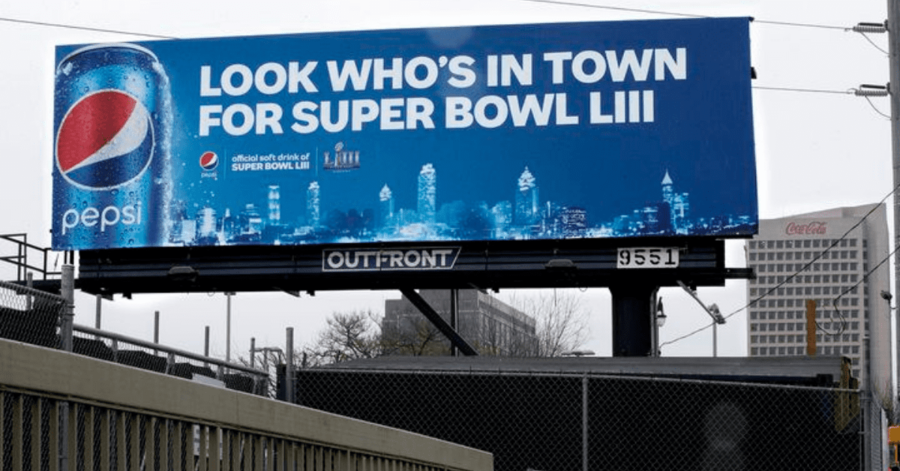 Here's another U.S.-based agency. Outfront Media was developed in 1938, and headquartered in New York City. Despite stationing itself in the United States, Outfront Media owns billboards all over North America.
The outdoor advertising company doesn't only create billboards. They've produced a number of transit ads and even street furniture. What's unique about this company is its strategic ad placements. They have done business with JetBlue, Amazon Webservices, and Pepsi.
Outfront Media helped Pepsi place billboard ads around Atlanta. Seems pretty standard for an advertising agency, right? Well, the plot twist comes when you realize that Atlanta is the Coca-Cola Company's hometown. This was a clever ambush marketing campaign.
Outfront Media is committed to paying close attention to what an advertiser wants. They definitely know how to deliver.
oOH! Media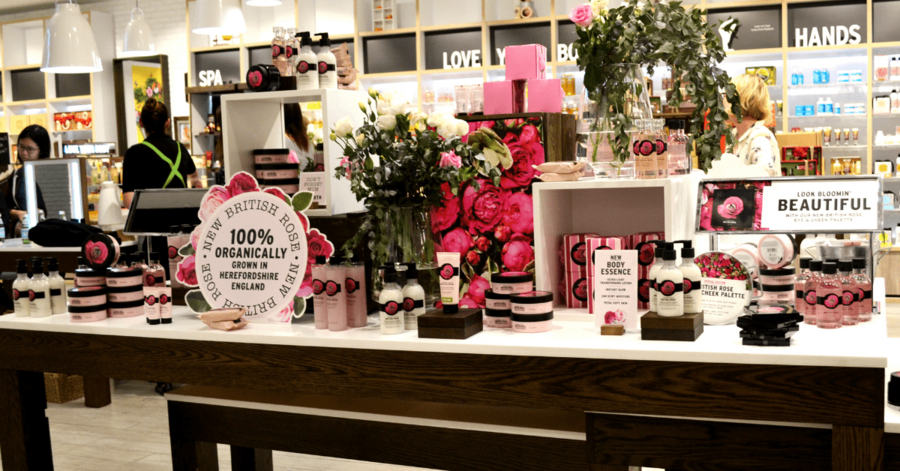 This is an Australian outdoor advertising company founded in 1989 by Brendon Cook. It is, in fact, the leading OOH advertising agency throughout both Australia and New Zealand. They are known for their billboards, retail ads, airport ads, and university ads.
However, oOH! Media has accomplished more than traditional outdoor advertising. They've also dabbled in guerrilla marketing tactics. This is especially true when it comes to their pop-up events.
In celebration of Mother's Day, 2016, the agency worked with Body Shop. The goal was to position this brand as the main spot to buy holiday gifts. They created what can only be described as a "VIP experience." Public events such as cocktail parties, and makeovers played an important role in this 5-day campaign.
One thing is for certain; oOH! Media will go above and beyond to drive home your company's message.
No matter which outdoor advertising company you choose to work with, you'll surely receive a return on investment.