Landing pages have become a commonly used marketing tactic to acquire more leads. In turn, it will convert more customers. Wordstream finds, on average, that the conversion rate is 2.35% for landing pages. That number may be low, but marketers know how to apply landing page best practices to raise that percentage.
And by subscribing to Penji, you can get a landing page that will convert leads into customers. As an unlimited design service, Penji can design a compelling landing page. All you need to do is sign-up for a subscription, and you can start requesting one for your website. Learn more about Penji and the platform by watching a 10-minute demo video.
For now, learn about these 6 landing page best practices. Plus, get an exclusive sneak peek on how you can request a landing page on Penji.
Have a Proper Call To Action
The purpose of a landing page is to convert new customers. So, the only way to ensure that customers stay with the company, give them a sign up link on the first page.
-Use straightforward phrases such as: join now, try a free trial, or even sign up now
-Make sure the button or feature is noticeable – increase the size, make it pop up, or even change the color to make it stand out
-Add the right features – one to sign up or to receive a promotion
Get Better Design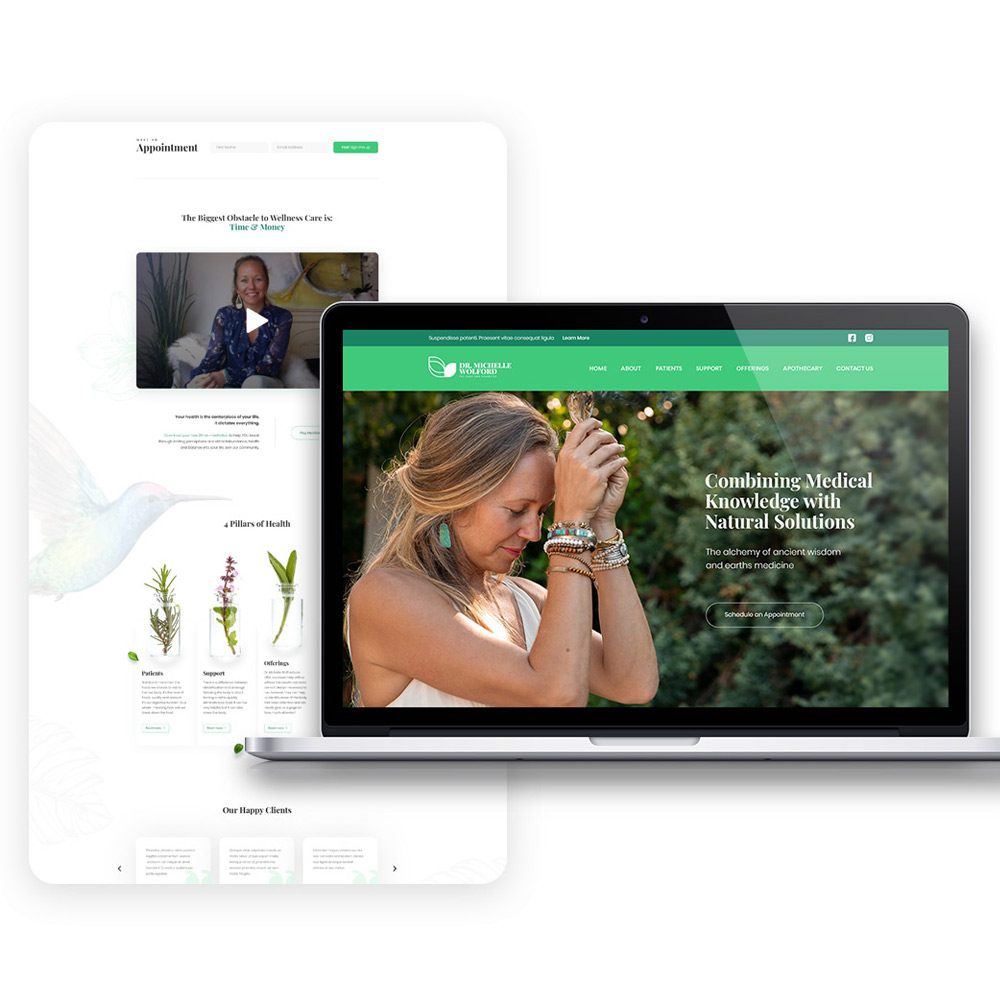 Graphic design is an important addition to a great landing page. Because of this, aesthetics play a main role in keeping consumers on a website. Through having good design, people will pay attention to the landing page more. So, one of the best landing page practices is to ensure you have good quality design. You can hire a freelance designer or service.
-Branding is important and will help convert loyal customers
-First impressions are related to design for about 94% of the time
-Good design will help consumers remember your site
-Your logo design will impact consumers and grab their attention for 13% of the time
-About 48% of consumers admit that a company website design is a main factor for credibility
Check out the example above on what our designers produced for one of our clients.
Optimize The Page For SEO
Content and writing must be taken seriously when building a landing page. It must be short, simple and straight to the point. Only add keywords that best describe your company or words that you would like to be connected to.
-SEO determines the rank of your web page
-Consumers can be directed to your website through proper SEO
-By using the right keywords, you explain what your company does
Add Social Proof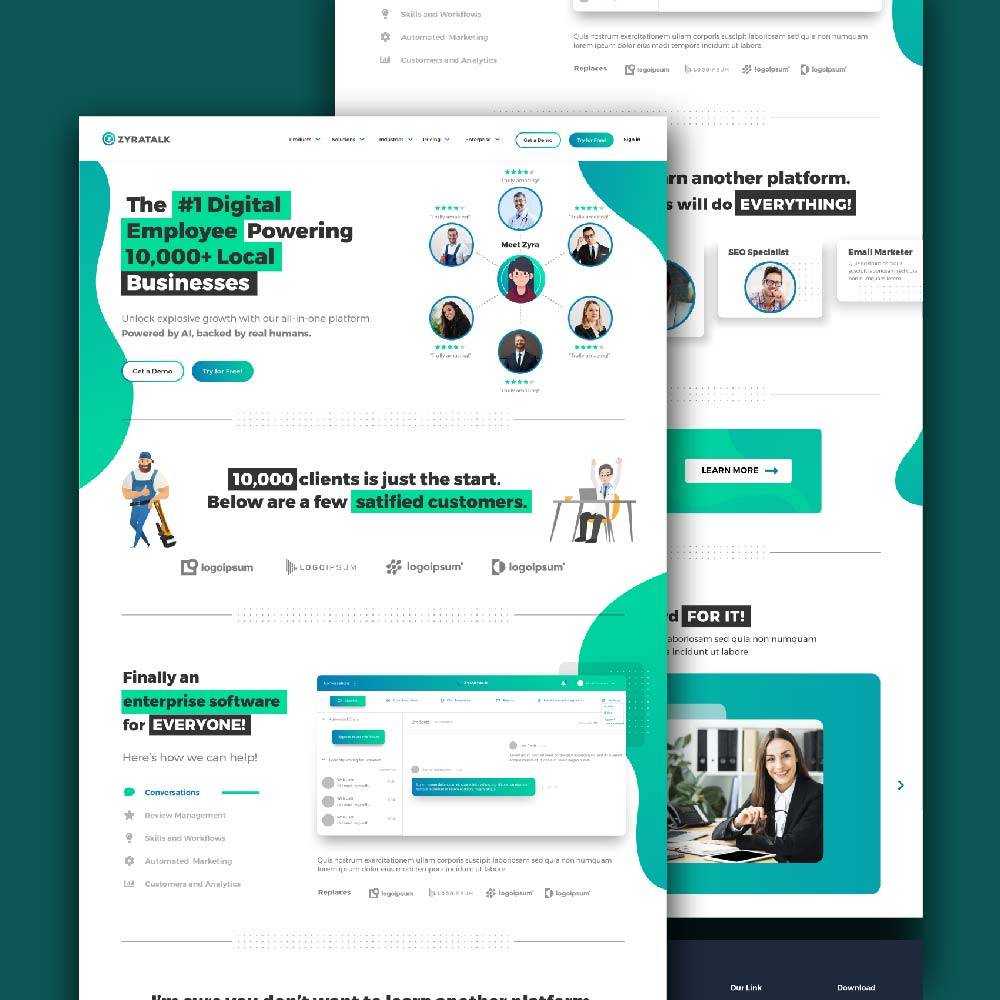 To correctly fill up space on your landing page, add testimonials on the web page to enhance your reputation. So, to look credible on your own website, one of the best landing page practices is to include testimonials. By exposing positive feedback about your company, consumers will be more likely to open up to your service.
-About 84% of consumers believe online reviews
-Consumers rely a majority of their decision making on reviews
-Testimonials are used for credibility
Take a look at how our designers included social proof on this sample landing page.
Keep On Doing A/B Testing
There will never be a perfect landing page. In order to improve, you must constantly re-design the page to cater to your consumers.
-Discover new data through a heatmap and improve
-Determine which features to delete and add
-Continue to redesign in order to keep up with the modern style
Use Scarcity To Promote Your Service
To make customers sign up fast, use the scarcity tactic to make them feel like it's their only opportunity now to get your service. It's now or never kind of mentality. One of the best landing page practices includes a plan for immediate action.
-Make consumers feel special from getting an exclusive deal
-By looking scarce, your service looks busy and successful
How to Request a Landing Page on Penji
Once you subscribe to a Penji plan, you can finally submit your landing page design project. In three easy steps, receive a well-designed landing page and launch it on your site.
Step 1: Create a Design Project
To start, please click on the +New Project button. After this, you need to fill in a form where you will write details of your project.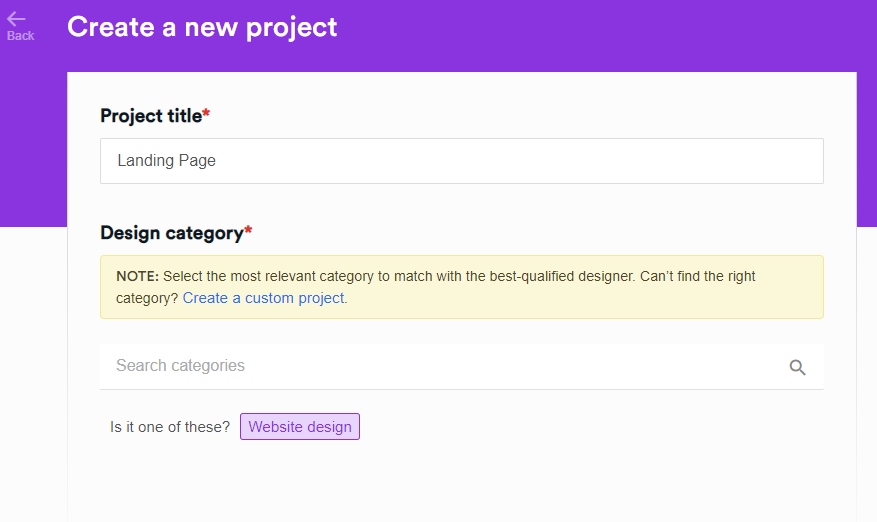 First off, you need to supply the Project title and Design category.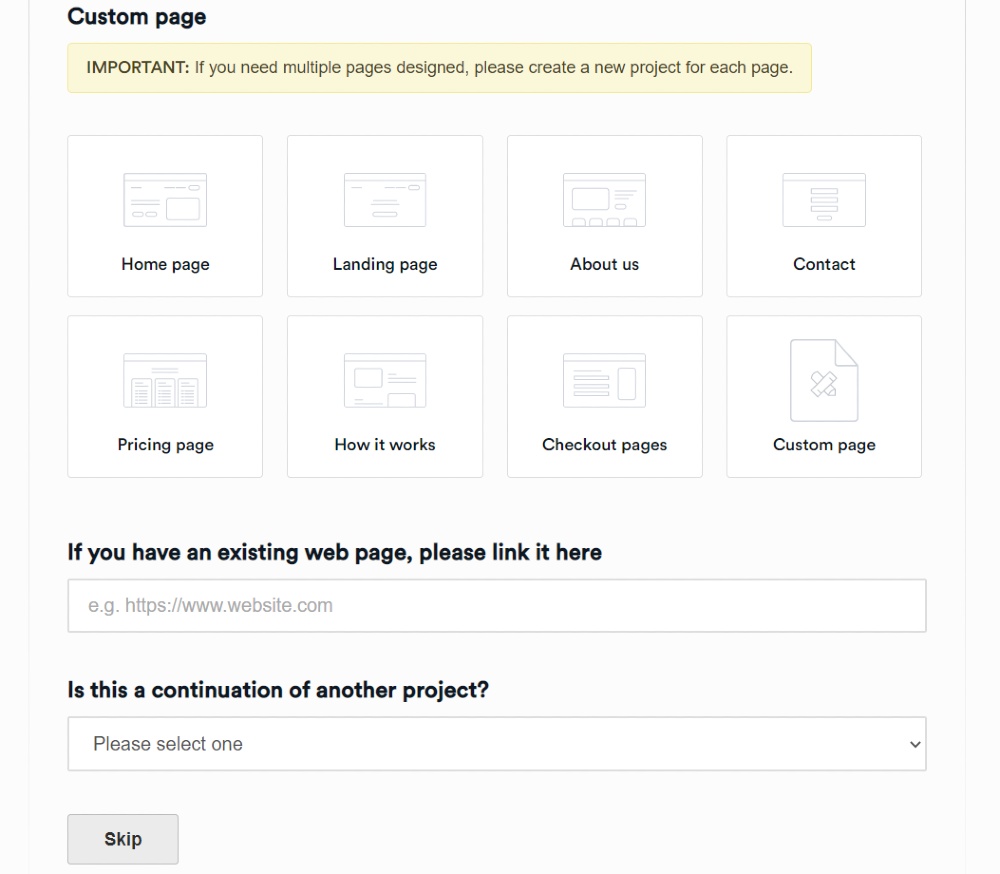 Quick tip: Type landing page on the title. From there, click Website Design. The system will automatically choose landing page for you on the Custom page section. Once done, click Next, and provide the specifics of your landing page design.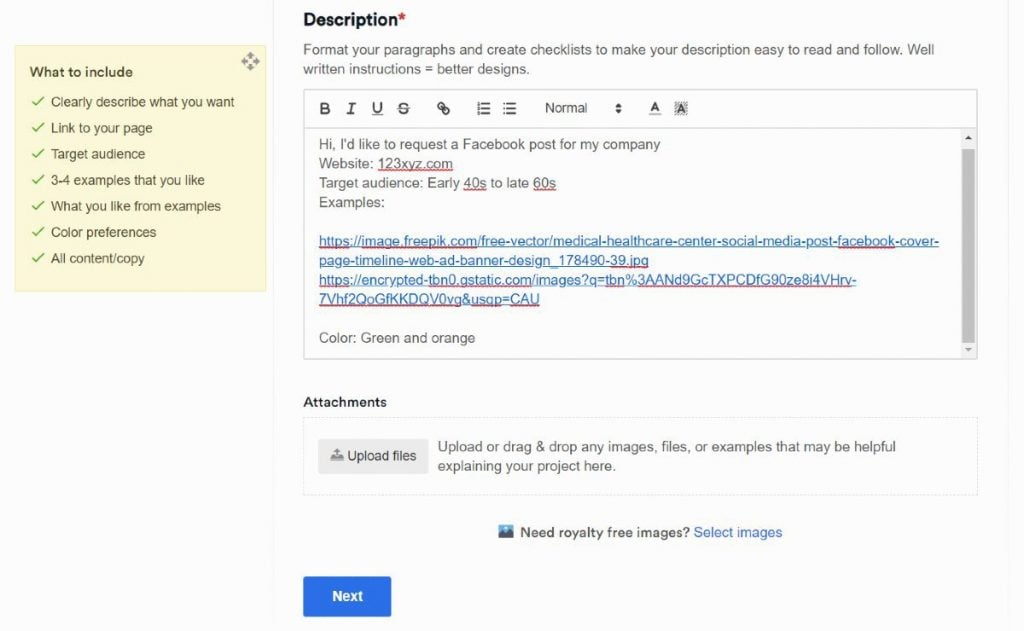 You can follow the guidelines written on the box found on the left side of the page. This way, the designer can produce a landing page with your preferences in mind. Plus, it might even reduce the number of revisions too.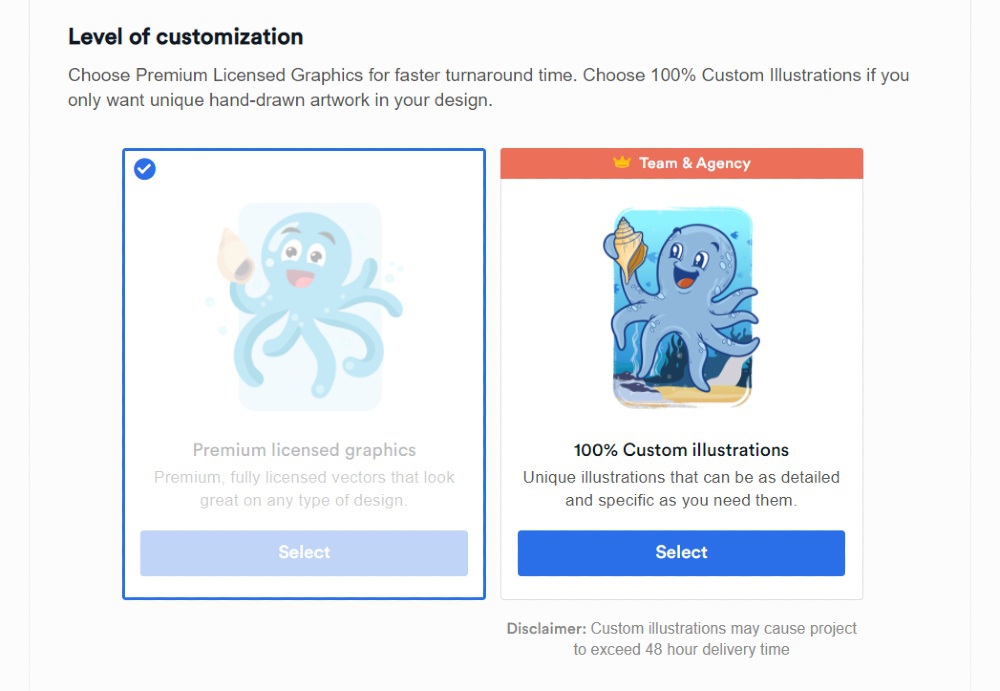 Once provided, click Next, then select Level of Customization, File Deliverables, and Associated Brand. After that, click the Create Project button, and you finally have an active project on Penji.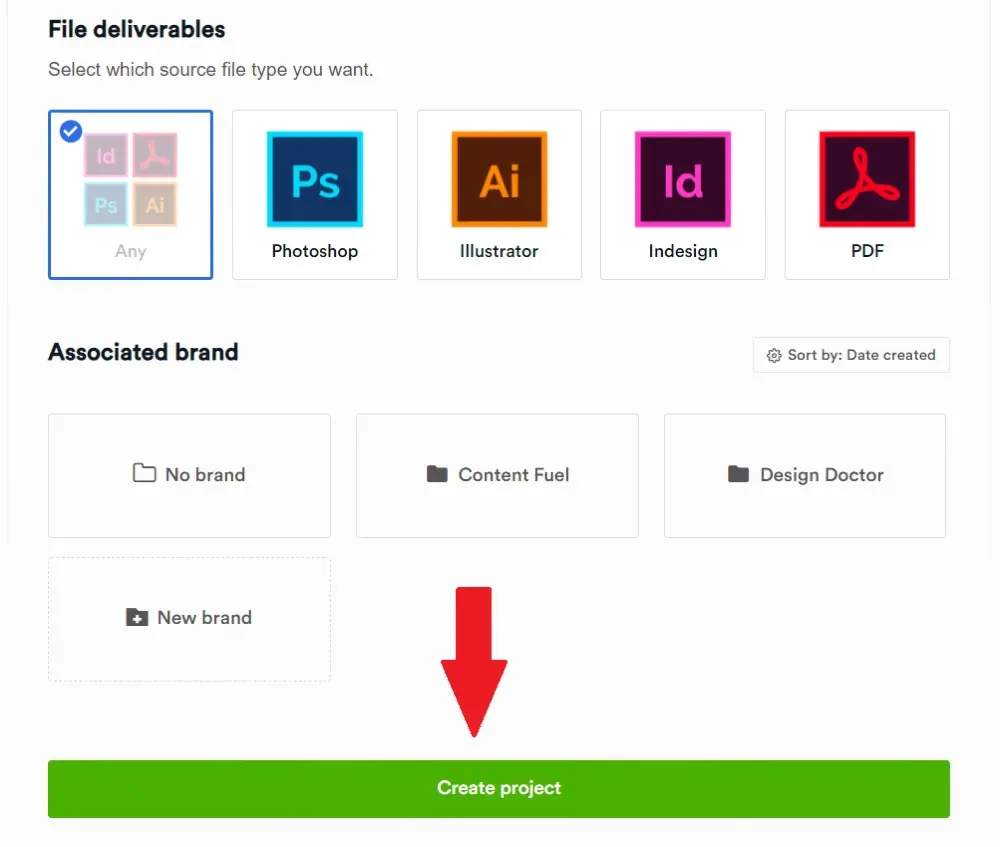 After this step, a designer will be assigned to your project. They'll review details and even ask for some clarifications if needed. They'll then submit the first draft within 24 to 48 hours. For now, you can sit back, relax, and wait for the first draft to appear.
Step 2: Review the Landing Page Design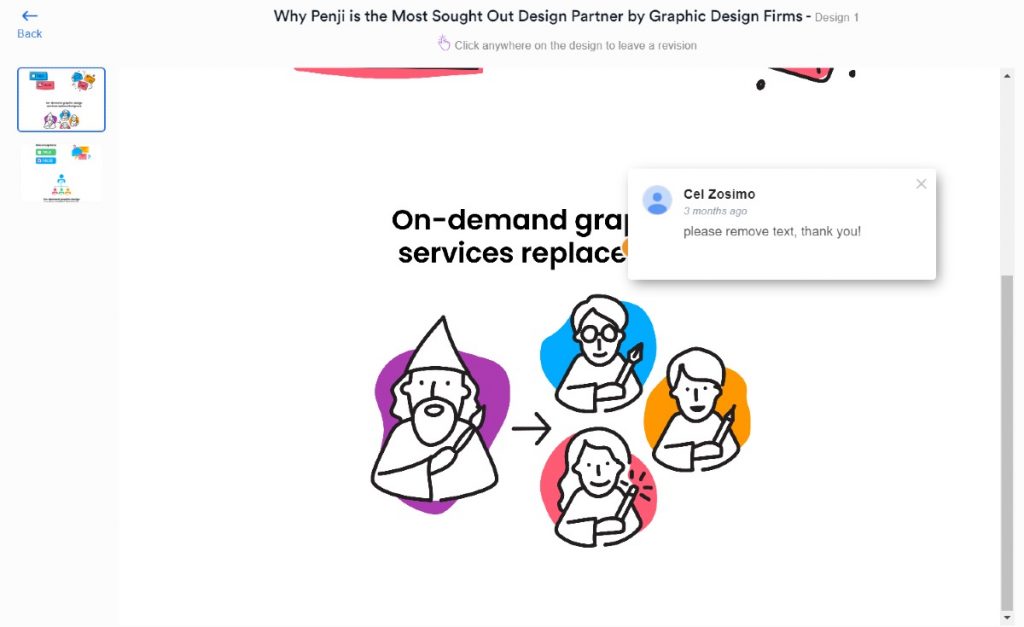 We want to hear what you think about the landing page design in this stage.
Leave your feedback and review by using the revision tool. To do that, click on the design, and point and click. This will open a small box where you can write your feedback.
Make sure to be specific with your feedback too. This will help the designer enhance the landing page design. Plus, it will reduce the incidence of more revisions also.
Speaking of revisions, you have unlimited revisions as well. Unlike other graphic design services, we don't charge extra for revisions. You can revise until you're 100% happy with the design!
Step 3: Download the Landing Page Design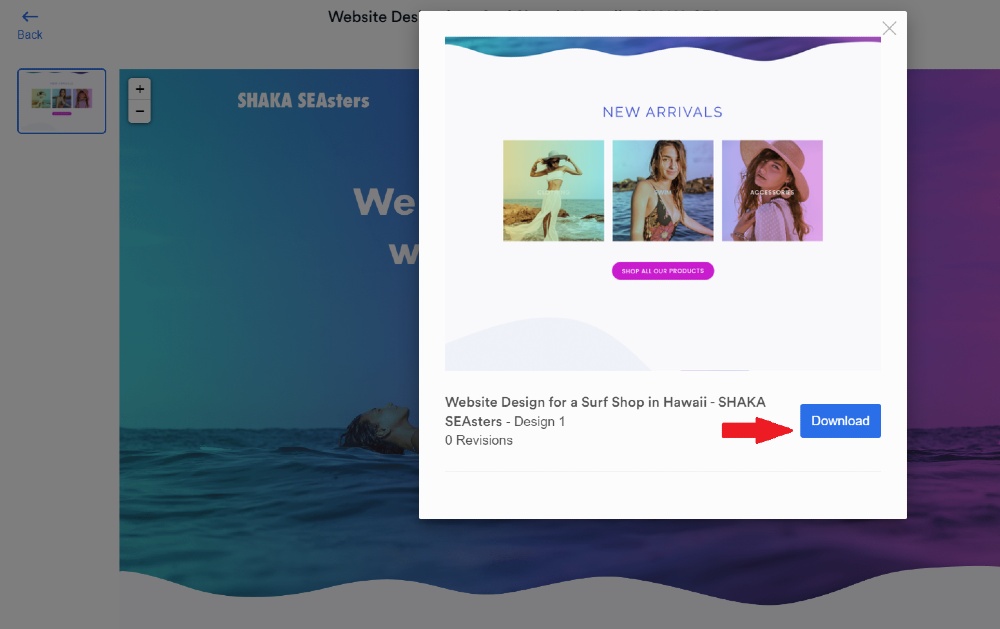 This is every Penji subscriber's favorite step. Once the design is up to your standards, you can finally download the design. This way, you can launch it just in time for your new marketing campaign. All you need to do at this stage is click Download, and that's it! The files will be saved to your computer.
Make sure to click the Mark as Complete button, so that you can request for other designs.
Wrap Up
Launch a landing page that your website visitors or leads will engage with. And a captivating landing page design will do the trick. Your next step is to find a reliable and dependable graphic design service like Penji to produce those designs for you.
Maximize your plan by requesting website design, illustrations, and infographics on the Team plan. For only $499/mo, you get access to all these design types and more. You won't see that price anywhere else. Sign up now and get started on your first design project!