How to start a startup in your 30's. If you're a millennial like me, then you're probably on your way to 30's (or already in your early 30's). And social media doesn't stop reminding you how old you are compared to all the young entrepreneurs popping out everywhere. Being 30 nowadays feel like being 40 because we millennials are caught in the middle of our lifeline. We're not old enough to be considered old and not young enough to be considered young. And when it comes to starting a startup, being a millennial that's almost hitting their 30's could feel defeating. But fret not my fellow Pog collectors, it's not too late. Actually, it's just the right time to start your own startup.
Below are bullet-proof steps on how to start a startup in your 30's that's been tested and verified by countless entrepreneurs just like you.
1. Find your problem (or your calling)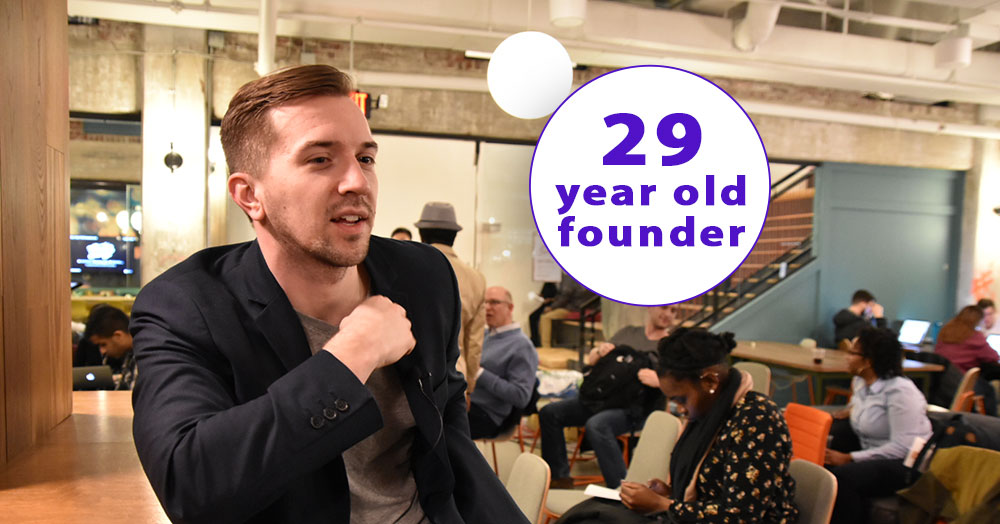 Do you have a calling? Then follow it. If not, find a common problem that you have whether it's in your personal life, at work, or with a hobby you're passionately invested in. If your problem doesn't have an effective solution and there's potentially others out there with the same problem, you've potentially found your startup idea. Here are some examples:
Nicholas Sanderson founder saw a huge problem with laundromats. You can't just leave your clothes there after it's been washed. And the hassle of carrying it, washing/drying, bringing it home, and folding it was just too much for many people living in San Francisco. There has to be a better way! And thus, Nicholas created his startup Laundry Locker. Drop off your clothing at one of 900 locker locations throughout San Francisco, process your transaction via a nearby kiosk, and that's it. Someone will come take your clothes, wash them, fold them, and return them safely to your locker for pickup.
Find a problem that exist in your everyday life and make that your calling to solve!
2. Talk to some potential customers

Don't let the entrepreneurial high get to your head. You may have a viable idea and a loose understand of how to start a startup, but your journey is far from over. Now it's time to test your idea and go talk to some people. Yes, that's right…actually go out there and find people who could be interested in your product and just ask them questions. Prepare a list of question in advanced and make sure you know what information you need to extract to make most of your interactions. Talk to as many people as you can and gather as much information as possible. Every note you take will be worth its weight in gold later.
Here are some potential questions you can ask your prospects to get information.
Are you currently having challenges with [insert problem here]?
What is your solution for [insert problem here] at the moment?
What's your experience with your current solution?
How much is that solution costing you?
If you don't solve this problem, what would the possible cost or damages be?
What do YOU think a great solution would look like?
How much would you pay for that solution?
If we build this solution, would you be interested in giving it a try?
You don't have to ask the questions verbatim. View these questions as guidelines for your conversation. The more information you can extract, the better your end product will be. Information will be your best friend. Never trust your own assumptions. Or as Sun Tzu eloquently stated in his book The Art of War "The biggest flaw of any plan, is the assumption you know more than the enemy."

3. Developing a vision and mission
This is a tricky stage. Contrary to popular belief, you'll do just fine without a vision or mission in the early stages. If your business model absolutely requires you to have a clearly defined vision and mission then by all means map it out. Most startups don't define their vision or mission until much later. You can skip this step without consequences.
4. Develop a product to fit your market
Knowing how to start a startup is worthless if you don't know anything about your target audience or market. While you're learning how to start a startup, you may have noticed that coming up with a "value proposition" was extremely difficult. You're not alone. In many industries it's difficult to determine a compelling value proposition without first finding out if there is a fit for your product on the market fit. This is call "Product market fit", surprisingly. Determining your product market fit requires you to have a good understanding (or at least an educated guess) of your target audience and their problems. Below are some problems to help you get started brain storming in the right direction.
Who are your customers?
What are the problems they have?
Specific itemized JOBS do they actually want done?
What would happen if those jobs aren't done? Or aren't done well?
The benefits do they expect from a product that claims to solve their problem?
Need help mapping this entire process out? I've attached another free PDF download for you to dabble with.
DOWNLOAD VALUE PROPOSITION CANVAS PDF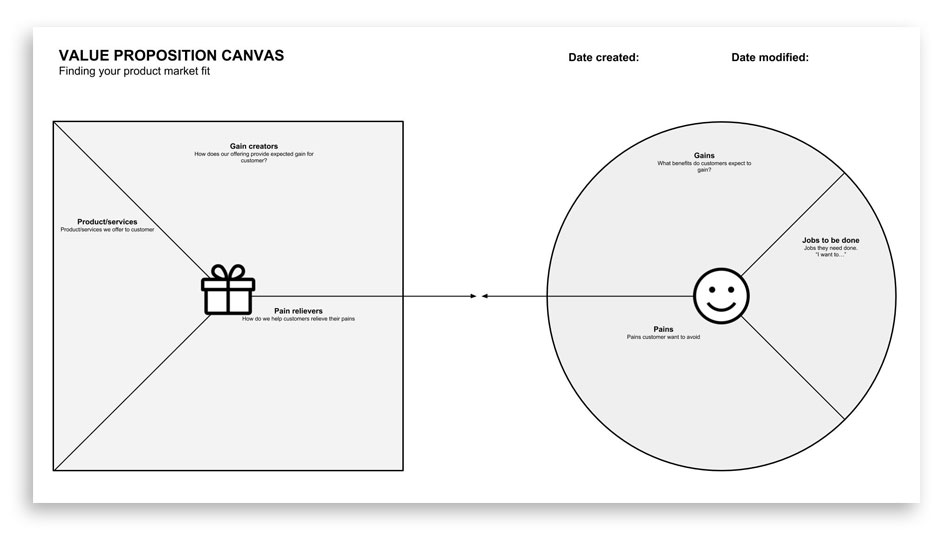 5. Develop a business plan
Now that you have your problem, it's time to develop your business plan. Don't worry this step isn't as scary as it sounds. We're not going to create a 300 page business plan with executive summaries etc. That may be great for some business models, for the sake of simplicity we recommend creating a Business Model Canvas. The business model canvas was invented by Alexander Osterwalder, and helps simplify the entire process of creating a business. You can search the business canvas model online and there are great resources and subscriptions you can pay for. If you just want to get started and dabble at something, I've provided a free downloadable PDF that you can doodle on or print out brainstorm with.
DOWNLOAD BUSINESS MODEL CANVAS PDF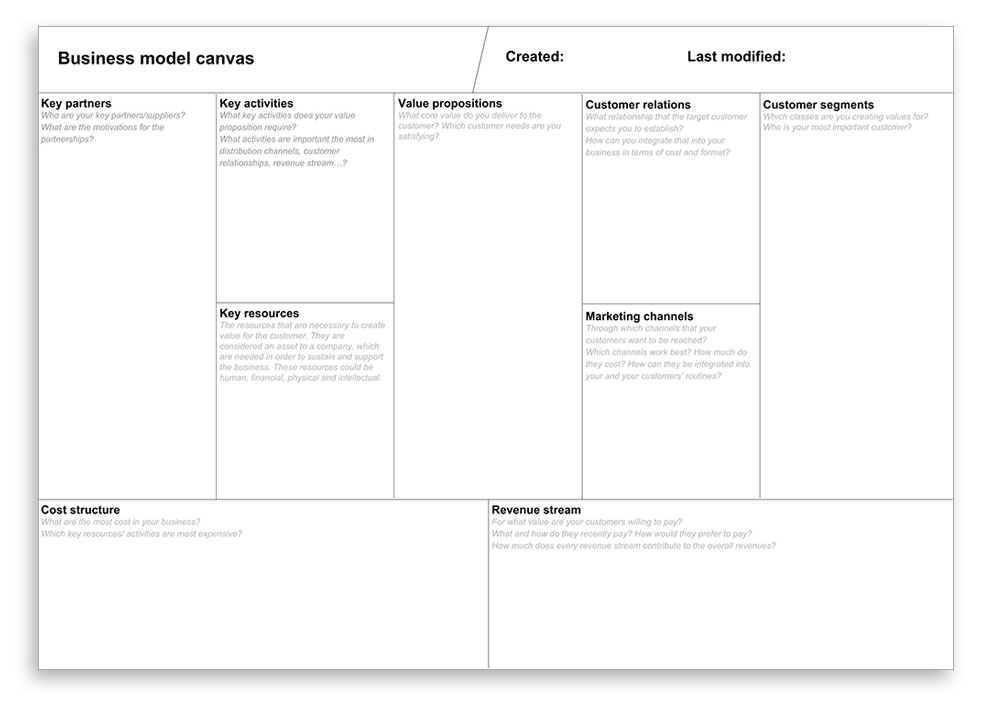 The business model canvas enables you to quickly piece together the following:
Key activities
Key partners
Value propositions
Customer relations
Marketing channels
Customer segments
Cost structure
Revenue stream
Key resources
Filling out the canvas will be a lot harder than you think so make sure you spare a weekend or two to complete the task. Once you've completed the canvas, you'll have much more confidence in your startup.
6. Find a niche market
Even with a solid business plan, marketing strategy, and advertising budget, you still may have trouble growing and scaling your business. Before you commit yourself to an industry, explore the market and see if there's an niche market you could dominate. The more niche of a market you target, the higher your conversions will be. Another benefit of following a niche market instead of a general market is finding a unified voice. When you're in a niche, you know who you're serving, what they want, what they don't want, and all of your messaging/branding comes together more cohesively.
The benefits of finding a niche and becoming a big fish in a small pond is definitely worthwhile and shouldn't be ignored.
7. Find a domain name and business name
Let's find a good name for your business. This is one of the most important decision you'll ever make for this business and it's not a decision that can be easily changed later once all your marketing materials are ordered and used. Make sure to spend some time bouncing ideas and coming up with a good name for your business. I recommend looking for a domain name FIRST, before finalizing your business name. This will save you countless hours of frustration later when you realize there's no good domain names available for your business. Do the search simultaneously. If you find a good domain name that's available AND it fits your business – BINGO!
Need help coming up with good domain names? Give this domain name generator a try, it's helped us generate a lot of good domain names.
Here are some guidelines to finding the perfect domain and business name:
Keep the domain name short
Avoid using hyphens
Don't use multiple words or phrases in your domain name or name
Avoid using ambiguous characters. A Zero does not substitute the letter O
Don't use numbers unless it's a part of your brand
Stay away from .xyz, .info, or anything that's not the norm. Use .com when possible. .co is viable. If you're a tech company, then .io is also doable.
8. Register your business
Now that you've got your domain name and business name, it's time to register your business legally in your state. This is an important step in your business and should not be ignored or postponed, otherwise someone else can actually take your business idea/name and there's not much you can do about it. The process on how to register your business will differ between states, however most can be done online.
When registering for a business, keep the following in mind.
Sole proprietorship = No!
Limited Liability Company (LLC) = Decent option. Usually costs $125 – $200 to register online and offers protection for owners. Not a good option if you plan on getting outside investments.
S-Corp = Cheap and offers great protection for stakeholders. However definitely not a good choice if you ever plan to get outside investment.
C-Corp = Most expensive, most protection, and most ideal if you plan to go big and receive outside investments later.
I'm not a lawyer, therefore the suggestions above are purely just suggestions and guidelines. Please consult a professional within your area to advise on these matter.
9. Get Started!
And here is the ultimate step in learning how to start a startup when you're approaching your 30's. Now that you know how to start your startup, it's time to put ALL of your plans into action and start your startup. At this stage, there you may be going a million miles an hour and have countless things floating all over the place begging for your attention. But don't worry, once again I've compiled yet another list for you to simply check off as you go. The checklist is extensive and comprehensive so don't try to rush it. Completing this checklist doesn't mean you're successful and ready to go public. Every startup is different, and this checklist simply helps you get organized and complete all the little things that startup founders often forget.
Get started checklist:
Define your 5 most important core values
Design logo
Create a Brand Guideline (Includes your color palette, fonts, logo usage, etc.)
Design business cards
Create a Facebook page and add cover photo
Invite ALL of your friends to like your page
Create a Google+ Page (good for SEO, even if you don't plan to use it)
Create a Linkedin business account
Develop a landing page/website
Create