Whether you need content for your business or personal blog, hiring a content writer is the way to quality outcomes. While many might claim content writing prowess nowadays, only a few are vetted content writers who are SEO experts. SEO is crucial for ranking your articles on search engines and gaining online visibility. So if you're looking to hire a content writer, ensure they're knowledgeable in SEO. Let's get right to it as we share these top websites for freelance content writers.
1. Upwork
Upwork is the marketplace you can rely on if you want content writing services or any creative service. They have pioneered the online freelancer job space for over two decades now. The platform aims to offer flexibility and appropriate partnerships for clients and freelancers.
If you want to hire a content writer on Upwork, you must browse the writers' profiles. You will see the writers' ratings and the number of jobs they've done in the past. You will also see the skills they offer and the asking rates. It's a straightforward hiring process that offers convenience for clients.
Pricing:
$20 to $100 or more per hour
2. ProBlogger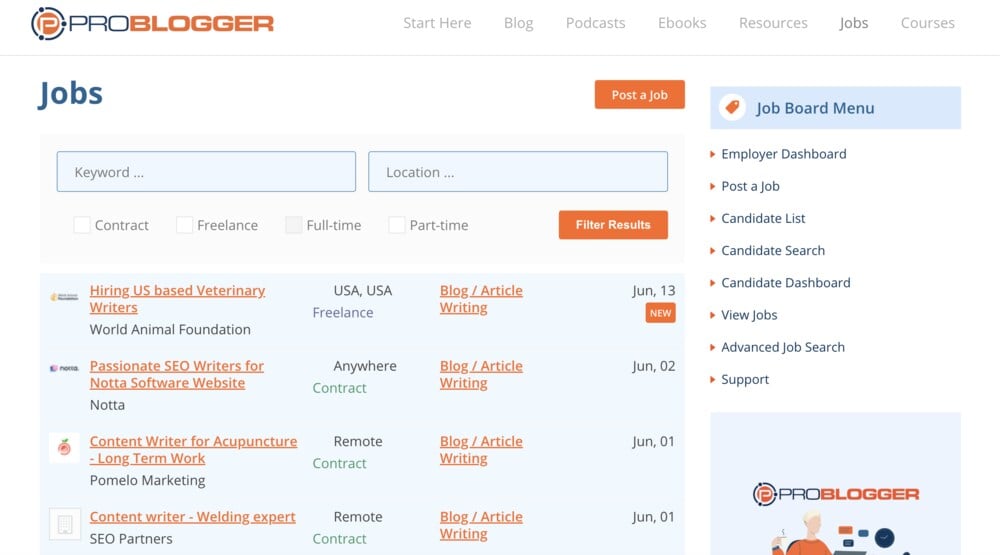 ProBlogger is the platform you must visit if you're looking for bloggers. The platform doesn't source writers, but clients post jobs and advertise their projects. Once writers see a project they like, they apply and connect with recruiters. ProBlogger has been in the business for over 15 years and is the leading place for blog-related jobs.
The website now has over a thousand bloggers notified once project advertisements are posted. So if you want a more exclusive blog platform, try ProBlogger's easy interface.
Pricing:
$80 to post a project advertisement for 15 days
3. WriterAccess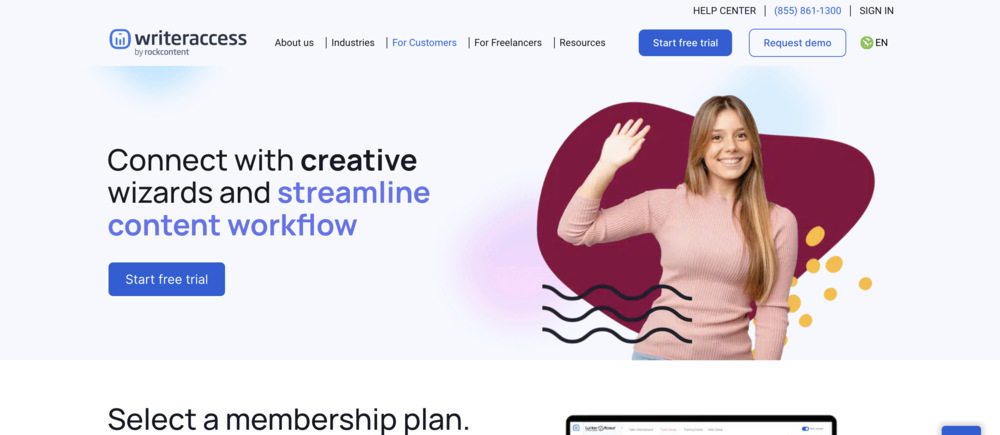 Like other online freelancer marketplaces, WriterAccess offers more affordable solutions for clients. This is the website to visit if you're an up-and-coming blogger who needs writing assistance or a startup. It has over 200 world-class trainers that leverage content creation and deliver goals.
Whether you want skilled editors, content strategists, animators, or writers, WriterAccess is a good option. The cost will depend on the quality of the selected writer. And the platform requires a monthly membership subscription to avail of writing services.
Pricing:
Starter plan – $39 to
Enterprise plan – $599
4. Draft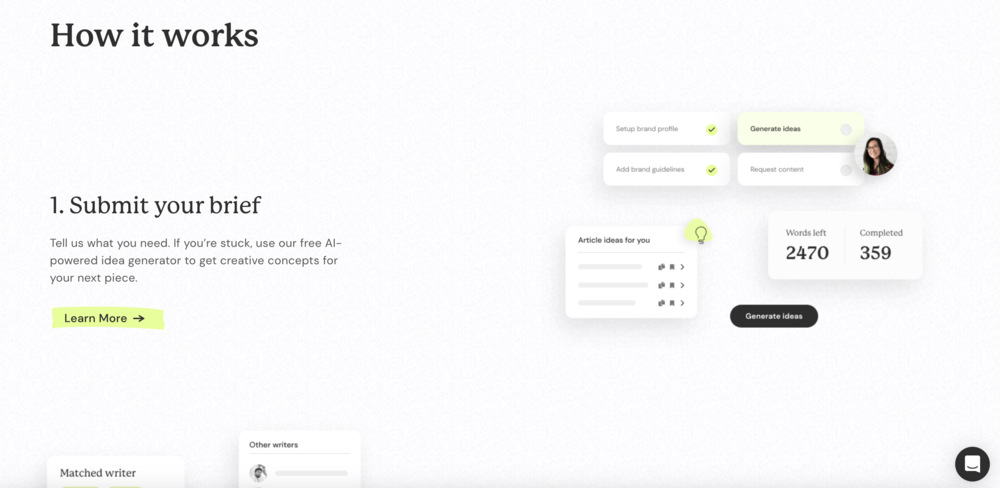 If you want to hire content writers, search for them through Draft's platform. All the writers undergo a rigid process to join the platform and are vetted by experts. Draft offers a subscription-type setup where you pay only for the content you need. Although you can't choose the writers, Draft ensures a selected pool of accredited content writers.
Most of Draft's writers have a 4.5-star customer rating. On top of quality writers, you also get free AI tools that can generate content ideas or article outlines. You can try Draft's trial period risk-free for your writing projects below 4,000 words. If you don't like the outcome, request for refund with no questions asked. Draft's cost is 10 cents per word but they offer discounts when you get bulk orders.
Pricing:
300 to 49,999 words – $0.10
50,000 to 199,000 words – $0.09
Above 200,000 words – $0.08
5. Textbroker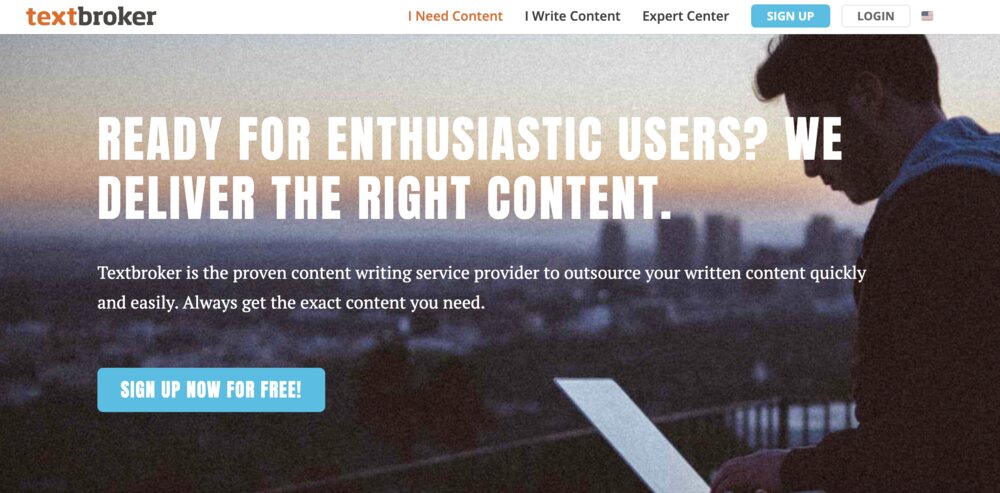 If you want a seamless content creation process, hire a content writer from Textbroker. The platform has over 100,000 accredited writers available to whip up any content. Most of the writers on this website have proven high-quality content that ranks on search engines. This pioneering writing service offers flexible solutions for all clients.
You control all costs of your content writing order by determining the quality and length of the articles. The platform also offers multiple language translations you can order in bulk! So if your business caters to audiences worldwide, this feature is handy. Unsurprisingly, over 80,000 global customers have processed over 10 million content orders on Textbroker! And that's because the platform is convenient, fast, and affordable.
Pricing:
Starts from 2.3 cents per word
3.2 cents per word
9.0 cents per word
6. Contently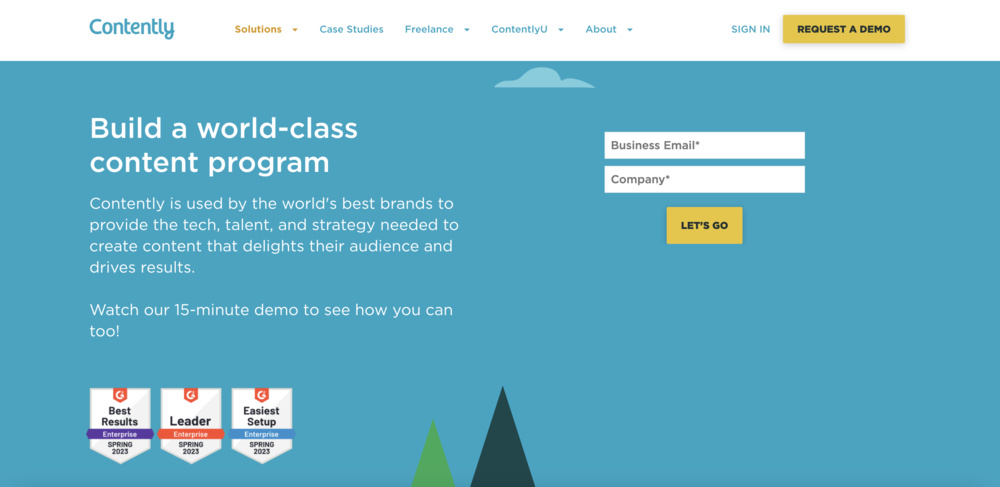 Contently is rated as one of the leading content marketing platforms on G2, and for good reasons. It offers the best content marketing platform that fosters brand growth through content. The platform has over 160,000 content creators ready to tell your story and break through the noise.
Customers have claimed that Contently helped them multiply their ROI six times within months. According to Contently experts, excellent content marketing must use an enterprise content marketing platform, an expert content strategy, and global creative talent.
Pricing:
Standard package – $499 per month
Specialist package – $999 per month
7. Fiverr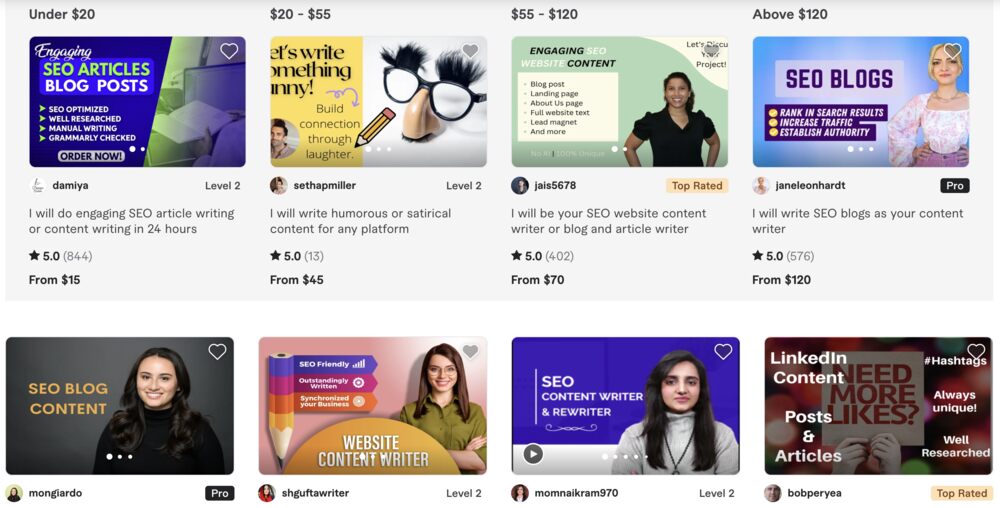 Deemed the biggest online freelancer marketplace, Fiverr provides various options for clients. You can browse through hundreds of thousands of creatives online. Whether you want a graphic designer, animator, transcriptionist, or content writer, you'll indeed find one from Fiverr. Clients come to Fiverr for a cost-efficient solution for their content creation. Like Upwork, you can browse through content writers' profiles, complete with star ratings, skills lists, response time, rates, and more.
Founded in 2010, Fiverr has become the biggest freelancer job platform with an extensive range of services. Plus, getting a job on Fiverr can cost you as low as $5. While you focus on the platform's affordability, it's also a must to consider the quality that comes with the low price. Since most creatives aren't vetted on Fiverr, there might not be enough quality control for freelancers who join the platform. So it's recommended to tread lightly.
Pricing:
Starting at $5 up to $100++
Conclusion
Hire a professional content writer by reviewing each website's pros and cons. Browse writers' profiles and portfolios to gauge whether their writing style matches your brand's voice. It's recommended not to limit yourself to one platform. Try to visit the best websites for freelance content writers and compare quality, efficiency, speed, and price.
Need graphics for your blogs? Penji creates unlimited designs at monthly fixed rates. See how Penji gives your blogs and articles good structure and enhances visual communication through relevant graphics.
Sign up for a limited 15 percent discount on your first month!