The fashion eCommerce industry is expected to surge to a jaw-dropping $713 billion in sales in 2022! If you belong in this sector, it's high time you ramp up your marketing website strategies this coming 2020.
However, it can be challenging putting together a fashion eCommerce website, let alone creating appealing graphics, product descriptions, and layouts. That said, Penji can help you with your graphic design needs.
Whether you need to rev up your visuals for marketing or overhaul your website's graphics, Penji is the name you can rely on. For an affordable monthly rate, your team can work with professional graphic designers. Plus, your satisfaction is a top priority. Hence, we accept unlimited revisions until you're 100 percent happy with the design.
If you don't know where to start with your fashion eCommerce website design, here are 13 tips that should increase those sales in no time!
1. Visual Communication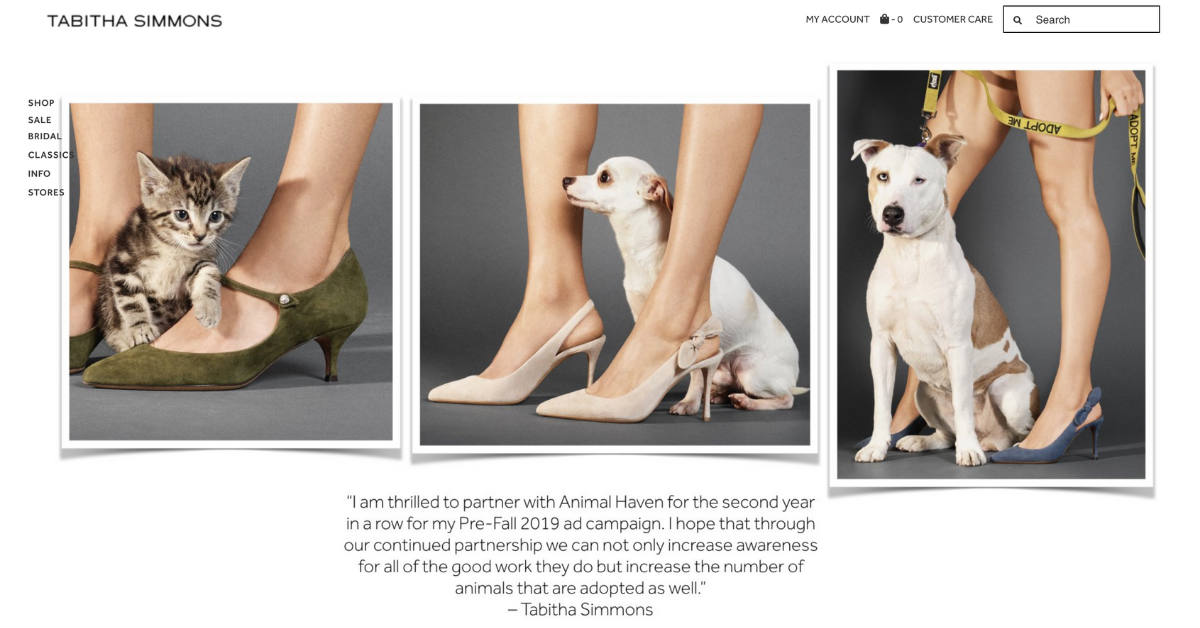 The product images are the lifeblood of your fashion eCommerce website. If you can't take the time in ensuring premium photos on your site, consider changing industries.
Although most websites adhere to high-quality images, we love how Tabitha Simmons used quality and emotion on its page. With beautiful, oversized photos and a short message of the company's animal advocacy, every fashionista and dog lover will be compelled to buy.
2. Free Delivery and Free Returns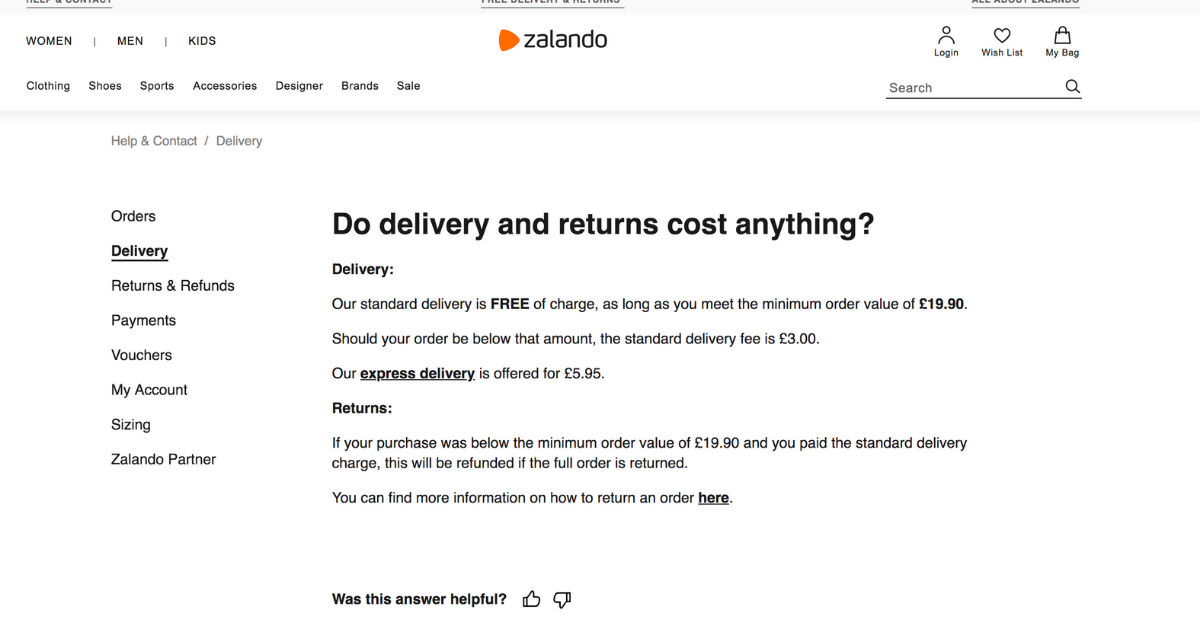 Okay, we know the adage 'business is business' still rings true today. But Zalando wanted to break the mold from rigid product return rules and steep delivery fees. If you happen to order a shirt that doesn't fit, then you can return it with a full refund.
Also, if you reach an order threshold of £19.90, then you'll get your order for free. If not, a meager £3 shipping delivery will surely not break the bank. High shipping fees are one of the reasons for cart abandonment, and Zalando found a way to prevent that.
3. Social Media Shopping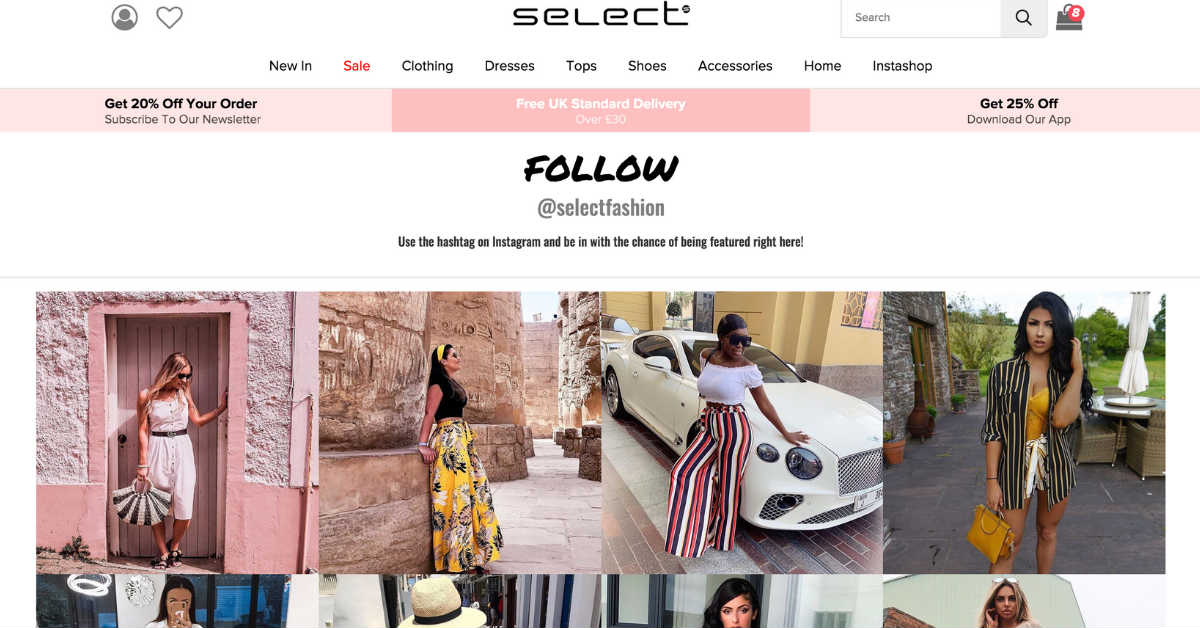 Instagram has launched an Instagram Shopping feature that will make an online shopper's experience more convenient. Integrating an exclusive icon or header for your social media shopping will remind users who are on the go that they can continue to browse your online store on their mobile. Select made sure to place a separate and visible "Instashop" feature on their homepage's header, just a click away.
4. Specials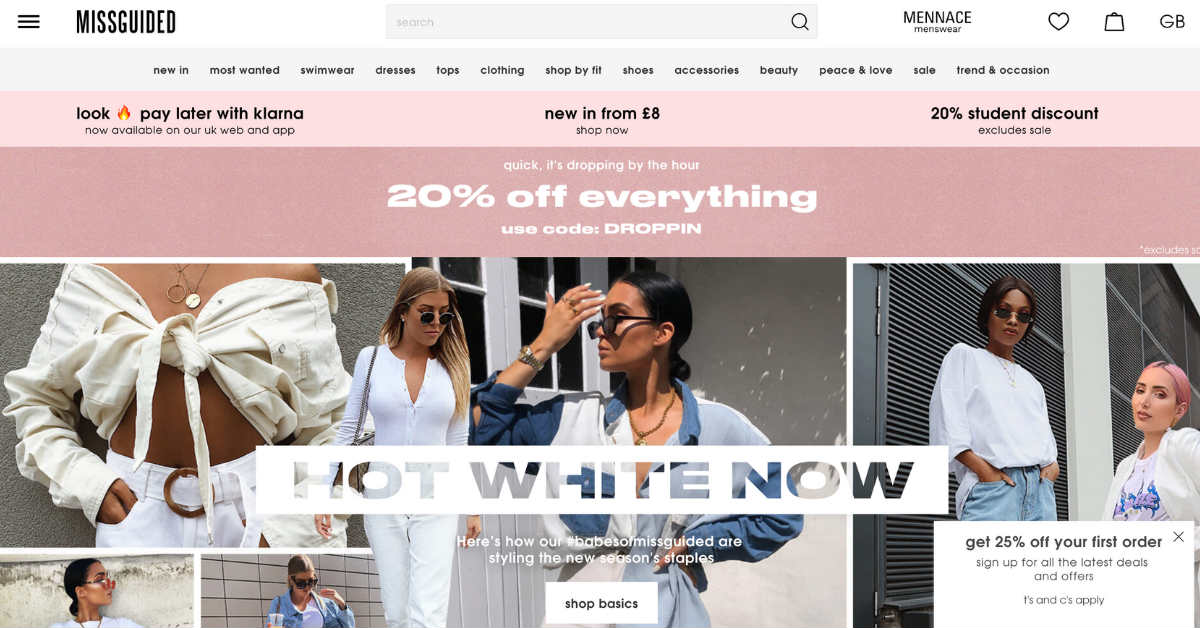 'Bargain, bargain, bargain' is written all over Missguided's homepage. We don't know where to start. You can buy and pay later, get the latest trends at the lowest prices, student discounts, coupon codes on everything, and a first-order discount. This is a brilliant strategy for enticing a broad range of customers. Might I remind you that people can never resist special offers?
5. Unique Twist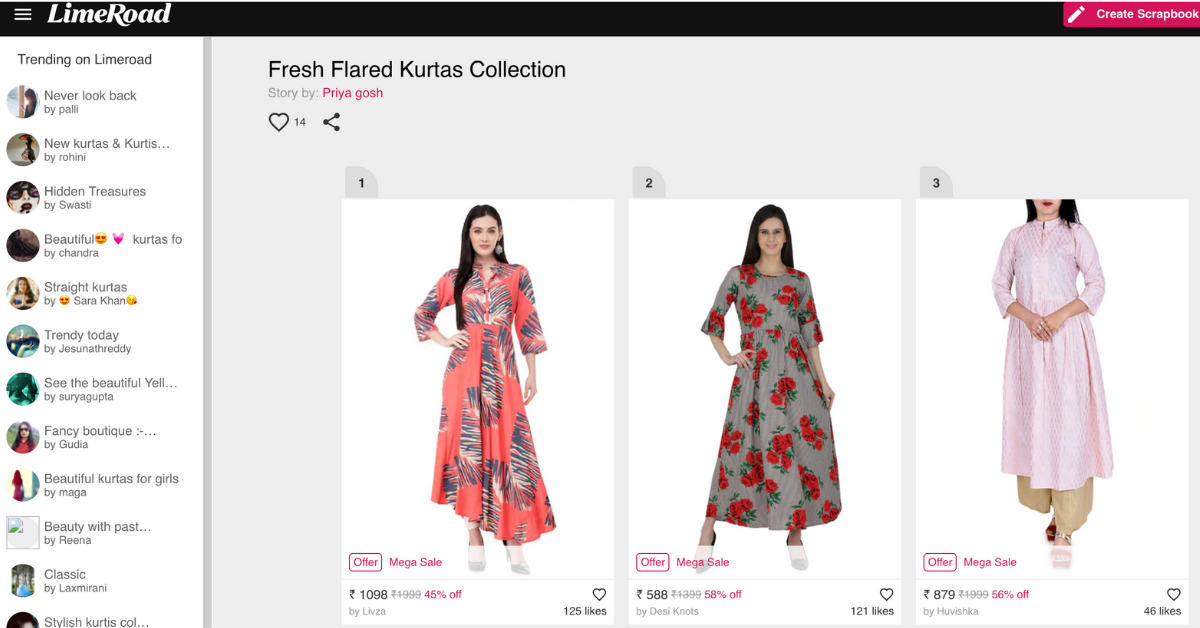 Don't be just another fashion eCommerce website buried and deleted in the user's search history. You want your site to earn a 'bookmarked' spot on shoppers' browsers. One way to achieve this is by giving your website a unique twist. And when we say unique, Limeroad's site comes up as number one. They've put a creative twist on their online catalogs by letting users pick their favorites and featuring them on their catalogs. Users can create a 'Scrapbook,' and Limeroad even does regular contests and awards the best scrapbooks.
6. Urgency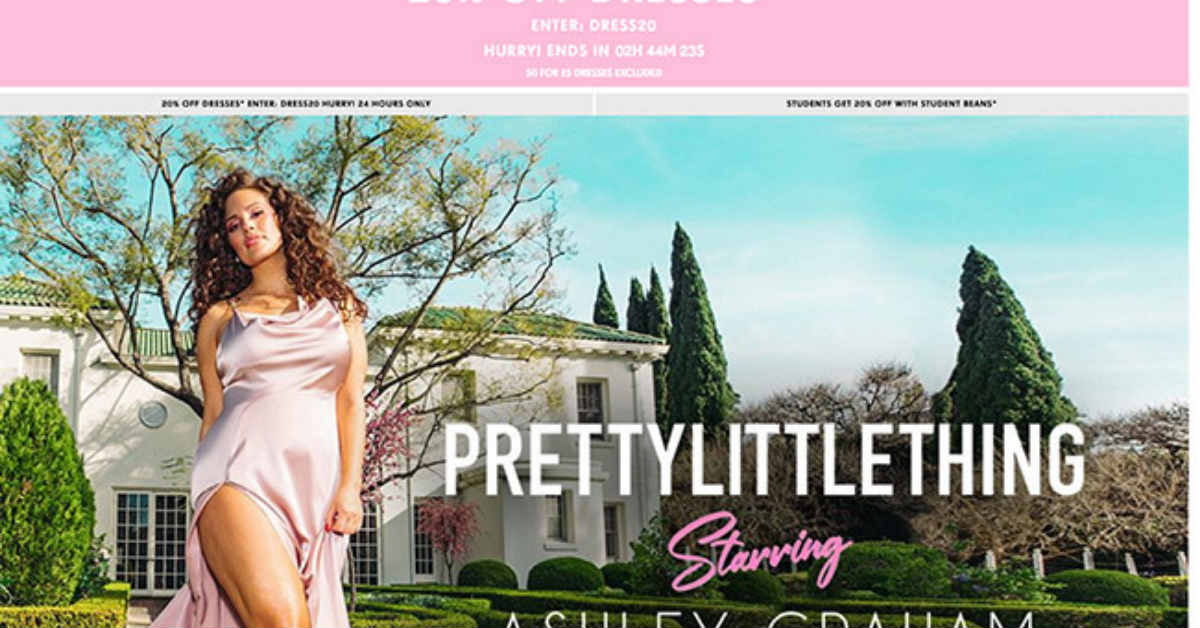 In marketing, creating a sense of urgency is important. Indecisive shoppers can quickly change their mind in minutes (or seconds). You want to make them feel that if they don't buy an item now, they're going to miss out big time! Pretty Little Thing did a pretty little thing on their homepage by creating a countdown on special offers. Once it hits the zero-second mark, the countdown resets. A for brilliance!
7. Convenient Shopping and Checkout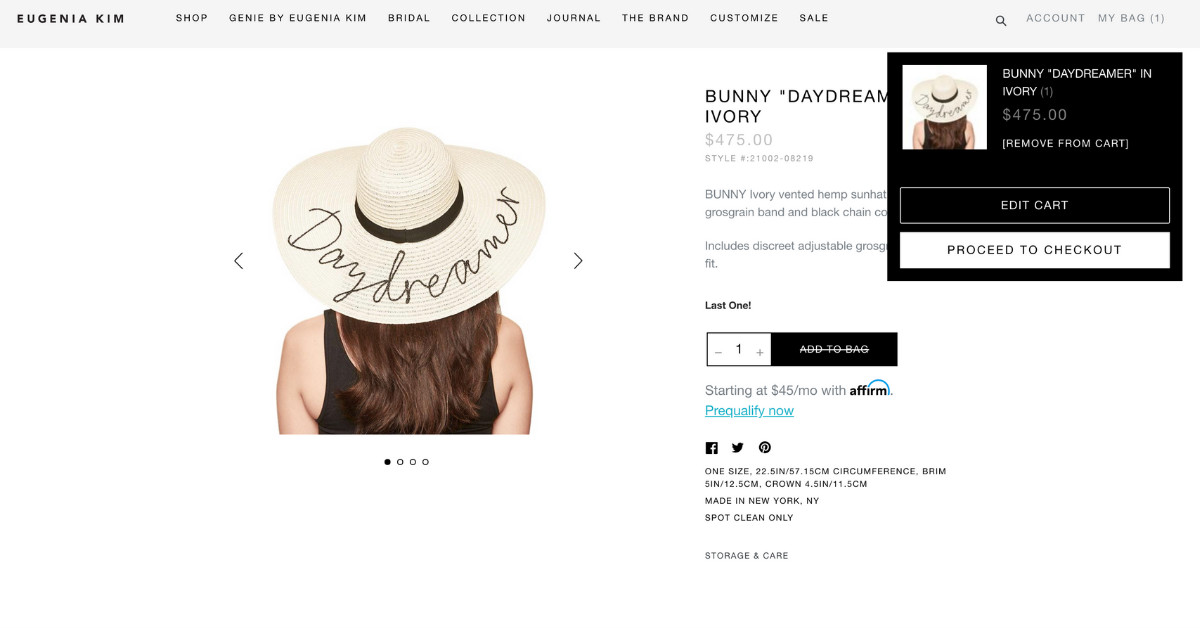 Not all shoppers have a knack for smoothly breezing through a fashion eCommerce website. Whether your brand caters to old or young customers, you always have to make sure that seamless and streamlined shopping experience is a priority. The entire usability of your website is of the essence or else, you'll lose customers in the blink of an eye.
Eugenia Kim did a bang-up job in creating a smooth checkout process for its shoppers. Once you add an item to your cart, an unobtrusive popup will appear with CTA buttons like 'Edit Cart' and 'Proceed to Checkout.' Another eCommerce fashion website strategy is to encourage a faceted search where users can take advantage of filters to narrow down their searches.
8. Customization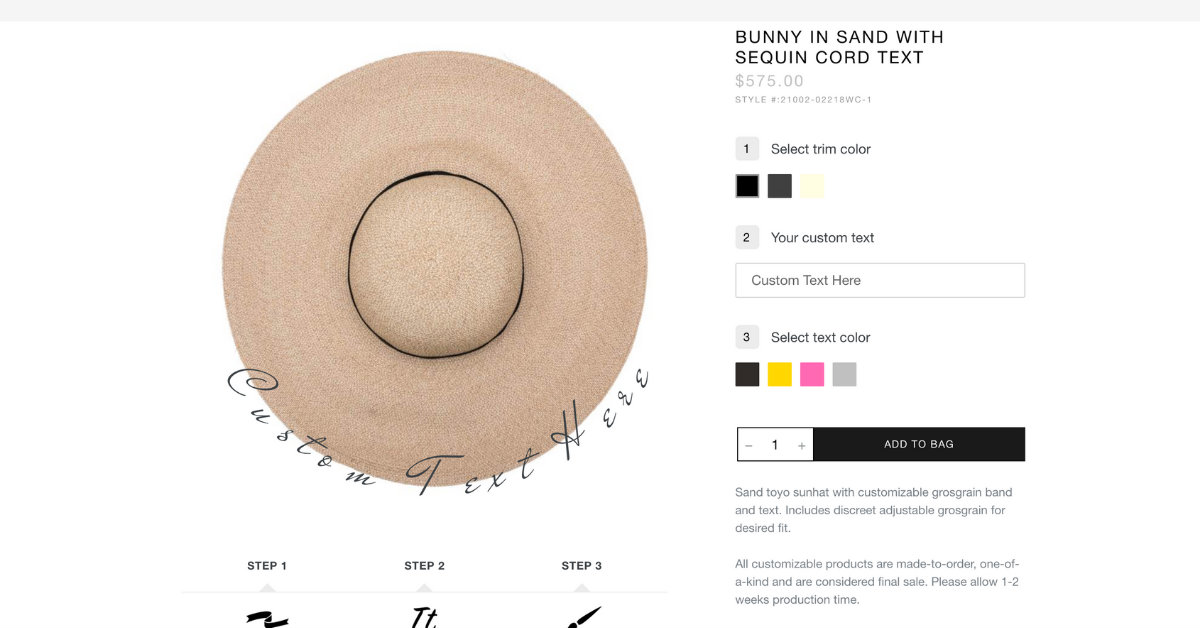 Customization also adds a personal touch to the shopping experience. You can include a view history option, or featured products according to the user's shopping history, or how about literally customizing the item?
We're picking Eugenia Kim as the winner in this category (again). They offer a step by step guide on customizing your order.
9. Excellent Product Page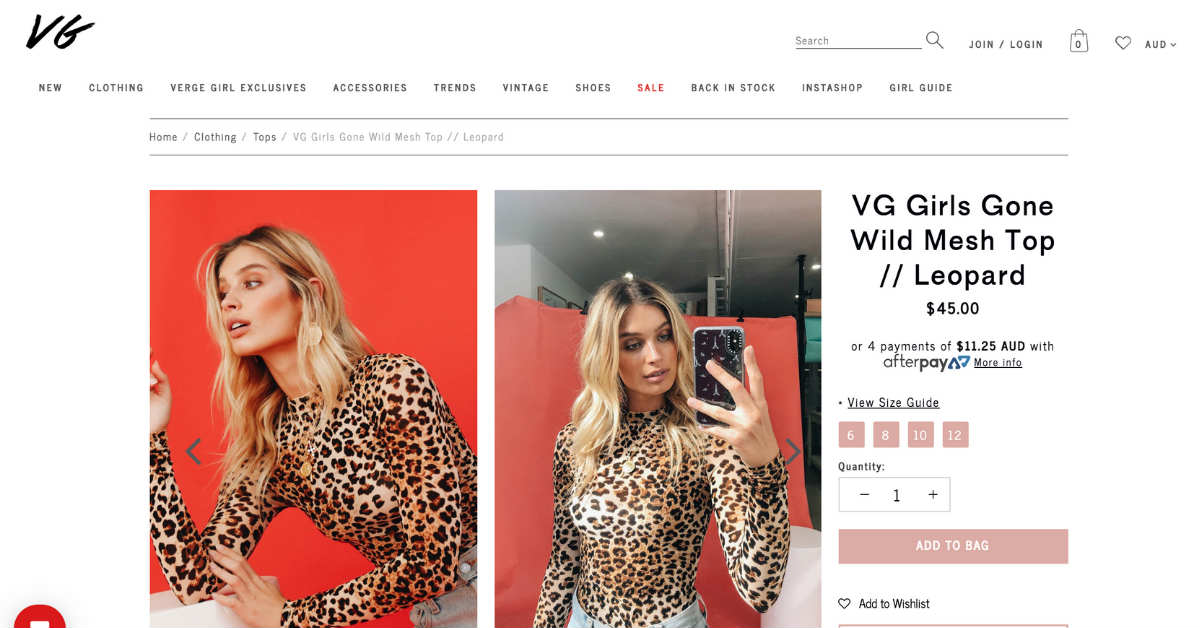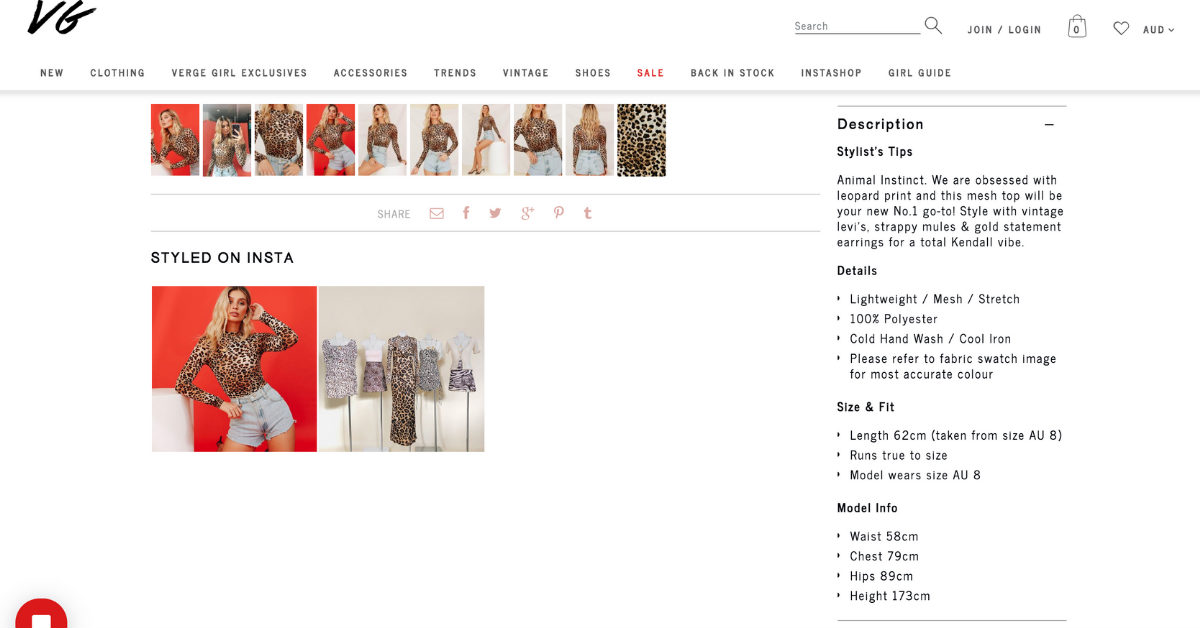 One catch 22 in shopping from a fashion eCommerce website is the guesswork. If you want to stand out, take the guesswork out of online shopping. Upload as many pictures as you can, provide detailed product descriptions, allow zooming options, and include a size guide just like how Verge Girl did on their product page. They also include 10 photos for every product and even a raw selfie photo of the model. This is an excellent way of telling their customers, 'Hey, I'm a real person and if I can wear this then you can too.'
10. Augmented Reality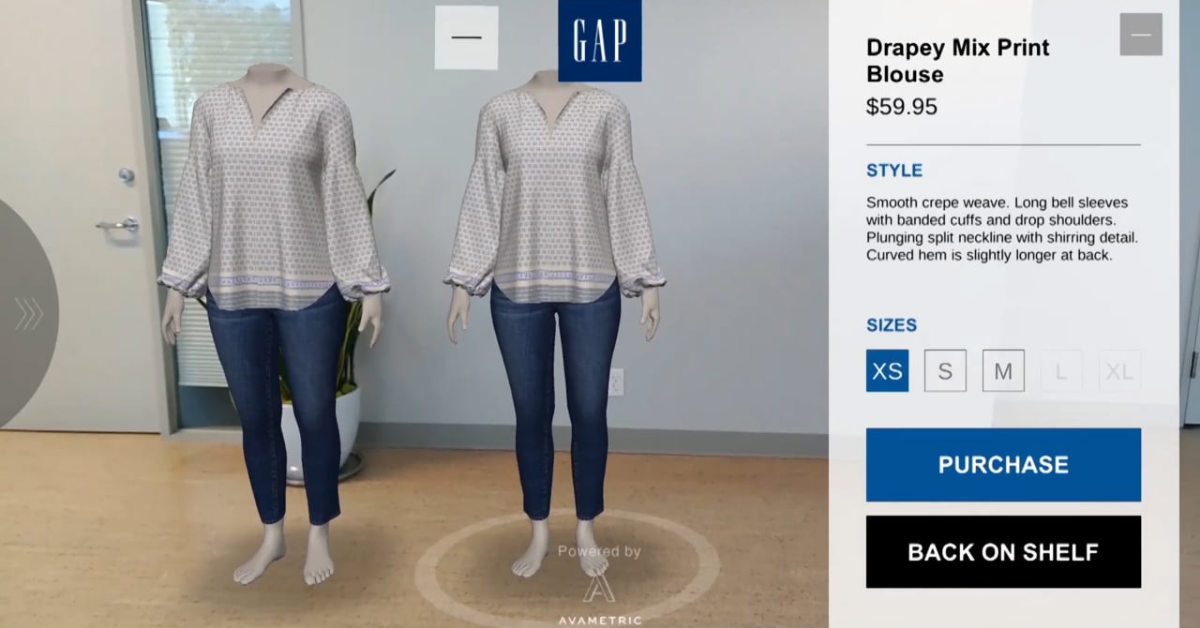 If your customers can't fit your products, then why not bring the dressing room to them! Augmented reality is widespread in fashion eCommerce websites. Gap, a prominent brand in the fashion world, created the Dressing Room app. You can integrate a virtual dressing room on your website by creating avatars with various body types. So online shoppers can try on different products on the avatar of their choice.
11. Clean Storefronts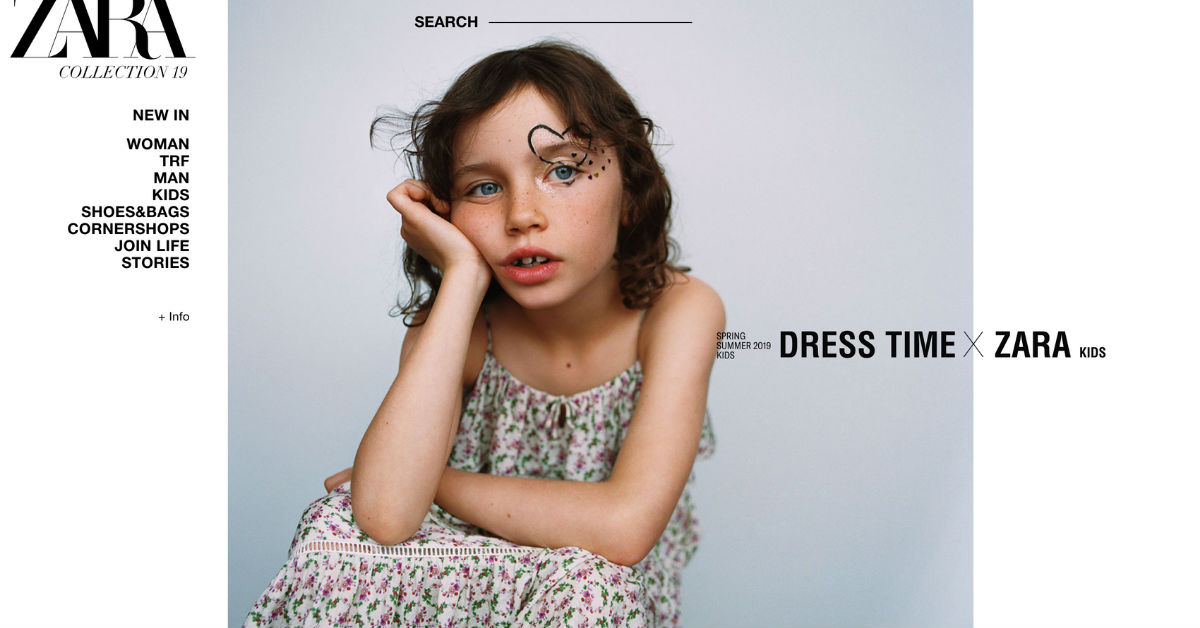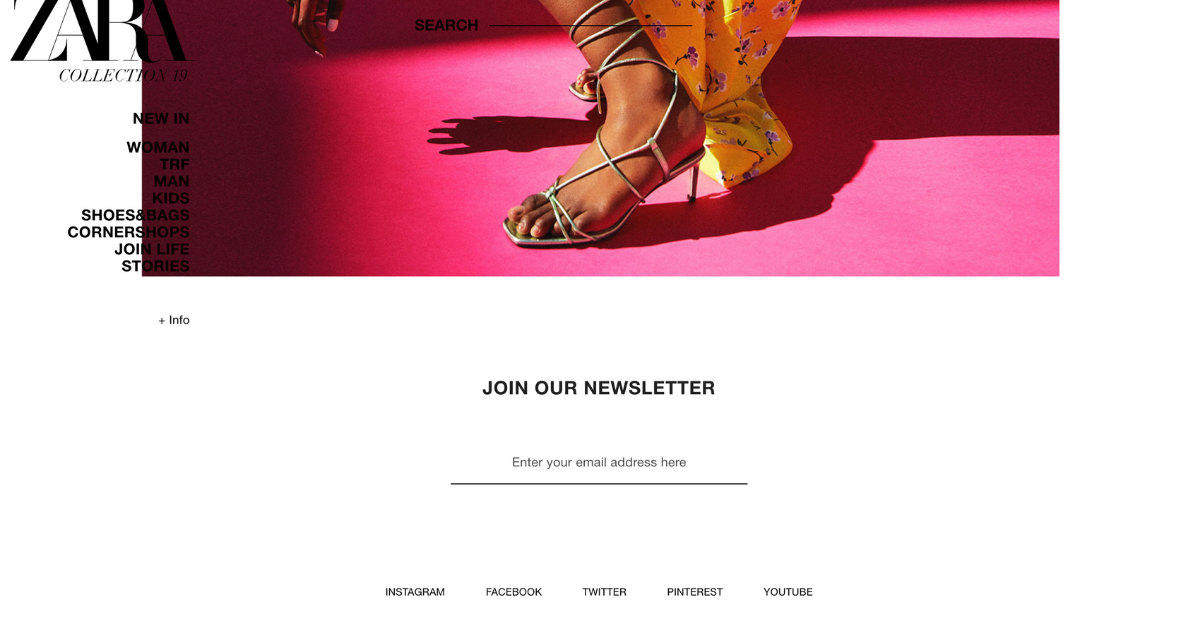 A clean storefront is extremely important in a fashion eCommerce page. You want to provide a clear-cut design with fewer distractions. Take, for example, Zara's homepage. There is a visible search button on top, various collection categories on the side, a simple newsletter opt-in, and the top social media networks at the bottom. Overall, it's a sight for sore eyes.
12. Transparency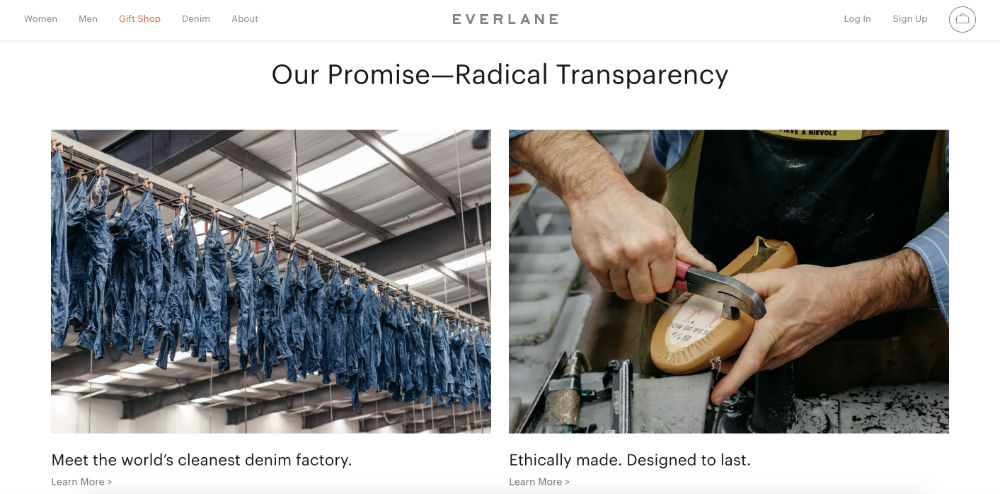 Nowadays, consumers are leaning towards more mindful consumerism. Hence, they feel like they deserve to know how the products are made. Transparency could be one deciding factor that can fill your customers' carts or not. By being honest about how you source materials, how you deal with laborers, and how products are manufactured, you're bringing your customers closer to brand affinity. Take a cue from Everlane with its one primary promise: Radical Transparency.
13. Sustainability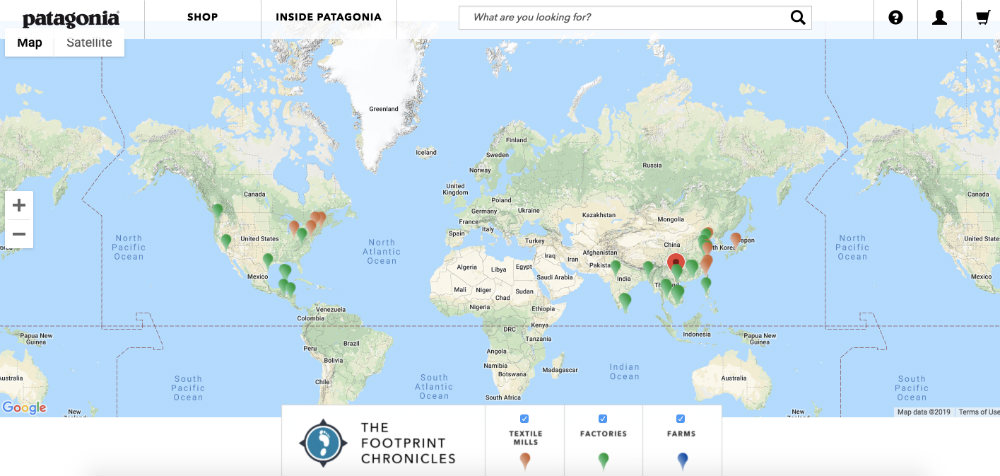 More and more fashion eCommerce brands are looking at sustainability to take corporate social responsibility seriously. Since people are also becoming more conscious of their carbon footprint, it's about time brands take action. Patagonia, although an outdoor apparel company, is a perfect example of this. They created the "Footprint Chronicles," where their consumers can search for factories and learn how their products are sustainably created.
Updated August 14, 2019