Meta Description: Do you want to run a successful Facebook campaign like the pros? Learn the ropes on how you can attain your advertising goals on Facebook.
As of July 2020, Facebook revealed that its daily active users were 1.79 billion. Even if you won't target every user, what's important is you captivate the right audience to achieve your advertising objectives. That's why you need to create an effective and solid Facebook campaign so you won't waste your marketing efforts.
Produce a successful Facebook campaign by posting compelling graphics to captivate your audience. Penji is an unlimited graphic design service that will help you achieve your campaign objectives. By subscribing to a Penji plan, you get access to the platform, where you can request Facebook ad designs for your campaign. Watch a 10-minute Penji demo to get a sneak peek of the platform in action.
For now, learn how to create successful Facebook campaigns. Plus, check out examples that will inspire you and create a Facebook campaign that will get more clicks, views, and likes.
How Do Brands Produce a Successful Facebook Campaign
Before brands run their campaign, they assess how they'll execute their campaign. Sometimes, they would hire a Facebook advertising agency or a media partner to help them at every step of the way. If for instance, you might have to do it yourself, here are four important things you should know in creating a Facebook campaign like the pros.
Identify Your Ad Objectives
What do you want to get out of a Facebook campaign?
Before your campaign goes live, Facebook will make you select your marketing objective. There are three main categories: Awareness, Consideration, and Conversion. Under the Awareness category, you can choose between Brand Awareness or Reach. Meanwhile, for Consideration, you can choose among these:
Traffic
Engagement
App Installs
Video Views
Lead Generation
Messages
Finally, as for Conversion, you can choose among Conversions, Catalogue Sales, or Stores Visits.
Know Your Audience
Who do you want to target? At what stage are they in the buyer's journey? You don't want to waste your advertising efforts if you're not targeting the right audience. Sure, you'll get impressions, but you have an objective to fulfill.
You have three different options in targeting your audience:
Core audience (target them based on location, demographics, behavior, interests)
Custom audience (these people have shown interest in your company already; you can get data from your CRM system, app, or site)
Lookalike audience (widen your reach by targeting new audiences similar to your current customer base)
Produce Appropriate Creatives
In some instances, agencies or media partners would create a graphic design for the carousel ads, link ads, photo ads, etc. Playing it safe, maybe they would use still images. Sometimes, if they have the budget, they would go for video ads.
Moreover, for ad images, you need to follow the 20% rule. The 20% rule refers to the text on the image. If it exceeds 20% of the image, your ad image won't run.
Plus, you need to remember your audience when creating the ads too. Since you want to target them, make sure that the ad appeals to them.
According to Facebook, here are the ad sizes you need to remember for a photo ad:
Facebook feed: 400 x 500 px (minimum)
With link: 476 x 249 px (minimum for desktop); 320 px (minimum for mobile)
Meanwhile, for carousel ads, Facebook recommends 1080 x 1080 px.
Monitor Your Data and Progress
A critical part of running a Facebook campaign is to know its performance. From here, you can assess if you need to reevaluate the current campaign. Maybe you need to adjust the budget and creatives by using an ad set. Plus, you can evaluate from here if you might need to run another campaign with a different budget and objectives.
For additional reading, you can even check out our handy and comprehensive Facebook Ads Guide. Learn more about setting up your ads and using the Ad Manager.
How to Use Penji to Design Facebook Campaigns
You need a reliable graphic design service to provide you compelling ad design for your Facebook campaigns. Penji can become your graphic design partner. You won't have to worry about MIA designers or delayed projects. We hire only the top 2% of designers. They're professional and trustworthy. That's one of the reasons why many companies keep subscribing to Penji.
Don't let your campaign fail by choosing a graphic design service that might not fulfill your design needs. Rest assured, by using Penji, you'll always receive high-quality work that exceeds expectations. Request and receive designs that you and your target audience will love. For as low as $399/mo, you can get Facebook ad designs and other graphics like banners, email newsletters, merch designs, and more!
Here are samples of digital ads that Penji designers have created for clients: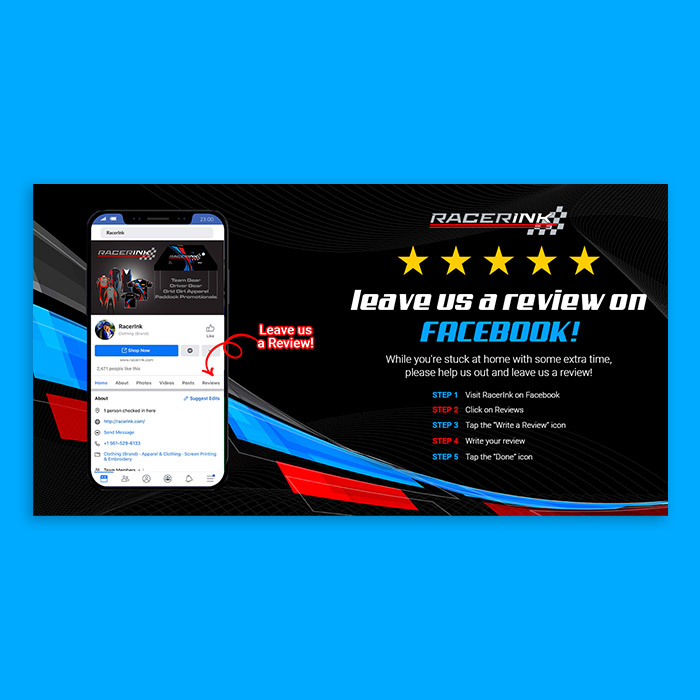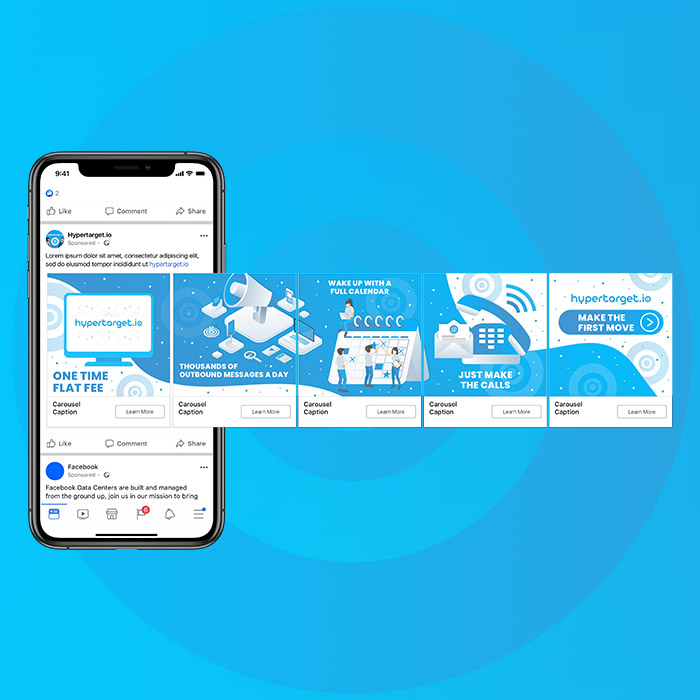 Stick around to get a preview of how you can request a design on the Penji platform. In the meantime, check out these successful Facebook campaigns from popular brands.
The Best Facebook Campaigns from Popular Brands
Mercedes Benz USA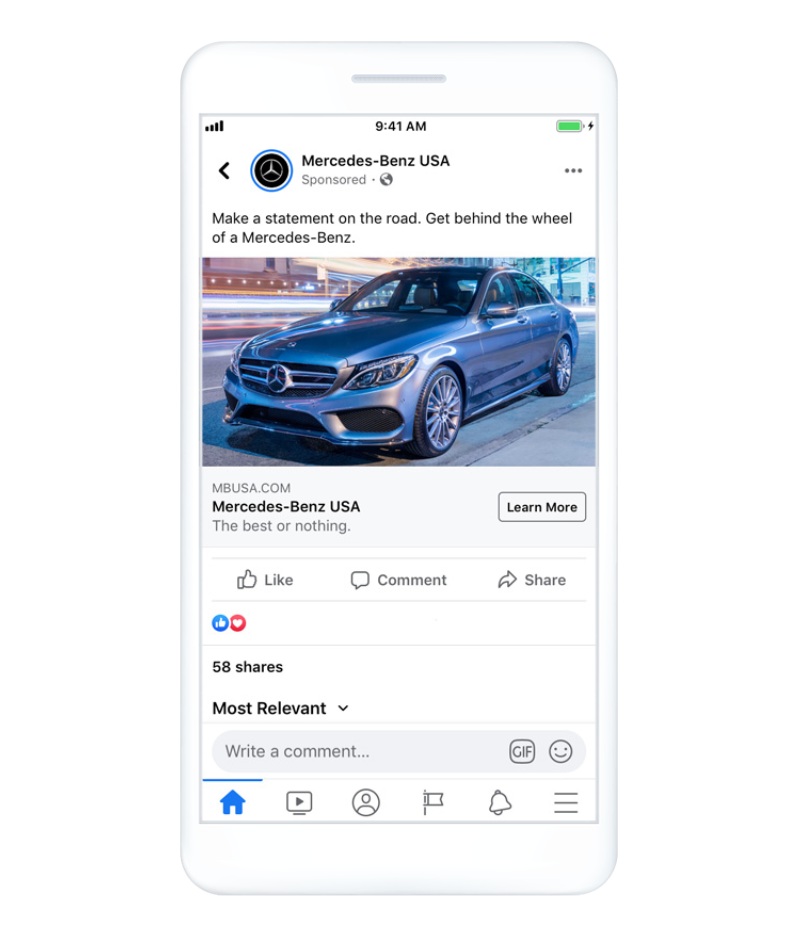 Mercedes Benz USA used the power of Facebook Pixel for one of their Facebook campaigns. They used personalization in their advertising strategy to reach customers regarding where they are in the purchasing journey. They used a series of carousel ads, photo, and video ads. Plus, they placed ads on the Facebook Marketplace and targeted custom and lookalike audiences.
During their June 20 to October 15 ad campaign, they attained a 10.3% lift in sales. They sold 162 vehicles because of the ad campaign. Plus, they had a 3.2x return on investment.
Ubisoft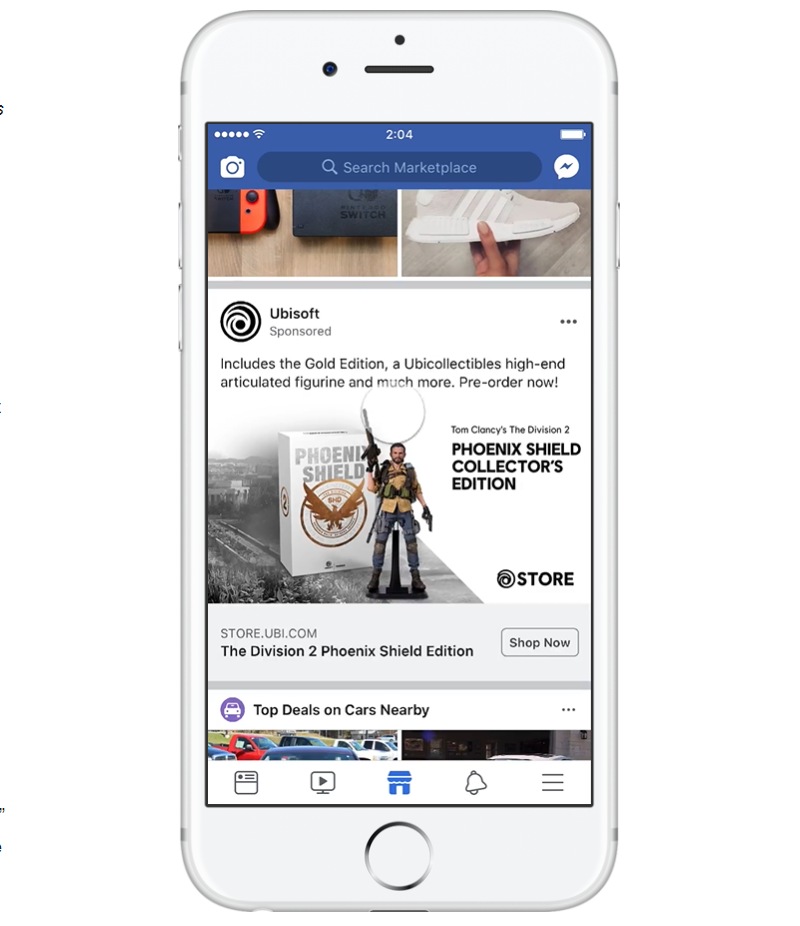 For Ubisoft, they wanted to boost pre-order sales for a game. After the success of previous Facebook campaigns, Ubisoft realized they could also attain the same success by running a campaign using the Facebook Marketplace. To do that, they used photo ads placed on the Facebook Marketplace added with a Shop Now copy.
They achieved their goal because they saw a 67% increase in purchase intent, 3.4 million people saw the ads and a 5.4 point lift in purchase intent.
Louis Vuitton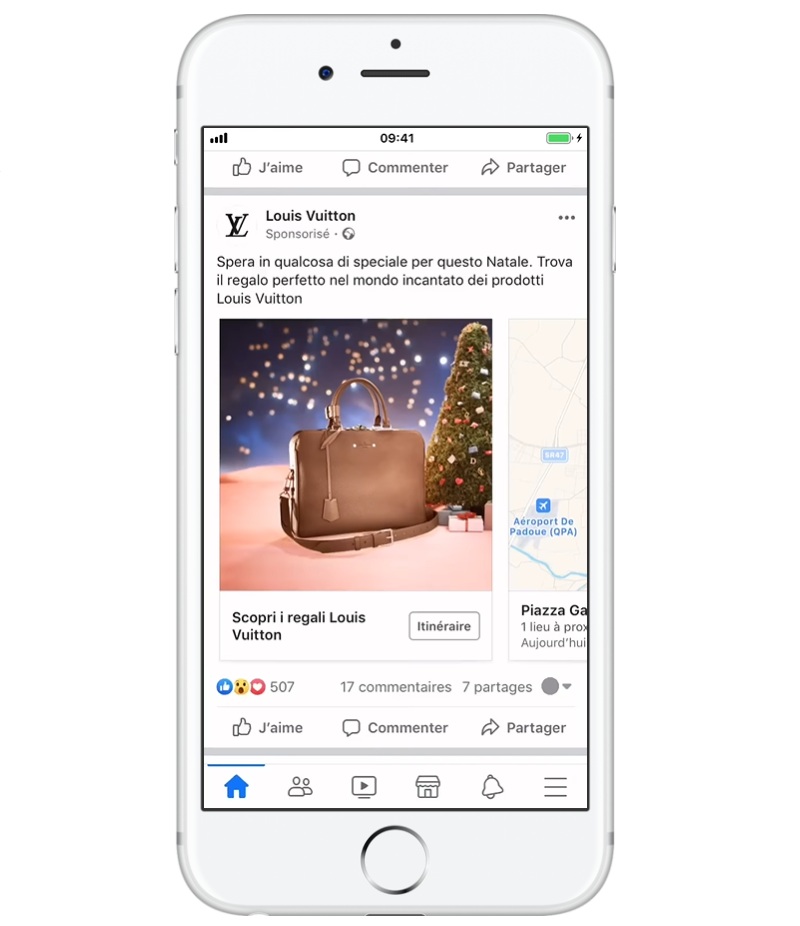 Louis Vuitton focused on retargeting measures, so anyone who lived near a Louis Vuitton boutique in Italy would visit that store. They used a combination of photo and carousel ads. There, they added a map of the nearest boutique store so their potential shoppers can drop by and see their selection.
Their Facebook campaign was a success. At the end of the campaign, they had 13,000 store visits and reached 742,000 people.
Aeropostale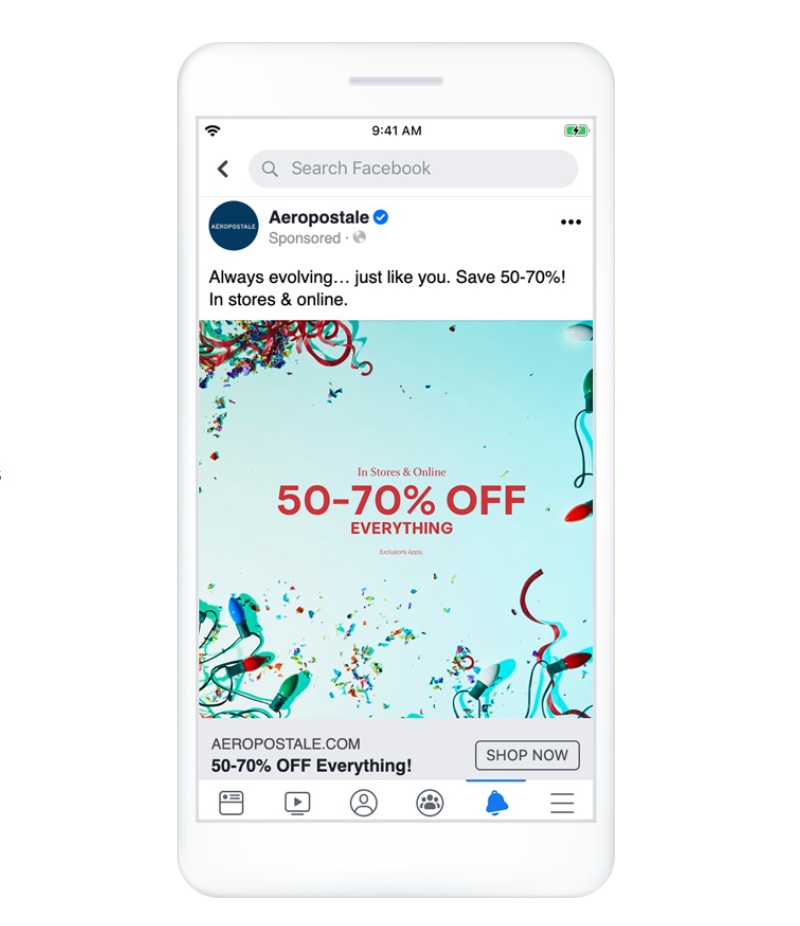 Aeropostale wanted to boost its online sales and increase brand awareness by using Facebook ads. They used photo, video, Stories, and dynamic ads for the campaign. The campaign duration was from November 1 to December 31, 2019.
They ensured to guide shoppers through every part of the buyer's journey. For example, they would personalize ads for those who are still in the awareness stage. Meanwhile, those in the consideration stage are likely to get ads that will help them convert. As compared to their 2018 holiday campaign, they saw a 3.7x increase in revenue, 2x increase in conversions. Plus, there was also the 3.9x increase in return on ad spend (ROAS).
St. Ives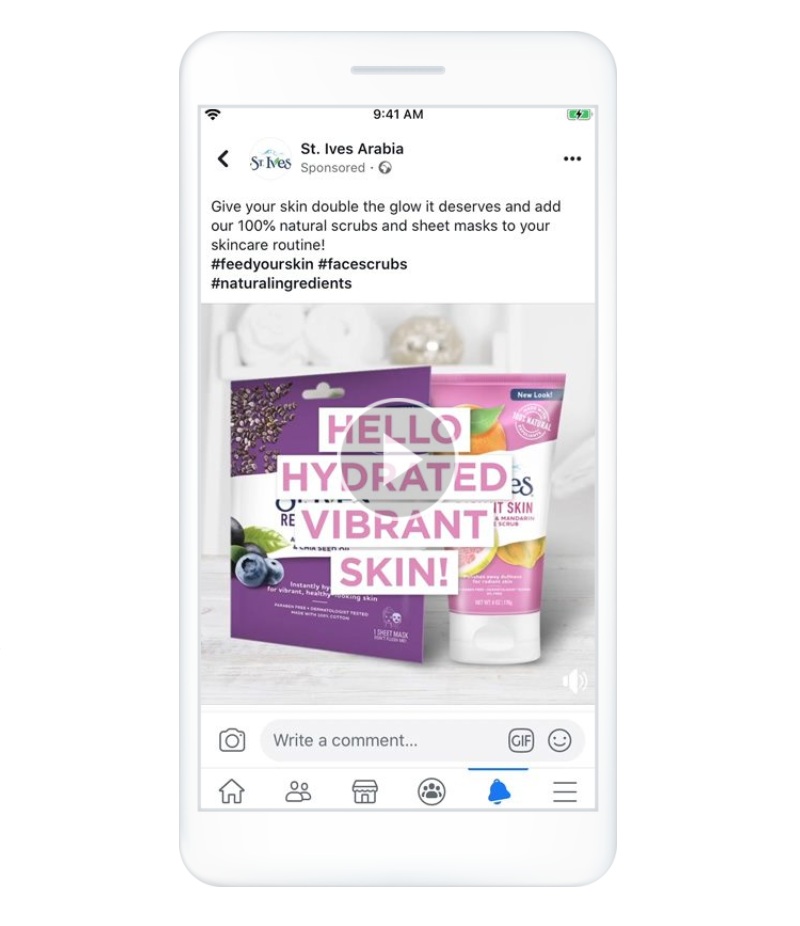 St. Ives ran a campaign in the United Arab Emirates (UAE) and the Kingdom of Saudi Arabia (KSA). They wanted to boost brand awareness with their products, plus have them use their skincare line. Their strategy was to introduce the products to the user, interact with them, and eventually convert them into customers.
So, they used both photo, video, and Stories ads. Then they optimized their ads through Automatic Placements and published ads on Instagram to widen reach.
After the campaign, they generated a 2.7x increase in purchase in the UAE and 3x for KSA. Plus, they had a 4.7-point lift in favorability.
Airbnb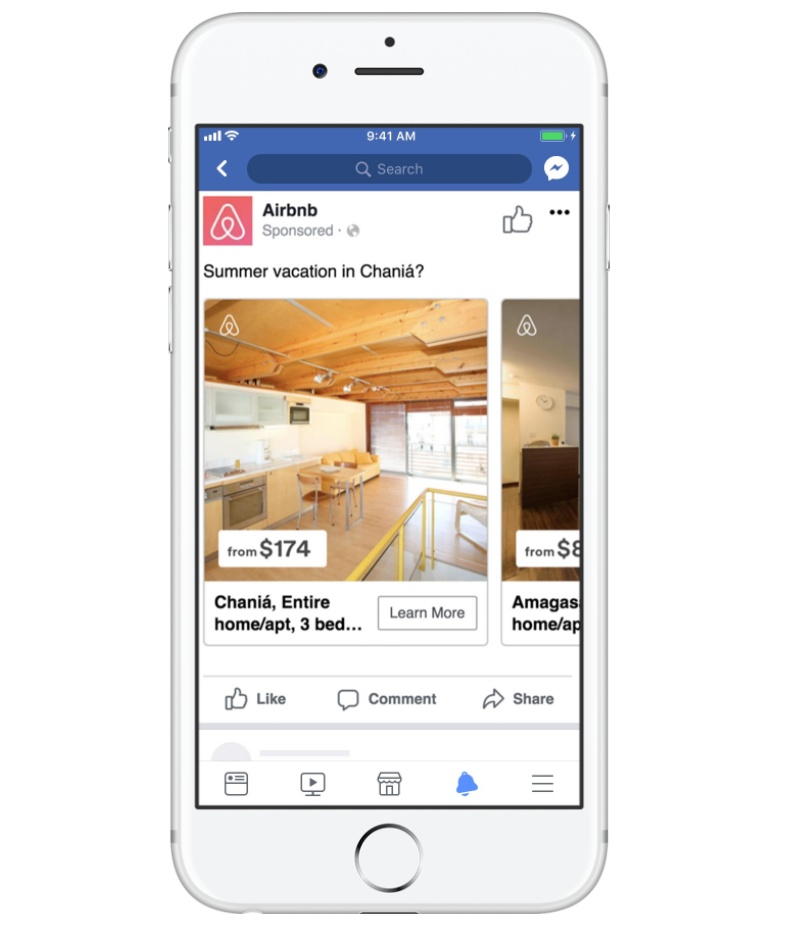 Airbnb aimed to increase travel bookings on the site. By doing so, they wanted to reach a wide audience. Plus, they wanted to personalize ads based on user activity as well. They used both carousel and dynamic ads with high-quality photos of locations to ensure it will captivate their target audience.
The campaign ran from June 23 to July 2017, and a whopping 238 million users saw their ads. This campaign generated an increase of 3x in ROAS and a 47% low cost per acquisition.
Garmin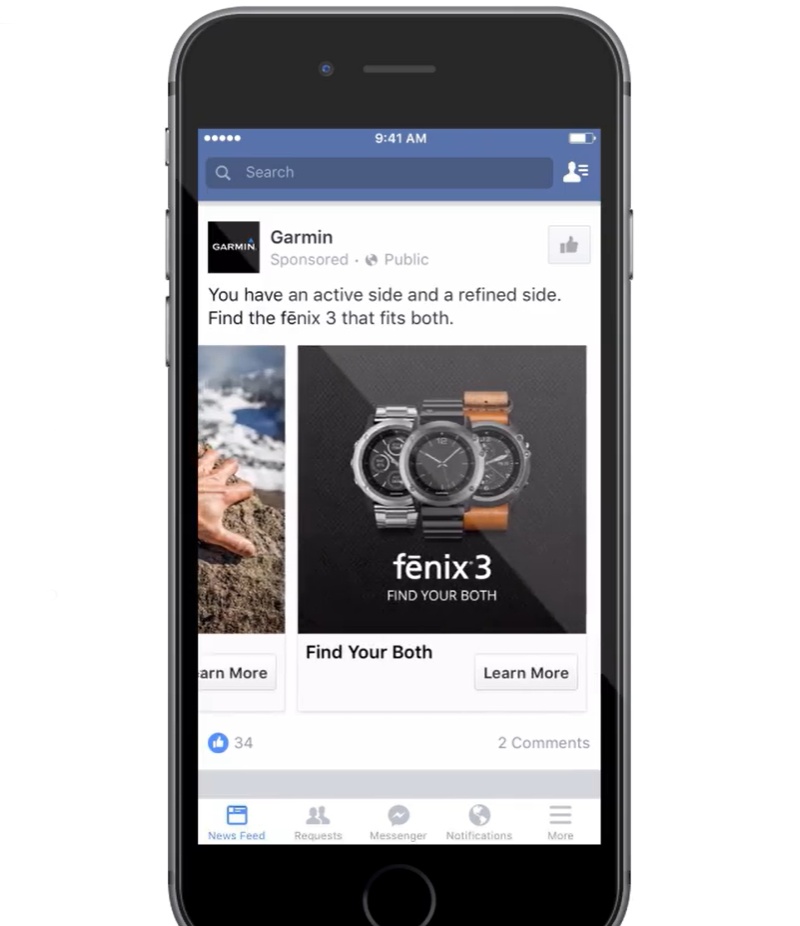 Garmin advertised on Facebook to increase awareness and conversions during the launch of their new product, the fēnix 3 multi-sport watch. They used link, video, and carousel ads. They used tools such as custom and lookalike audiences as well.
Their campaign was a success since they achieved a 9.7x ROAS and an average of 1.8% click-through rate.
Samsung Gulf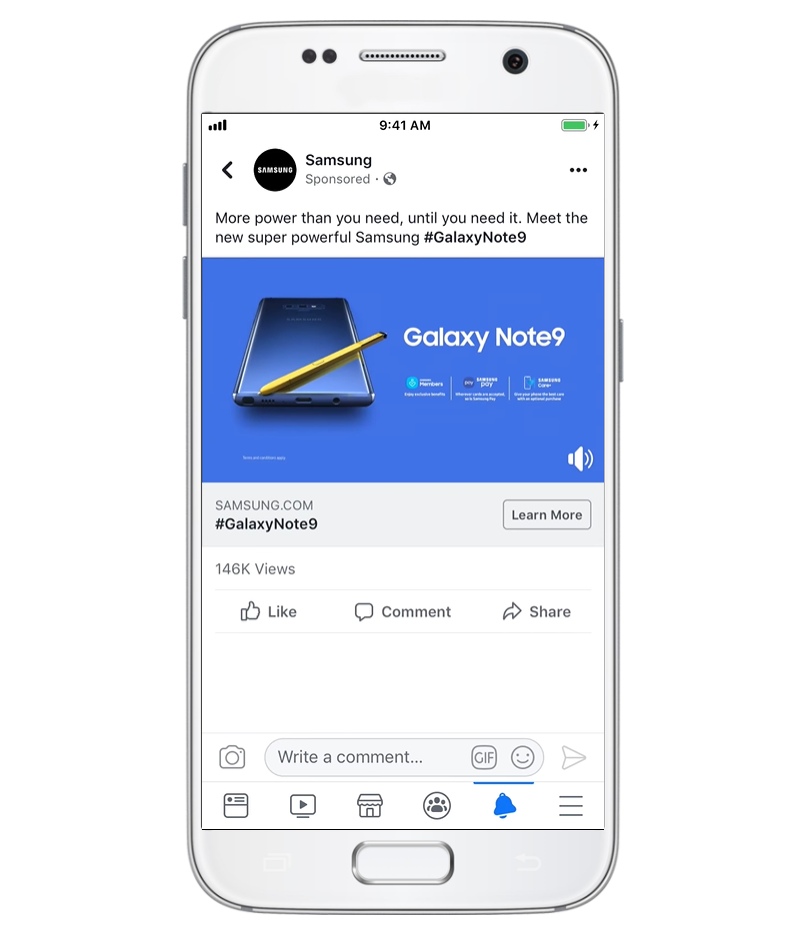 Samsung wanted its Middle Eastern and North African users to upgrade to a Galaxy Note 9 smartphone. Plus, they wanted to see if they could get more customers to purchase their products. By partnering with an agency and media partners, Samsung optimized their ads to target their existing customers and those who don't use Samsung.
They used photo, video, and Stories ads, plus custom audiences and Automatic Placements to reach their objectives. After running their campaign, they saw a 15% increase in upgrades and a 27% increase in customer acquisition.
Coca-Cola European Partners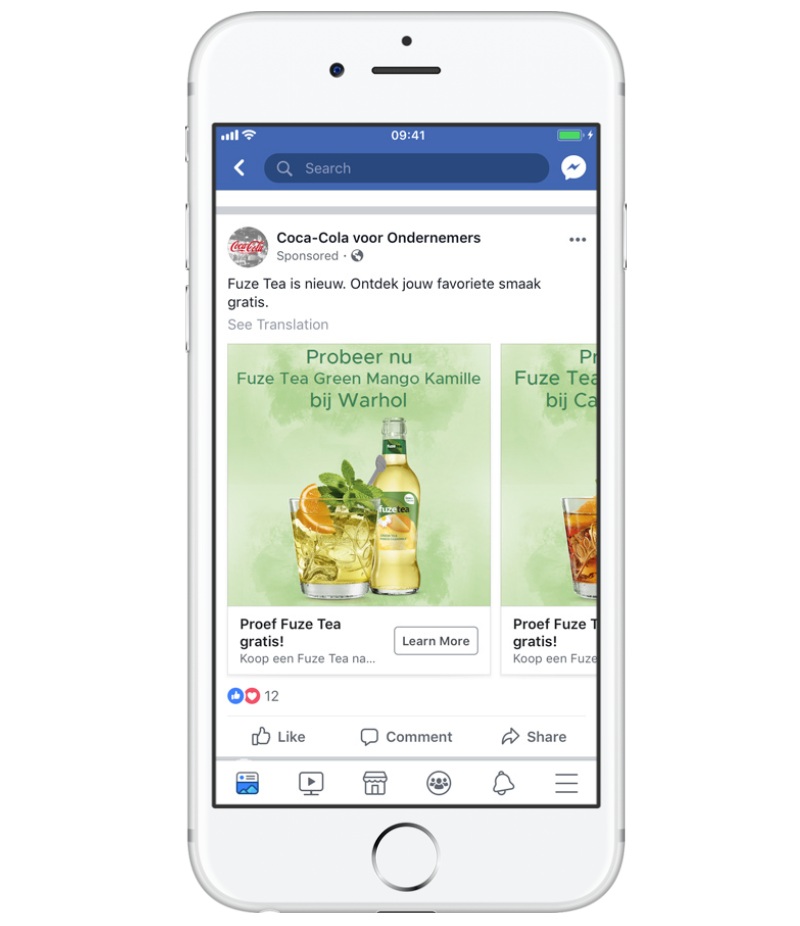 Coca-Cola European Partners is the bottling partner for Coca-Cola. They ran a campaign to encourage shoppers to buy Fuze Tea to help its Dutch vendors. They partnered with an agency to produce 10,000 variations of their ads. Plus, they used both carousel and link ads to accommodate the variety of ad creatives.
They achieved their goal because 32,000 tried the drink for free since 32,170 users redeemed their offer. Plus, they even reached 1.4 million shoppers.
Toyota Australia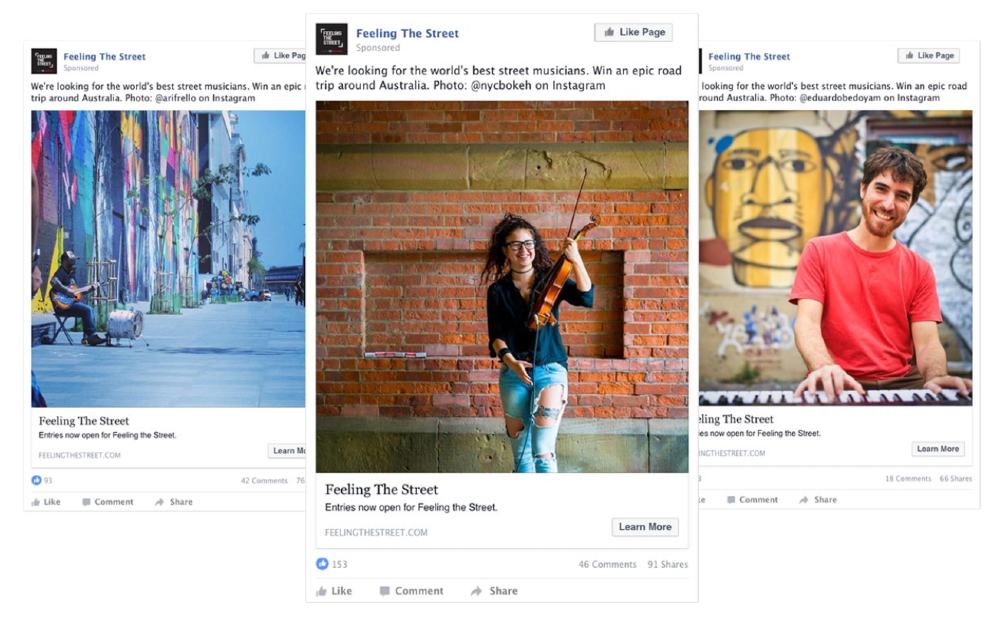 Creative Agency Media Blanco used Stackla to help Toyota Australia attain its goal to increase engagement for their "Feeling the Street" campaign. By using Stackla, they used user-generated content for their Facebook ads. It was how they increased engagement rates for the campaign. The turnout was a huge success because it achieved 1.2 million engagements compared to the 880,000 they expected.
How to Request Designs on Penji for a Facebook Campaign
When you subscribe to a Penji plan, you can start using the Penji platform to request the designs you need for your Facebook campaign. It's a three-easy step process from requesting to receiving your design. Here's how you can do it:
1: Create a Project
On the Penji platform, click the New Project button. From there, you'll submit a form with all the details needed to complete your project. Let's go through this one-by-one.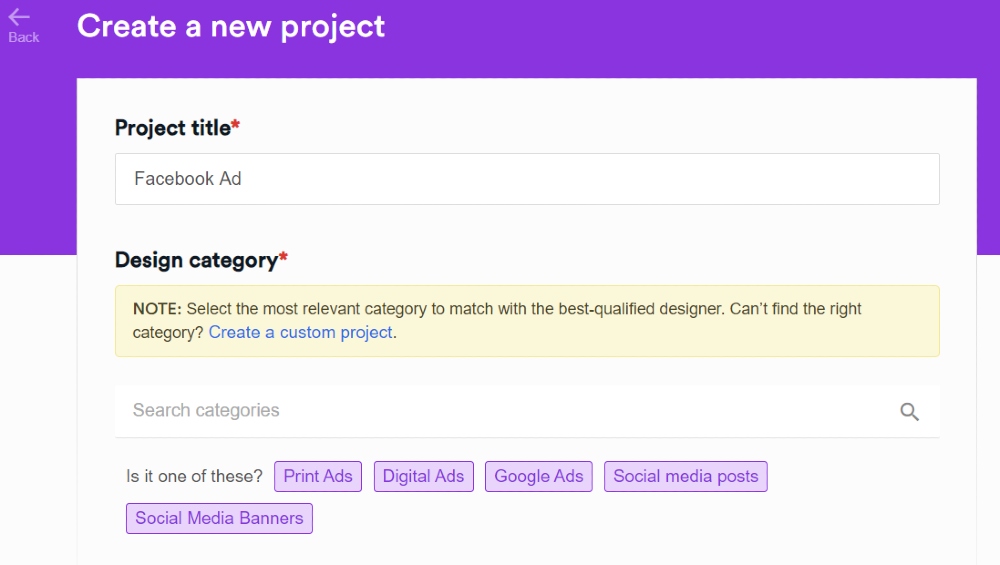 First up, you need to provide a Project title & choose a Design category. Once you've supplied a Project title, search for Digital ad as your design category.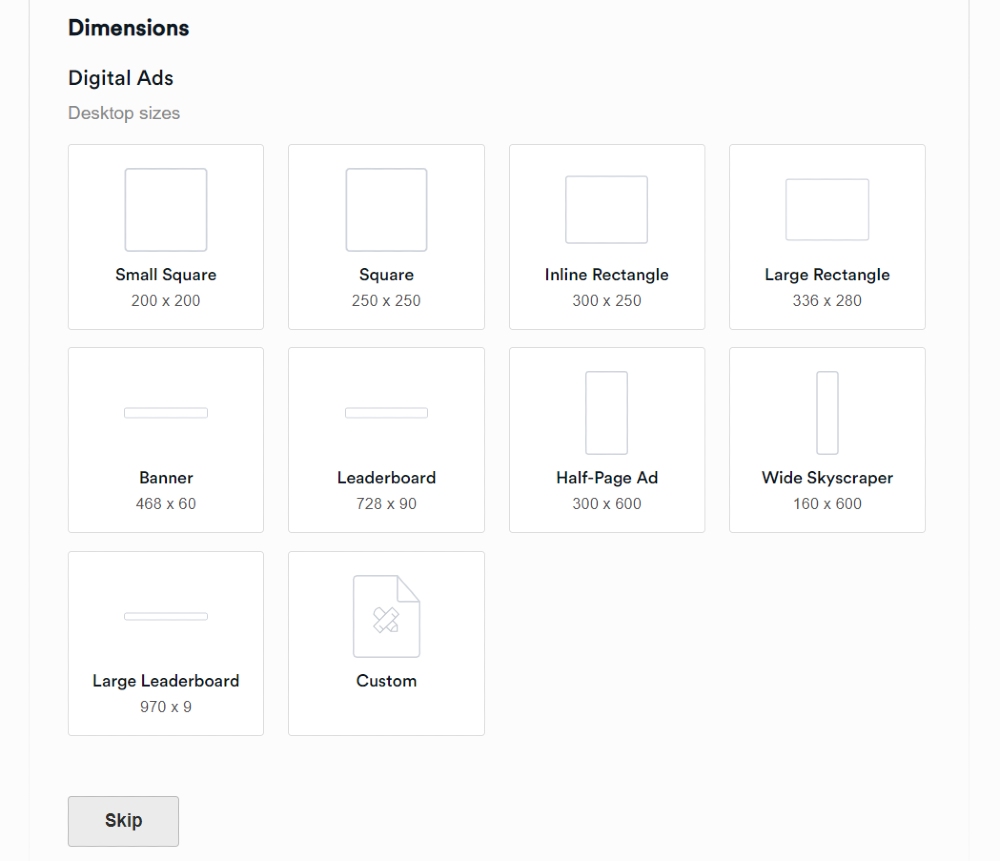 From here, you'll see Dimensions appear. You may select Custom if you know the Facebook ad size you need for your campaign. You can always skip this step and specify the type of Facebook ad you'll be posting on the Description.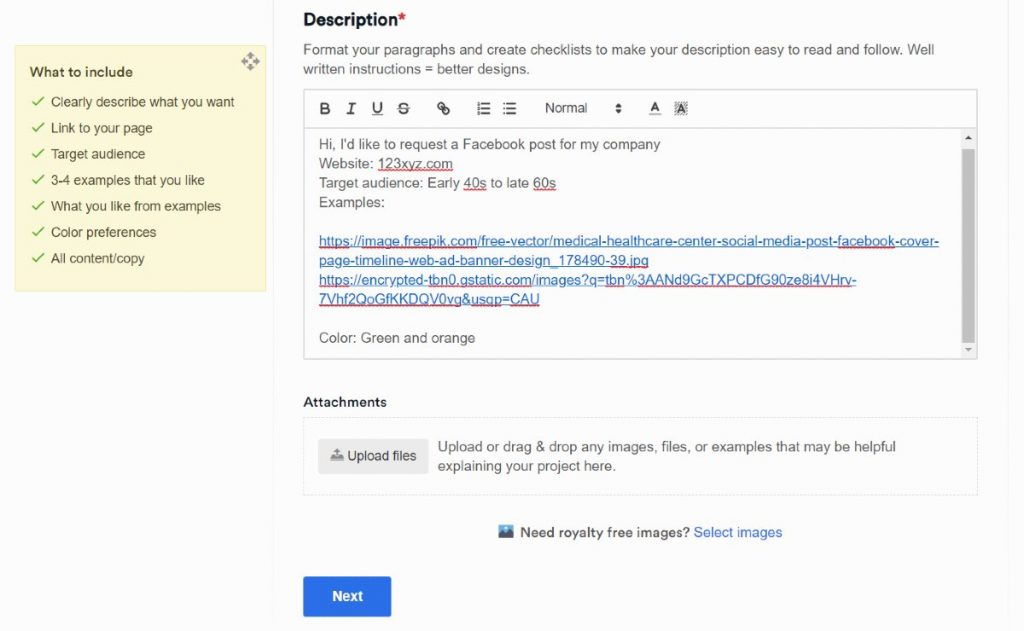 The Description field will then appear, and you'll write in the details of your project there. Make sure to follow the What to Include guidelines. This way, your designer will immediately understand the specifics of your design. Plus, it will reduce any delays.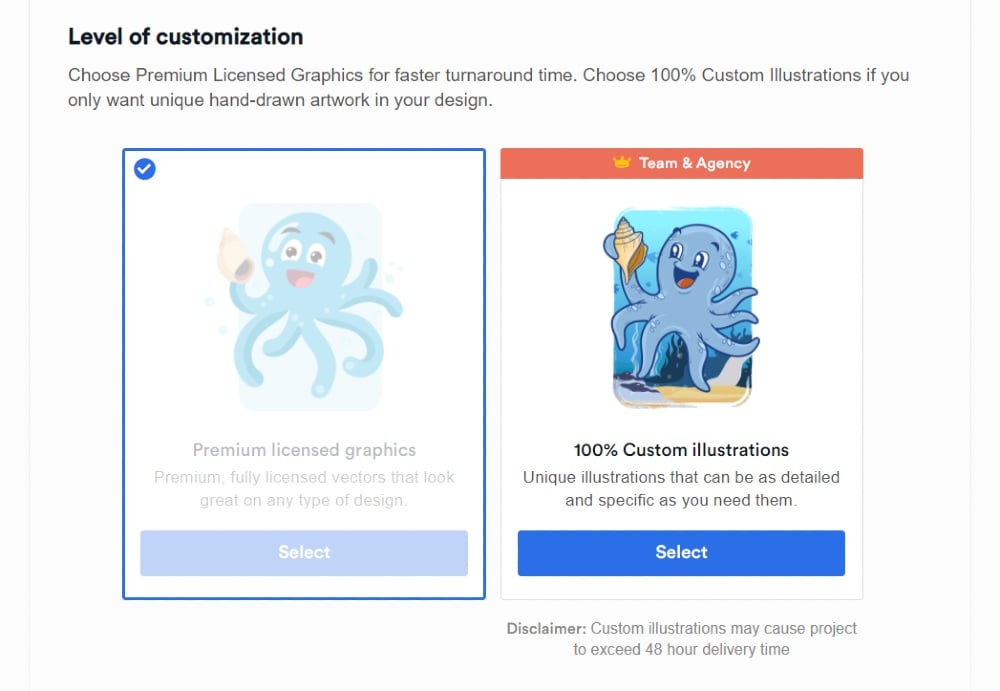 Once done, click Next, then choose the Level of customization, File deliverables, and Associated brand. From there, click Create project, and you submitted your first project!
Penji will then assign a designer to your project. They'll read the details of your project and start working on it right away! You'll receive the first draft within 24 to 48 hours.
2: Review the Project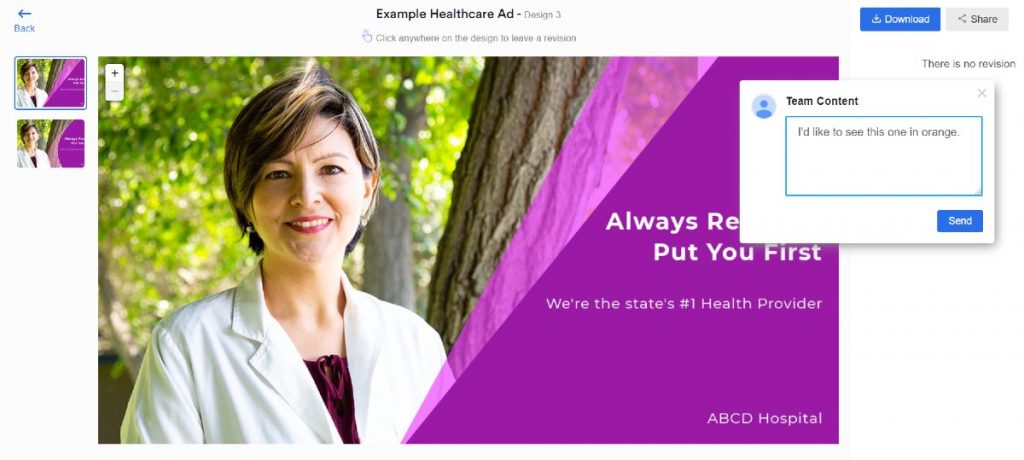 Once the designer submits the first draft, you can review the design. If the design needs more work, you can let the designer know what to edit with the revision tool. All you need to do is point and click on the design, and leave your comment.
The designer will then deliver an improved version of your request within 24 hours. Other design services don't offer that quick turnover.
Furthermore, on any Penji plan, you have unlimited revisions. So, revise until you're satisfied. Some design services would have limited revision features, while some others charge extra. Here at Penji, you won't have to worry about additional costs. Unlimited revisions are part of your plan.
3: Download the Design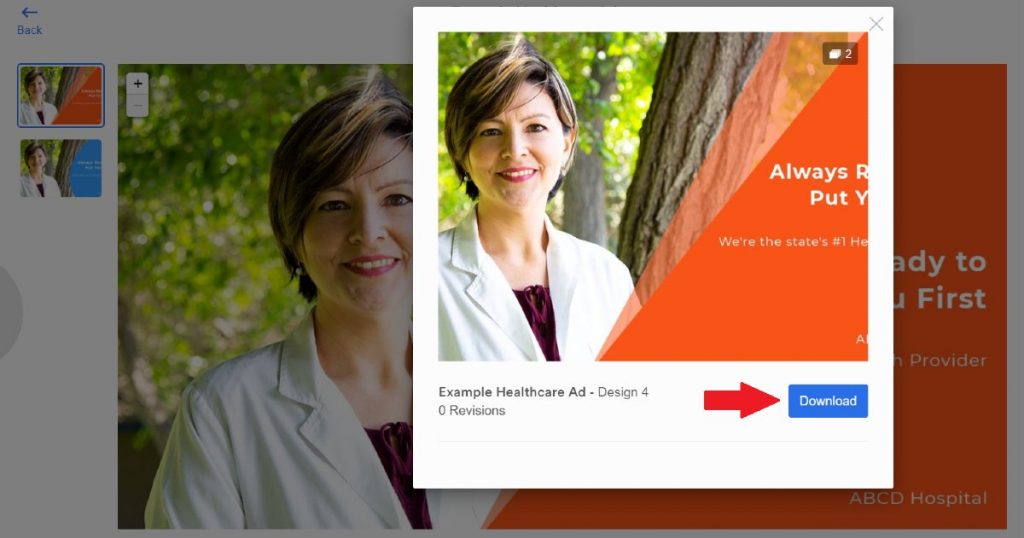 Are you happy with the design you received? If so, all you need to do is download it. That's it! Click the Download button, and it will be saved to your computer. It's that easy.
If you need to download your designs once more, log back in on the Penji platform, and download it again. Penji stores your files on a cloud, so you won't have to worry about losing your designs.
Wrap Up
Brands continue to use Facebook as an advertising channel because of the user base and the successes yielded by the companies above. To create a successful Facebook campaign, you must always remember your objective and audience. That way, you're right on track, and you can further evaluate ad performance to attain success like most companies do while advertising on Facebook.