The healthcare industry markets through the use of personalization and trust. By sharing patient stories, brand personality, or being involved in a trend is a great way to market. To compete with the largest healthcare organizations in the industry, invest in good graphic design.
Here are some of the best healthcare ads that you can get inspiration from:
1. Carilion Clinic Campaign: #YESMAMM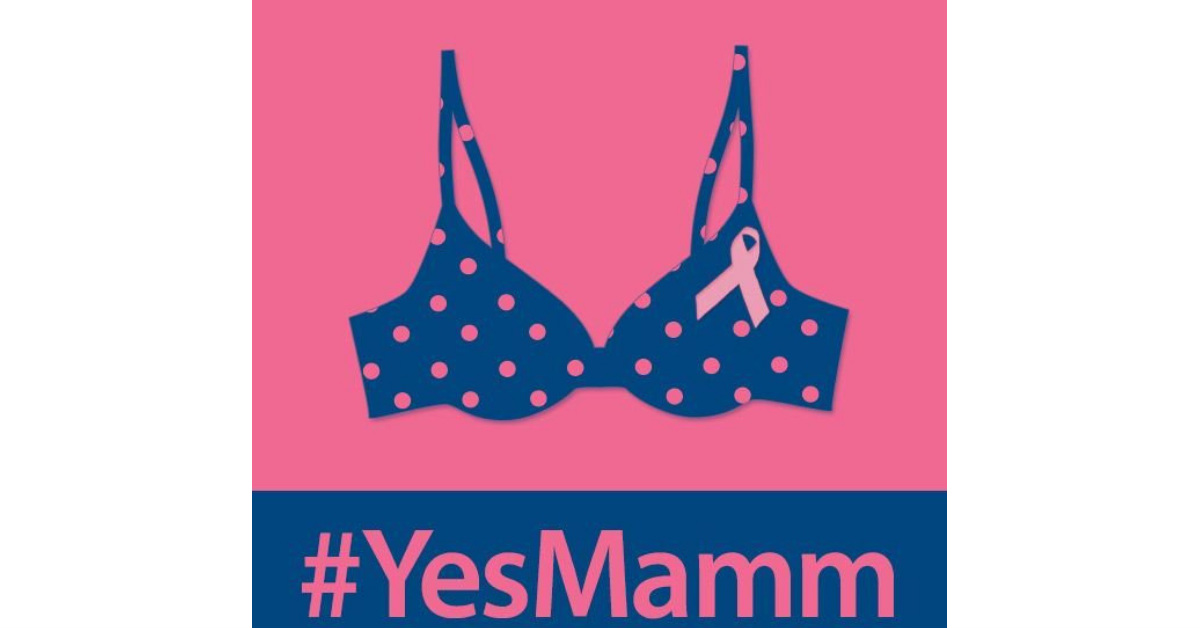 Carilion Clinic of Virginia's Roanoke Valley created the "Yes, Mamm" marketing campaign. The Twitter campaign used the #YESMAMM hashtag to answer common breast cancer questions from their audience. The campaign was a friendly interactive way to raise awareness of breast cancer. It also drove traffic to the Carilion Clinic website to not only encourage women to make an appointment at one of their local labs but to also be aware of the potential issue.
So, the campaign became successful due to the use of social media. The clinic chose the right platform for their campaign, knowing that the campaign would pique the interest of their target audience. Twitter also made it easier for the majority of their audience to respond to the campaign.
Related readings: Billboard Ads That Will Impress You
2. New York Presbyterian Hospital Campaign: Patient Stories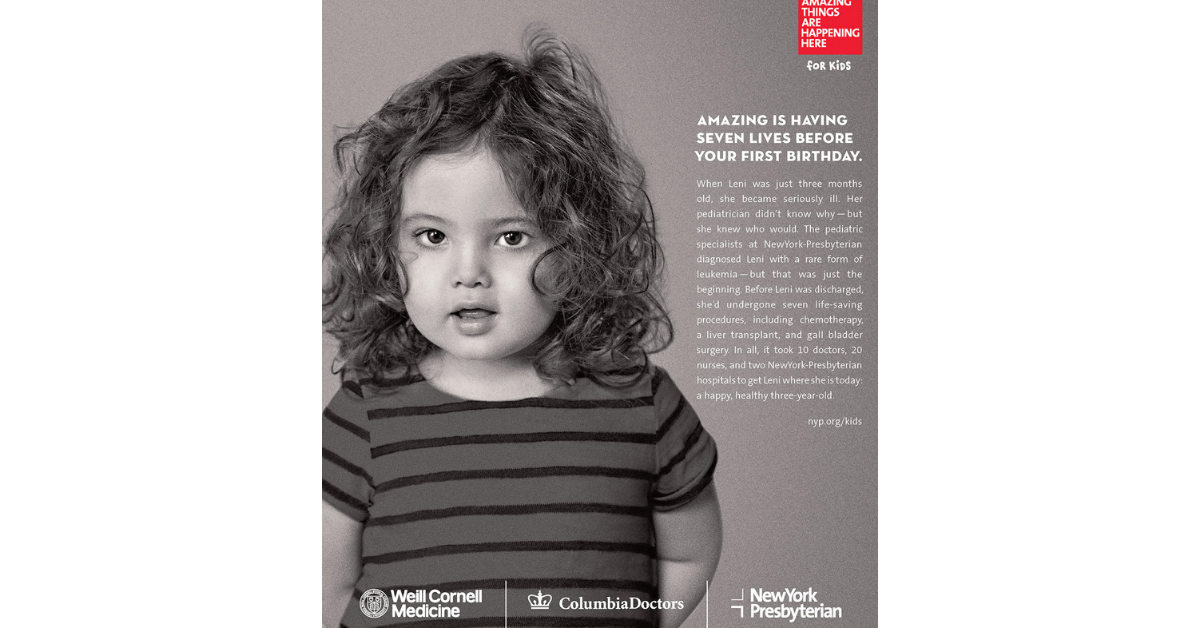 Healthcare ads that showcase patient stories can trigger emotions of empathy. It is a good promotion of the healthcare field since it retells the stories of patients being saved by medical practices. This marketing campaign creates a sensitive tone for consumers while shining a positive light on their hospital reputation.
The story of Michael Kiernan from the New York Presbyterian campaign sparked many responses to the ad. By showcasing raw stories on how doctors and nurses are able to support patients during dire needs, audiences can put their trust in New York Presbyterian Hospital. The black and white style of the design also adds a dramatic and serious impression on the viewer.
3. UnitedHealthcare Campaign: We Dare You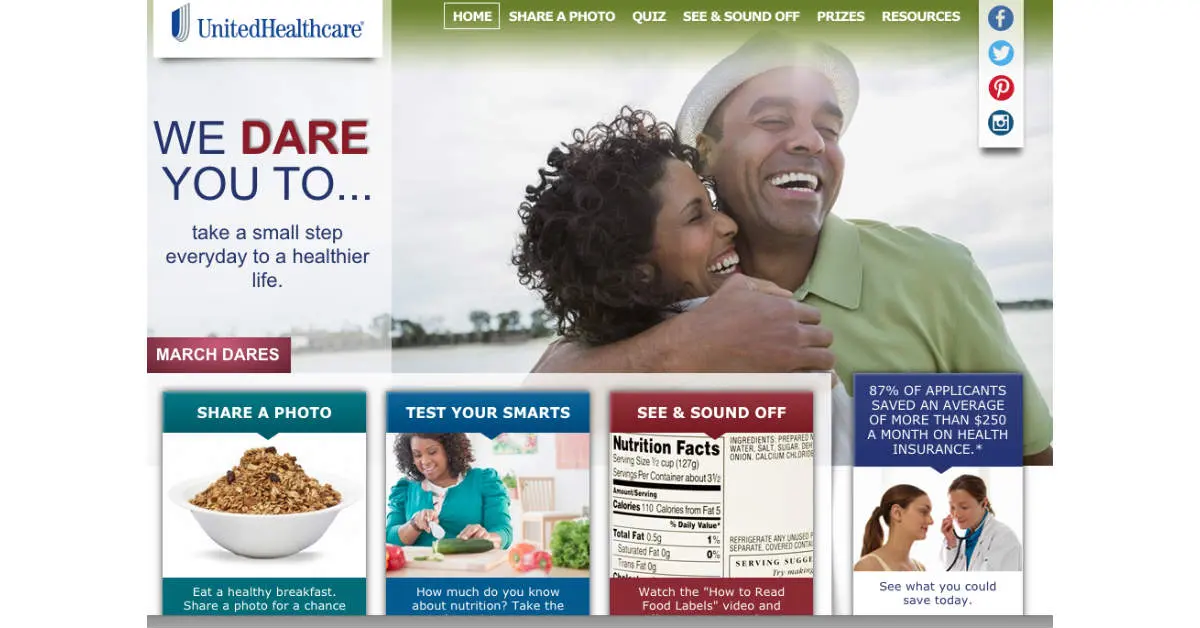 UnitedHealthcare created an interactive campaign in order to promote healthier habits. The campaign created monthly dares, quizzes, and prizes on its website. UnitedHealthcare worked on encouraging their followers to make one small healthy change per month and document it on social media.
The healthcare ads campaign was successful for many reasons. Followers of the media are responsive to challenges – it's fun, harmless, and spreads awareness.
4. The Mayo Clinic Campaign: Sharing Mayo Clinic Blog

The purpose of The Mayo Clinic ads campaign is to gather diverse patients into a global online community. The blog showcases stories from patients, family members, and the Mayo Clinic staff. The stories are seen as a source of inspiration.
This campaign boosted Mayo Clinic's well-known reputation as a trusted healthcare resource. Mayo Clinic is utilizing healthcare marketing into their campaign by enhancing its content. The campaign became so successful due to its diverse global followers and informative blog that is shared frequently.
5. Dana-Farber Brigham & Women's Cancer Center Campaign: You Have Us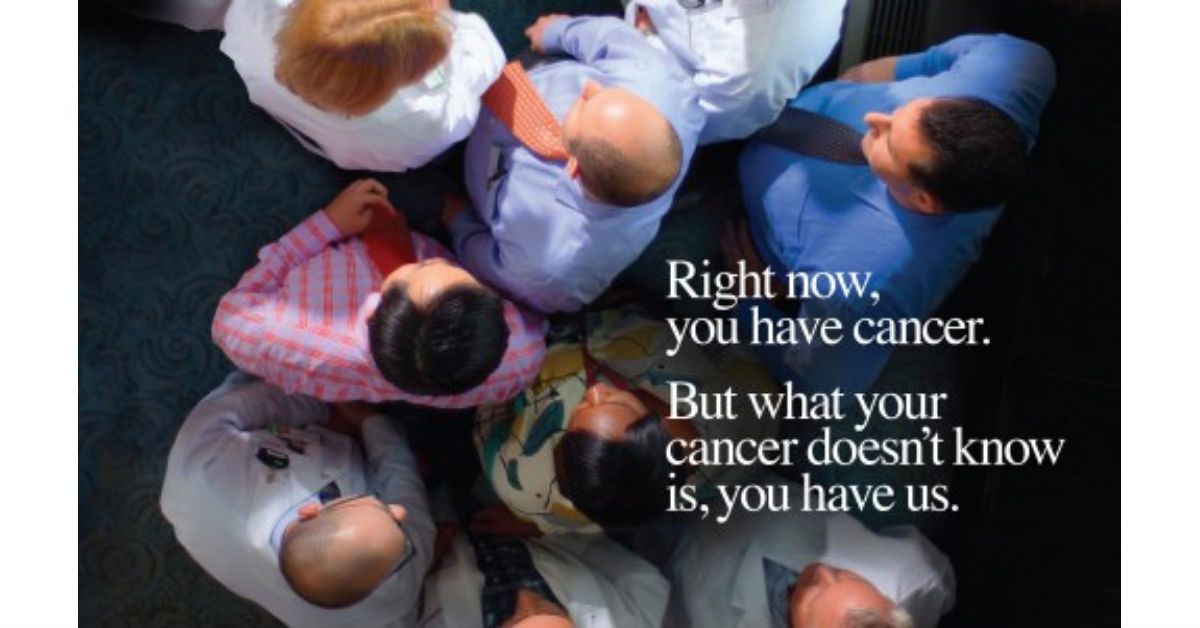 Dana-Farber Brigham & Women's Cancer Center created the slogan, "Right now you may have cancer. But what your cancer doesn't know is — You Have Us." The quote became an empowering tool for those dealing with cancer. The healthcare ads campaign made a tremendous impact on their audience by sharing words of encouragement and a support system.
The Dana-Farber Cancer Institute also created inspiring online videos that showed the center's approach to cancer treatment and state-of-the-art facilities. By sharing the videos along with their slogan on social media, Dana-Farber Brigham & the Women's Cancer Center built trust and dependability between them and their patients.
6. Banner Health Campaign: Infographics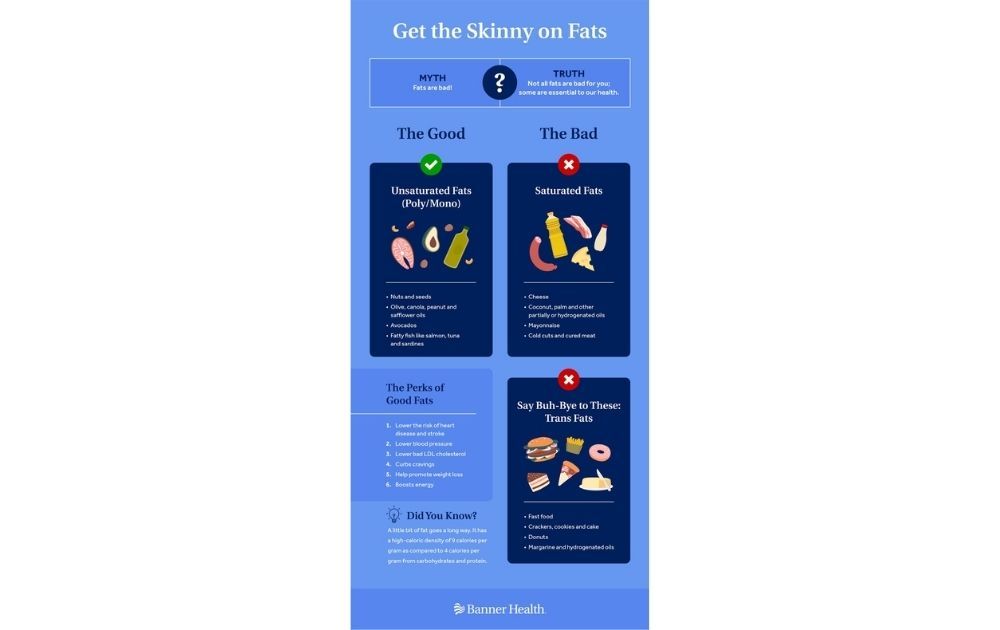 In digital advertising and marketing for healthcare and wellness, visual content is widely utilized and shared. A way to create a visual design with written content through infographics. Banner Health has created many wellness, parenting, nutrition, and mental health infographics for their audience in order to stay informed about their health. The infographics serve a specific purpose to simplify difficult content into consumable content.
Infographics typically target those who are not interested in reading a lengthy, technical article on an important target. Instead, infographics summarize the important pieces from a concept and visually maps it out for the reader. The Banner Health infographic campaigns are successful because infographics are shareable through all social platforms and many people need the information.
7. Philips: #MakeLifeBetter Campaign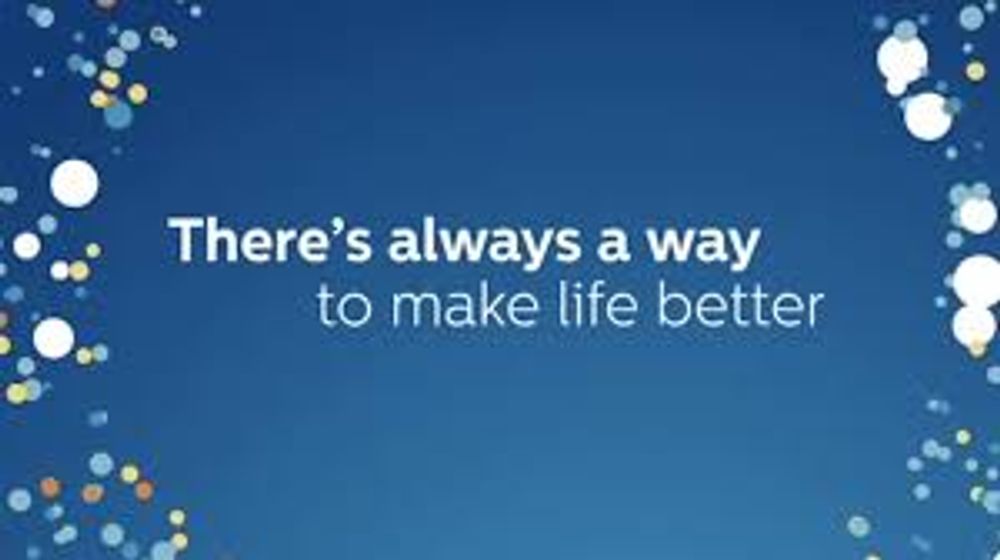 In 2017, Philips created its Better Me, Better World concept as part of their #MakeLifeBetter campaign. The campaign aims to improve the lives of 3 billion people each year by 2025. This concept is an interactive campaign for their audience in order to improve themselves, as well as it is a way for Philips to better connect with their followers.
The Better Me, Better World campaign provides users with personal benefits – some of their causes include: caring for at-risk mothers and children, community access to healthcare, social entrepreneurs, healthy lifestyles for children, and more. The campaign became such a success due to the positive atmosphere that Philips created.
8. Boston Scientific: #STEMtember Campaign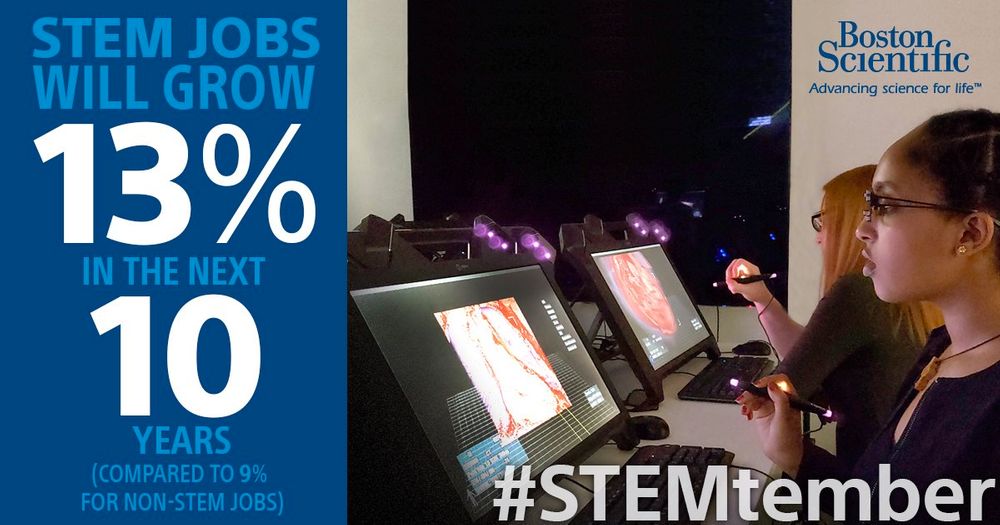 Their #STEMtember campaign showcased many stories from Boston Scientific teams around the world and the STEM activities they're participating in. Some activities include:
Robot Competition Team: The activity centered around an all-female team of high school students. The team has to build and compete in robotics competitions.
Science School Program in Japan: Boston Scientific Japan launched a medical science experiential school for children in order to learn about human anatomy. The school provided hands-on learning for medical and scientific education.
By providing hands-on activities, people are more receptive to learning and sharing the resource.
9. Johnson & Johnson: Preparing Nurses For The Future Campaign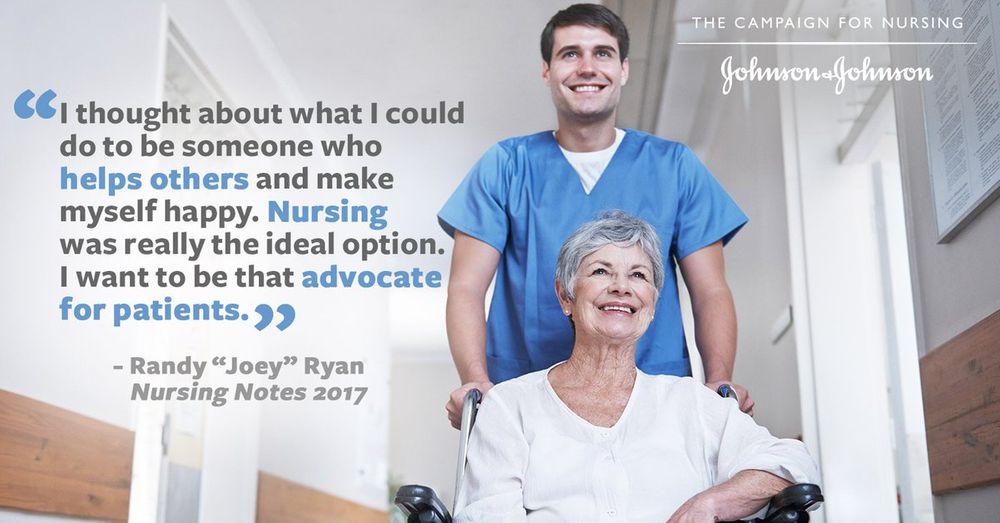 Johnson & Johnson launched the campaign for Nurses' Future in 2002 to address the shortage of nurses in the nation. The Campaign aims to convert more people into the nursing career. DiscoverNursing.com is an online portion of the Campaign. It's where nursing organizations, schools, hospitals, and other healthcare groups share information and resources.
The campaign sparked interest around people since the campaign uplifted an entire community. Not only did it promote the nursing industry, but the campaign also gave people a voice to share their stories.
10. Anne Arundel's Medical Center Campaign: Mustache Selfie Facebook Contest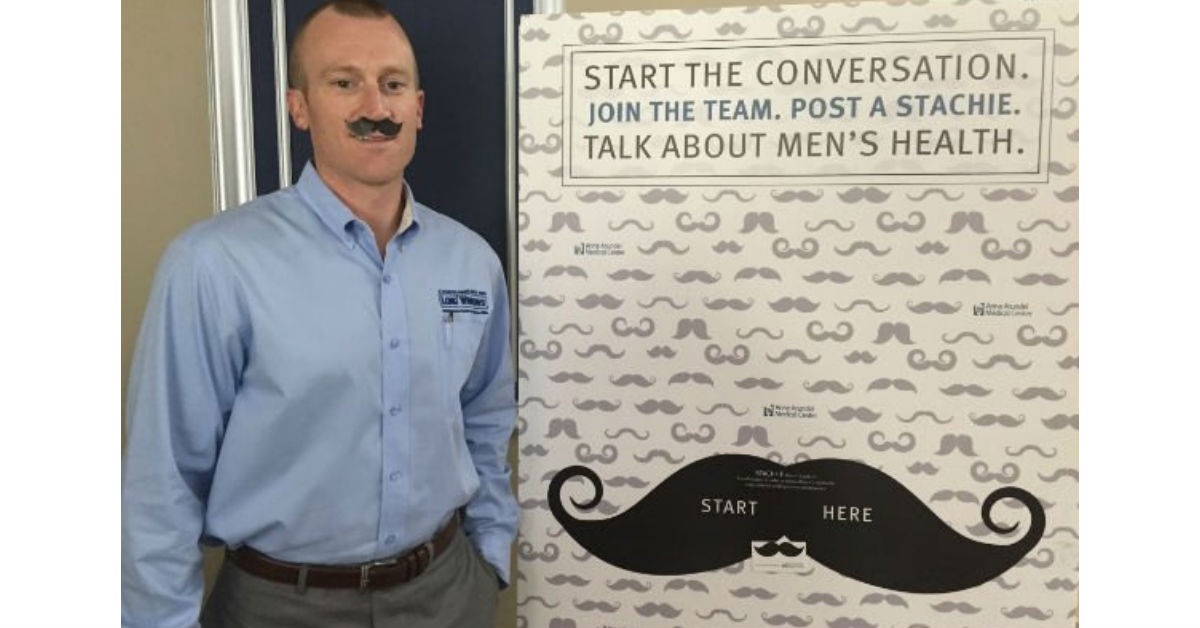 Anne Arundel's Medical Center created an online contest asking their followers to post their best selfie with a fake mustache. The campaign aimed to raise awareness for men's health during November (No Shave November, etc). The responses were charming and raised awareness to the campaign's message. The contest also increased traffic to the medical center's online page for Men's Health.
The campaign became so popular due to the impact it had on social media. It was a fun and informative campaign for everyone to enjoy.
11. PillPack Campaign: Add a Good Review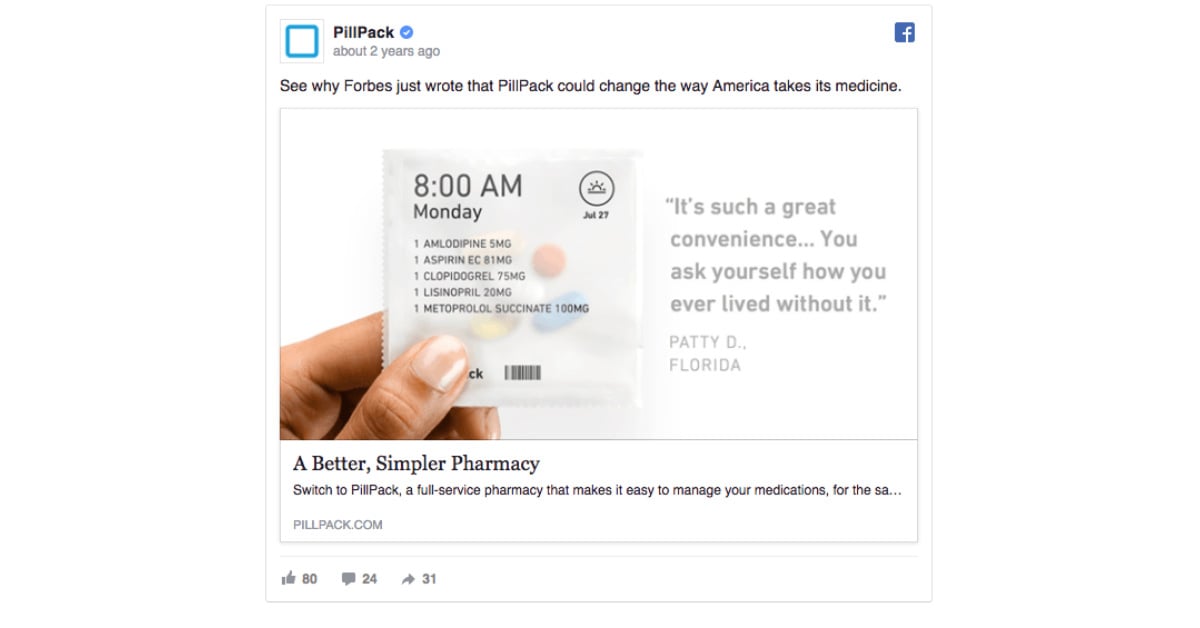 PillPack leveraged its PR resource into shareable content on Facebook. By sharing a Forbes article about them, the brand enhanced its credibility by bringing in a reliable resource to testify for them.
Even though the campaign did the bare minimum, it was extremely effective in their marketing efforts. It was successful because the campaign provided raw evidence on their dependability.
12. Lumosity Campaign: Include a Game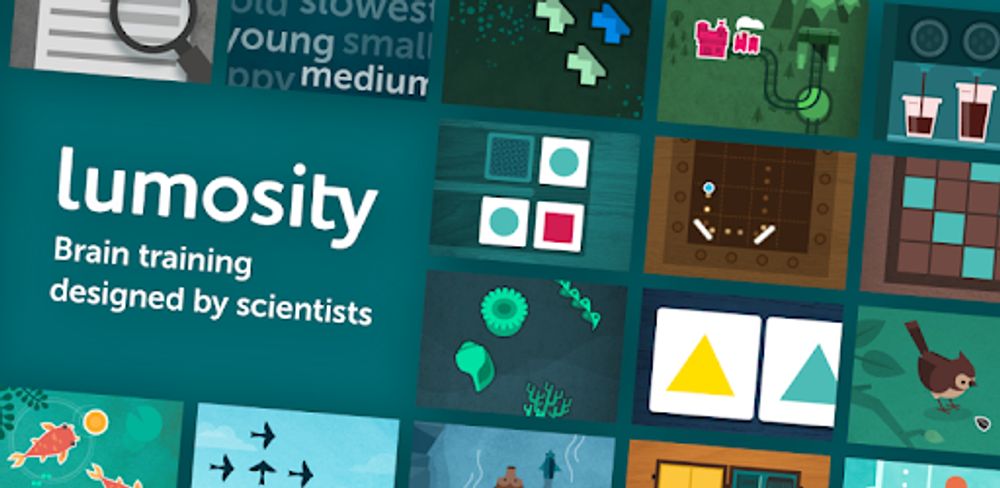 Lumosity has implemented the popularity of online quizzes and tests into their Facebook ad. Their brain-game became an effective tool to engage with their followers. So, by claiming that the quiz only takes 10 minutes to do, the ad is more desirable and marketers do not have to persuade people to engage.
The ad was successful because it was a unique approach to marketing and made the campaign interactive and fun.
13. truBrain Campaign: Add Dependability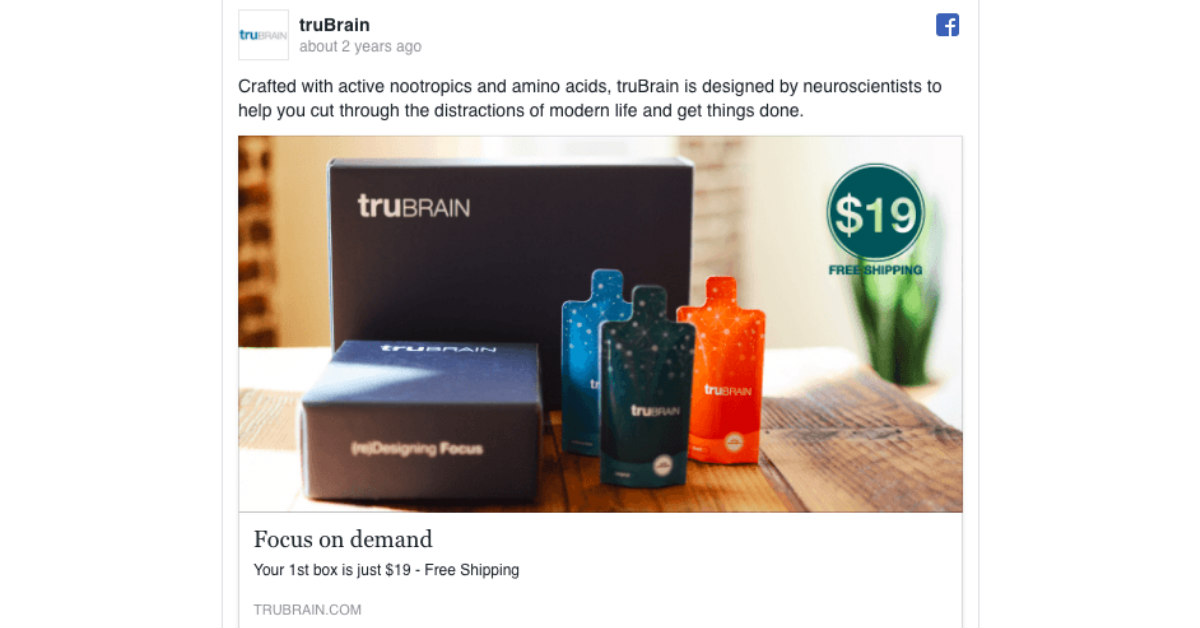 truBrain ensures that their products have testimonials. By having a quote for reference, consumers will be more trusting with truBrain's products. Their Facebook ad uses the sayings such as, "designed by neuroscientists" in order to make their brand look reliable. The ad became successful because the campaign created a dependable outlook for the brand.
14. DailyBurn Campaign: Motivate Your Audience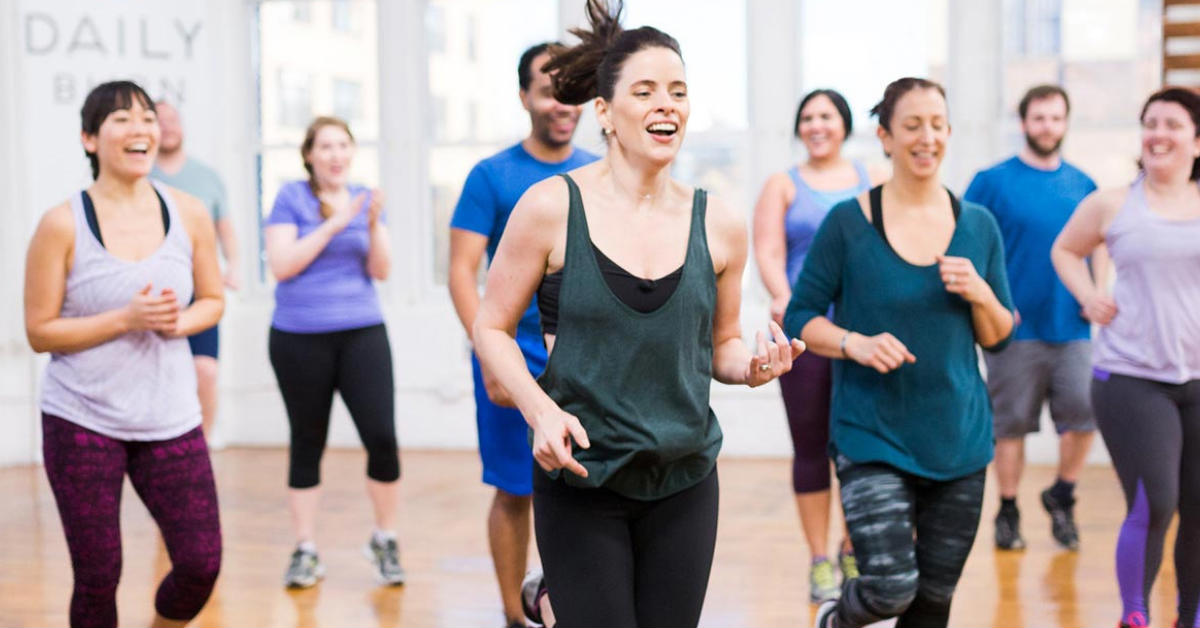 DailyBurn created a Facebook video campaign with a good announcer and an uplifting soundtrack. The brand created a good image for what it looks like to exercise, it's in a high-energy atmosphere and the people are genuinely happy.
The video represents who their target audience is, showing their viewers that they can also be apart of the exercise. The video ad was effective due to the fact that it was an interactive and motivating campaign.
15. Muscle & Fitness – Give Good Content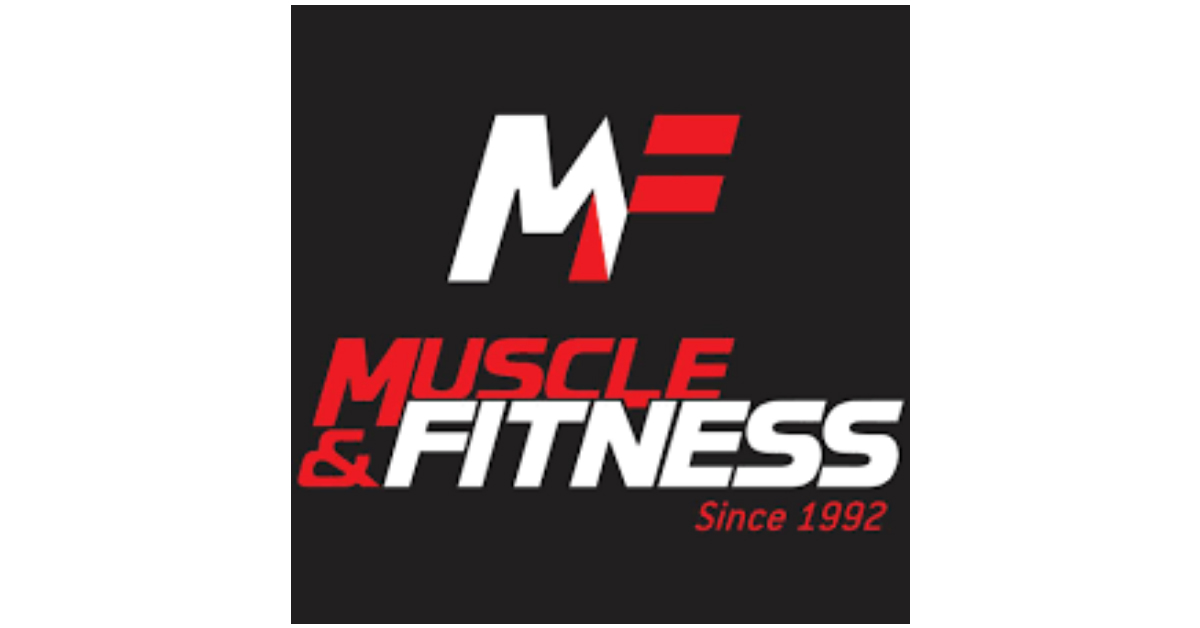 Muscle & Fitness has a well-known message for their brand: we're here to help you out, and we're not asking anything in return. The ask still exists, but just comes later, when it's time to subscribe. The brand shares their articles on fitness as a Facebook ad online. This work gave them a lot of impressions with little cost.
Their ads are successful because of branding – when businesses have a reputation for something, they leverage onto it as a specialty to market.
16. Healthcare.gov – Create a Sense Of Urgency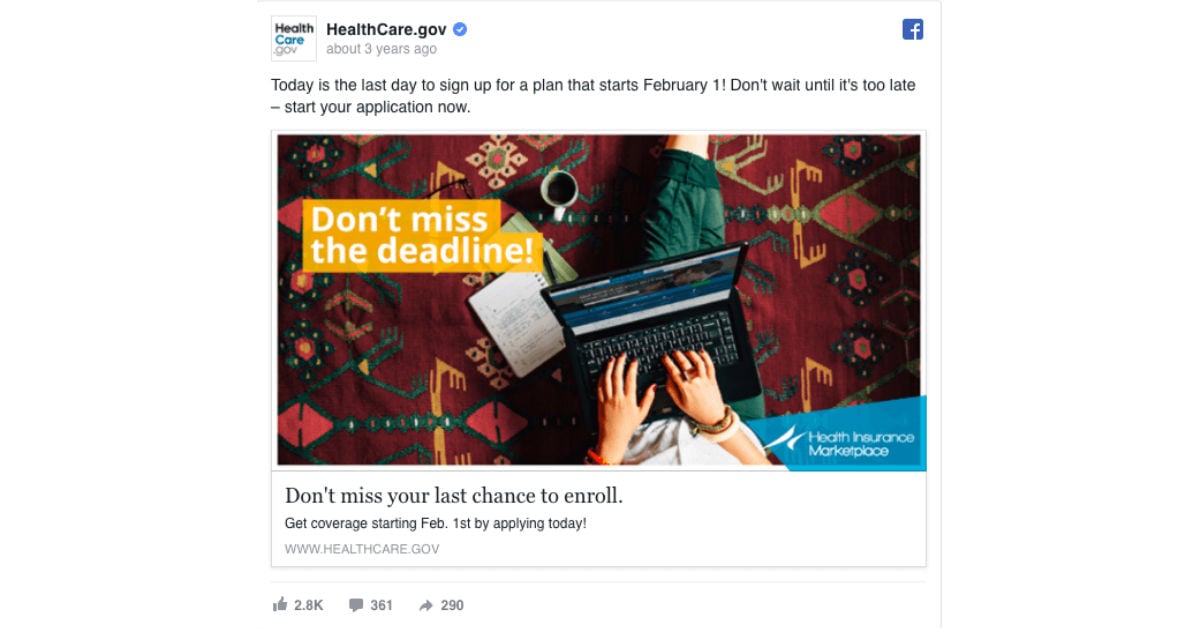 A common marketing technique is to create a sense of urgency in their campaigns. Healthcare.gov has leveraged onto this concept by creating a Facebook ad with a deadline. So, by using a lot of trigger words such as last chance and don't miss out. If a campaign creates a sense of urgency, people will be more responsive to the campaign.
17. Planned Parenthood – Be Controversial Through Emotions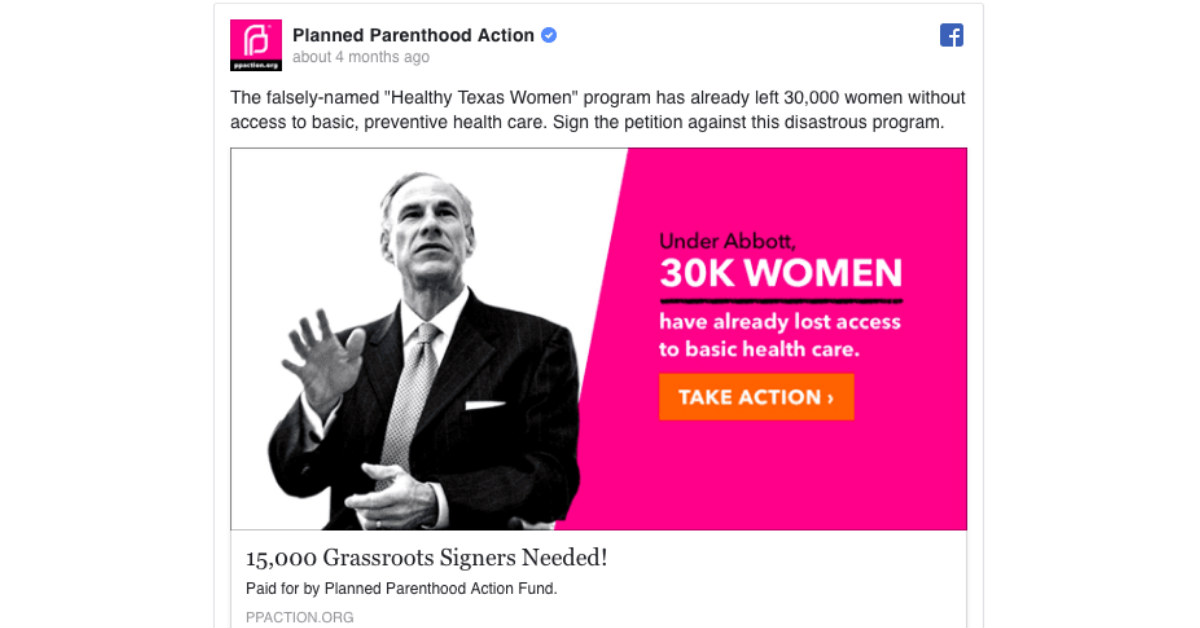 Planned Parenthood became the talk of social media in the 20th century. Their Facebook ads typically work around an "us vs. them" discussion. The ads can be looked at as controversial, but that is the purpose and how to get attention fast.
18. Six Month Smiles – Offer a Coupon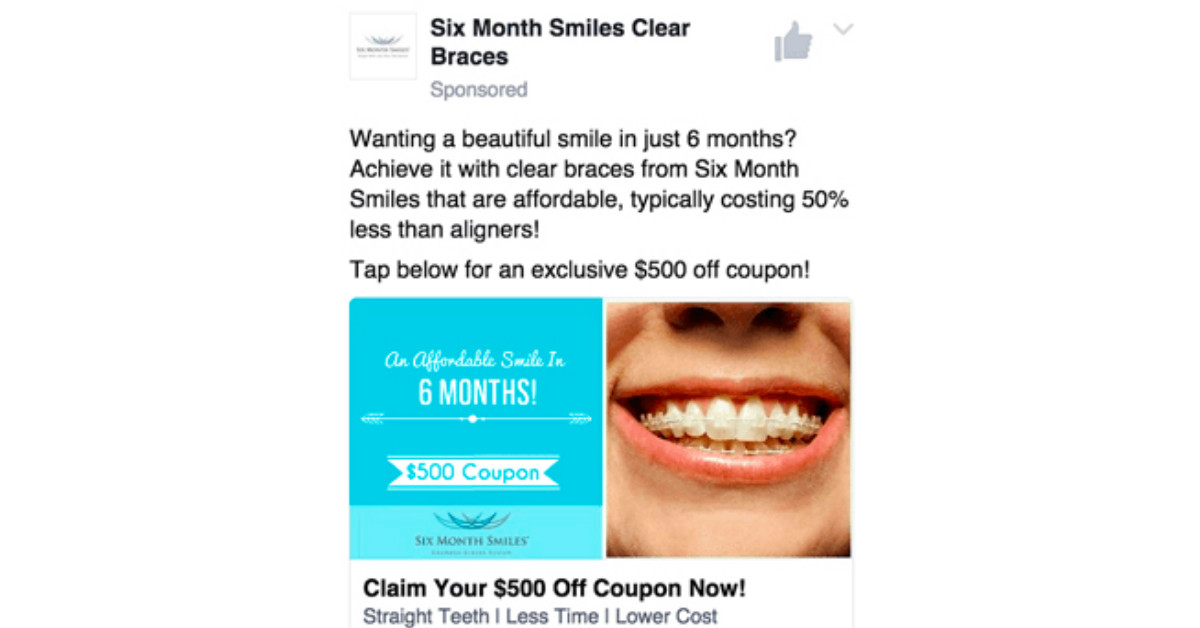 Typically, dentists get clients through word of mouth marketing. Six Month Smiles creates Facebook ads that offer coupons. The campaign is text-heavy but the coupon is visible still. By offering people an incentive, the responses are higher.
19. Project Lean Nation – Create a Vertical Ad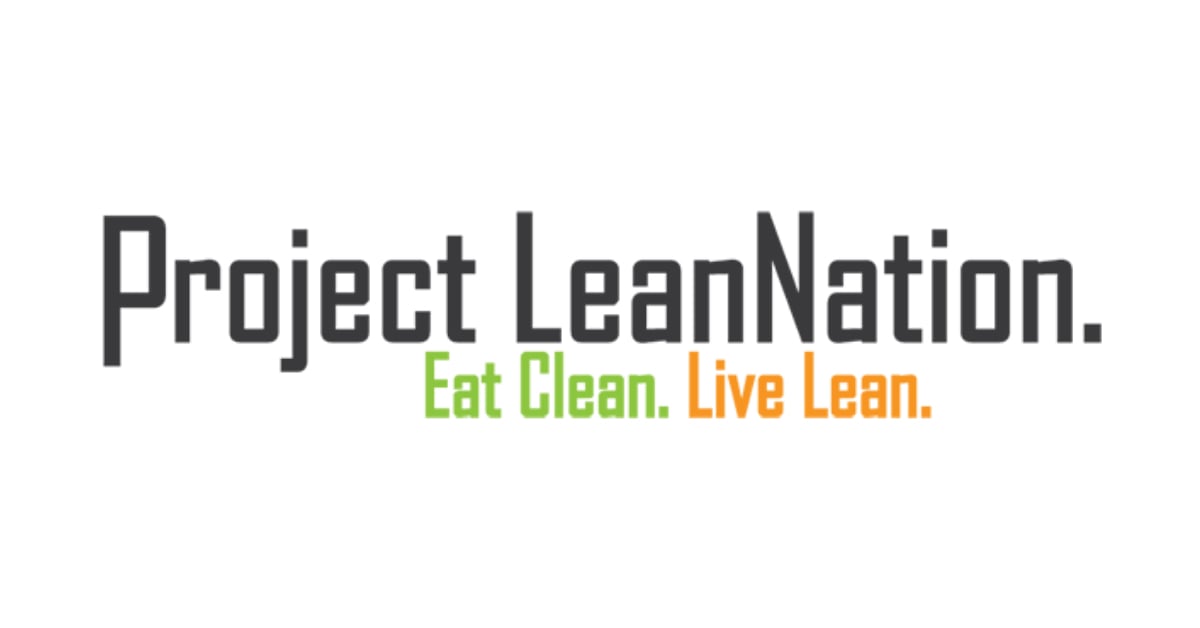 Project Lean Nation creates carousel healthcare ads on Facebook to feature their content. The photos for each plan type are athlete, organic, men's and women's. By designing your ad to be unique, it becomes more memorable. Be aesthetically pleasing.
20. Pure Protein
–
Branding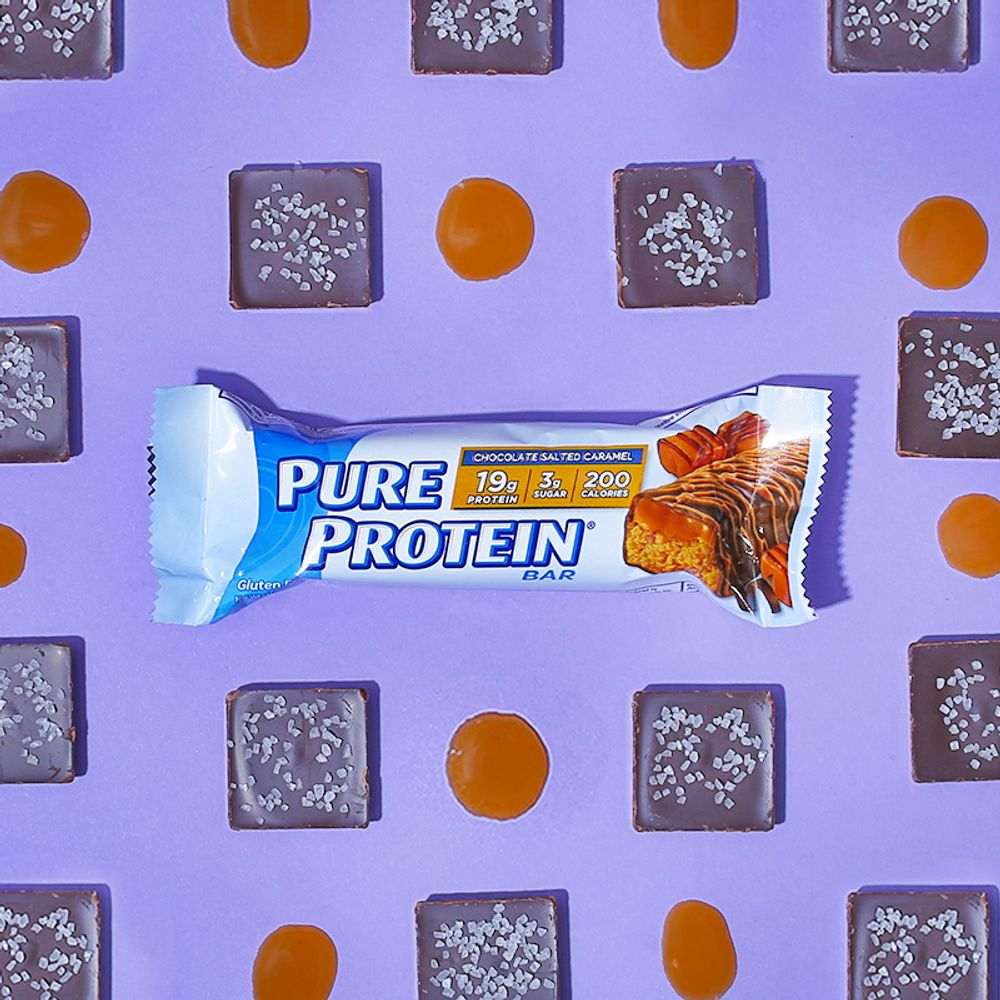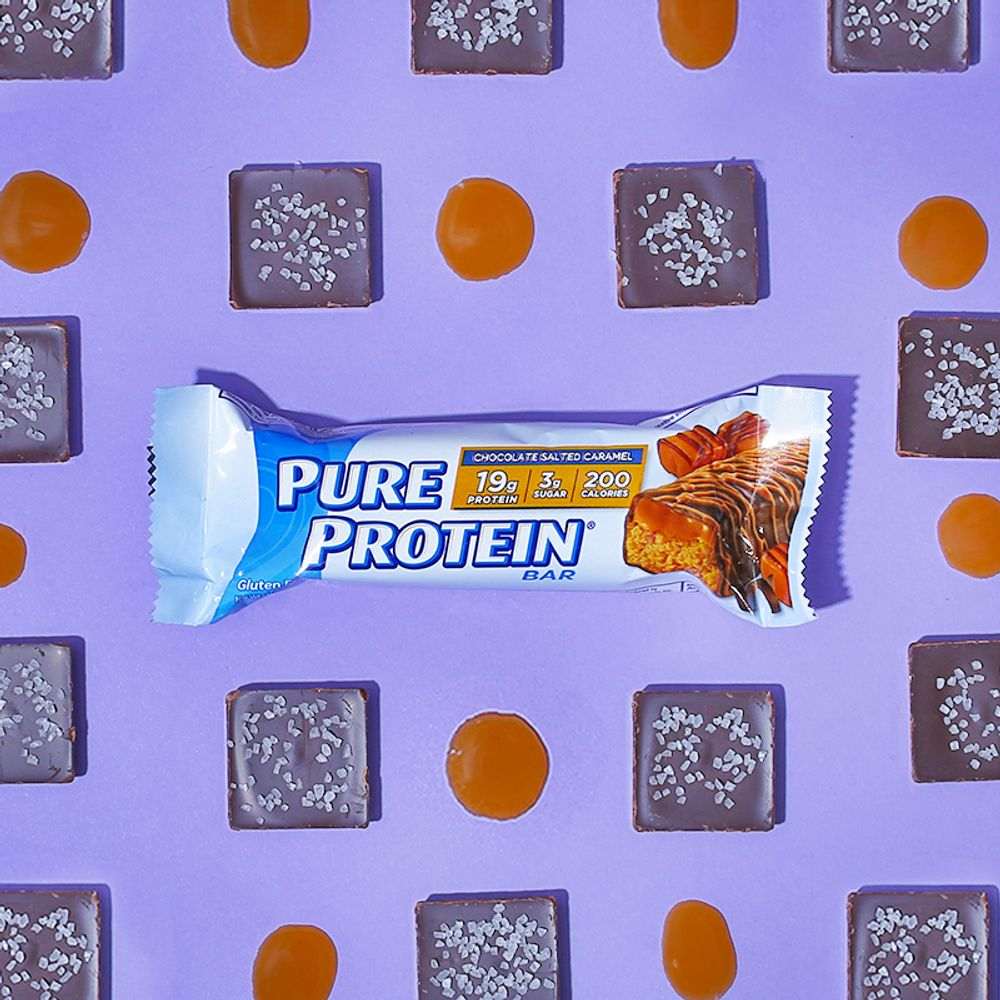 Pure Protein typically re-engages with their audience through Facebook ads. The brand created a healthcare ad that treated their product as a treat. Another ad designed it as a meal replacement, and another with it in the back pocket of a gym bag. So, by connecting the product with the consumer's own personal experiences, engagement will increase.
21. Osteo Bi-Flex Campaign: Engage Your Customers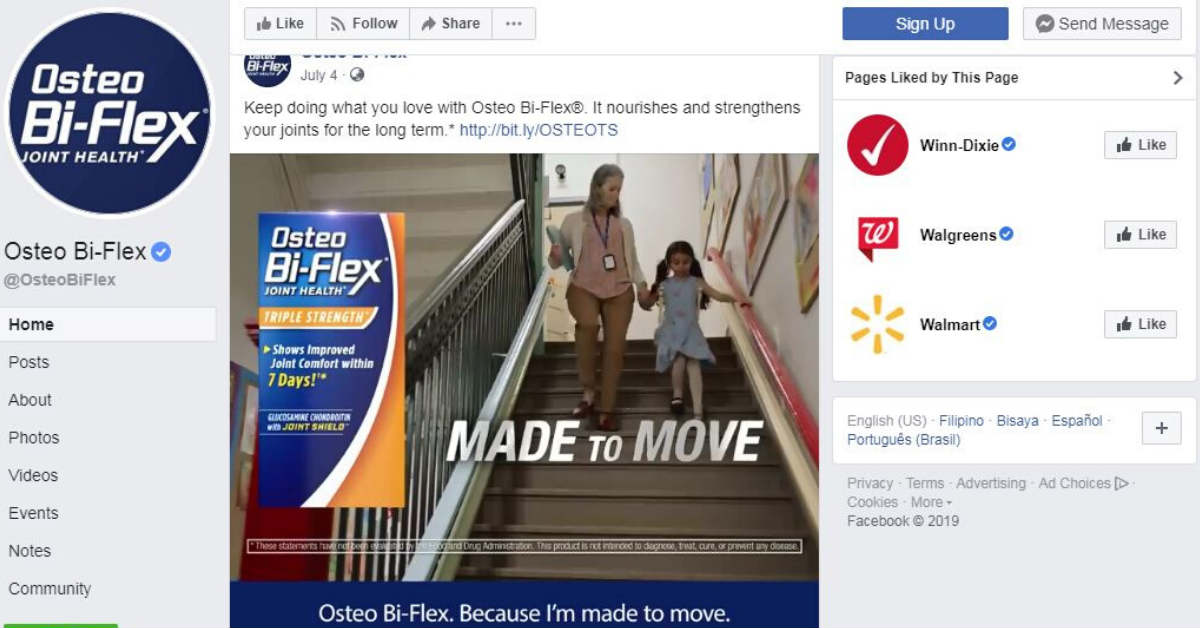 Social media is a great way to get your customers talking to you. You'll build trust and get insights on what they want and how they behave. This is a good opportunity to learn how you can retarget your ads to make them more efficient.
Posting on Facebook is the perfect way to engage with your customers and prospects. The Osteo Bi-Flex campaign included videos that focus on topics that their customers can relate to. The video shown in this post shows everyday people doing everyday tasks, and with the help of the drug, life goes on despite joint pains and other similar issues.
22. Athos Campaign: Push the Limits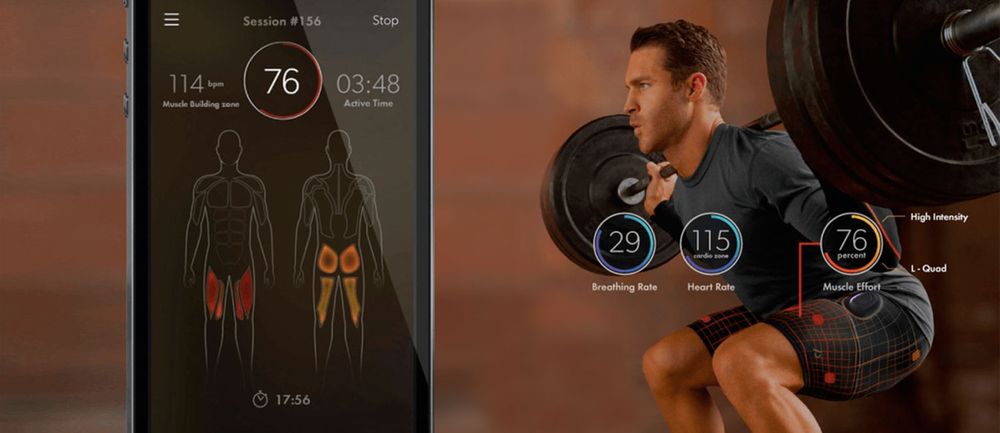 When campaigning to athletes, winning should always be on your mind. Athletes aim to win and to get their attention, your marketing strategies should be focused on helping them make the journey to the first place. Athos is a smart fitness apparel company that provides workout measurements via the use of Bluetooth syncing.
Their campaign directs the customers' attention to the given information that personal trainers aren't able to. The ads and websites feature athletes in action. It shows them having their movements measured while wearing Athos.
As seen from our examples, an ad design can make or break a healthcare venture. Here at Penji, we work hard to preset the brand the best way possible! Here are a few examples of healthcare designs we've done for our clients: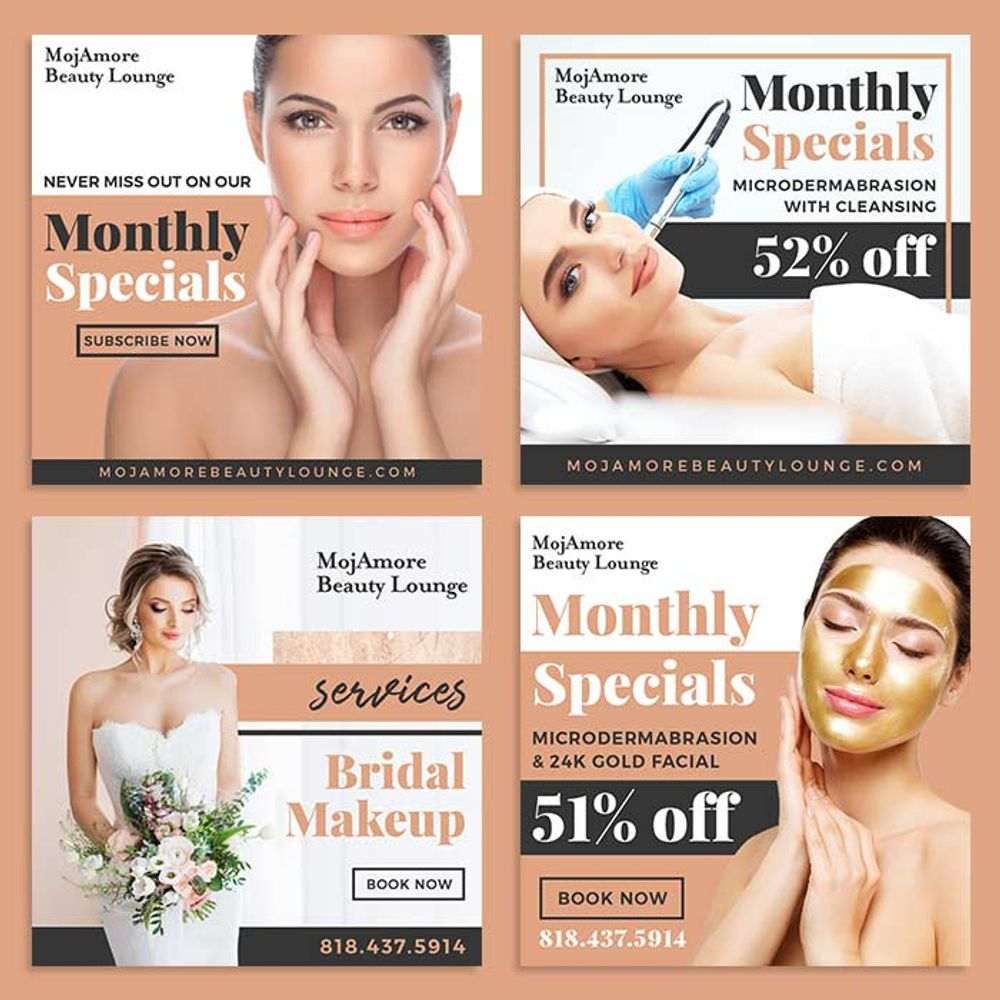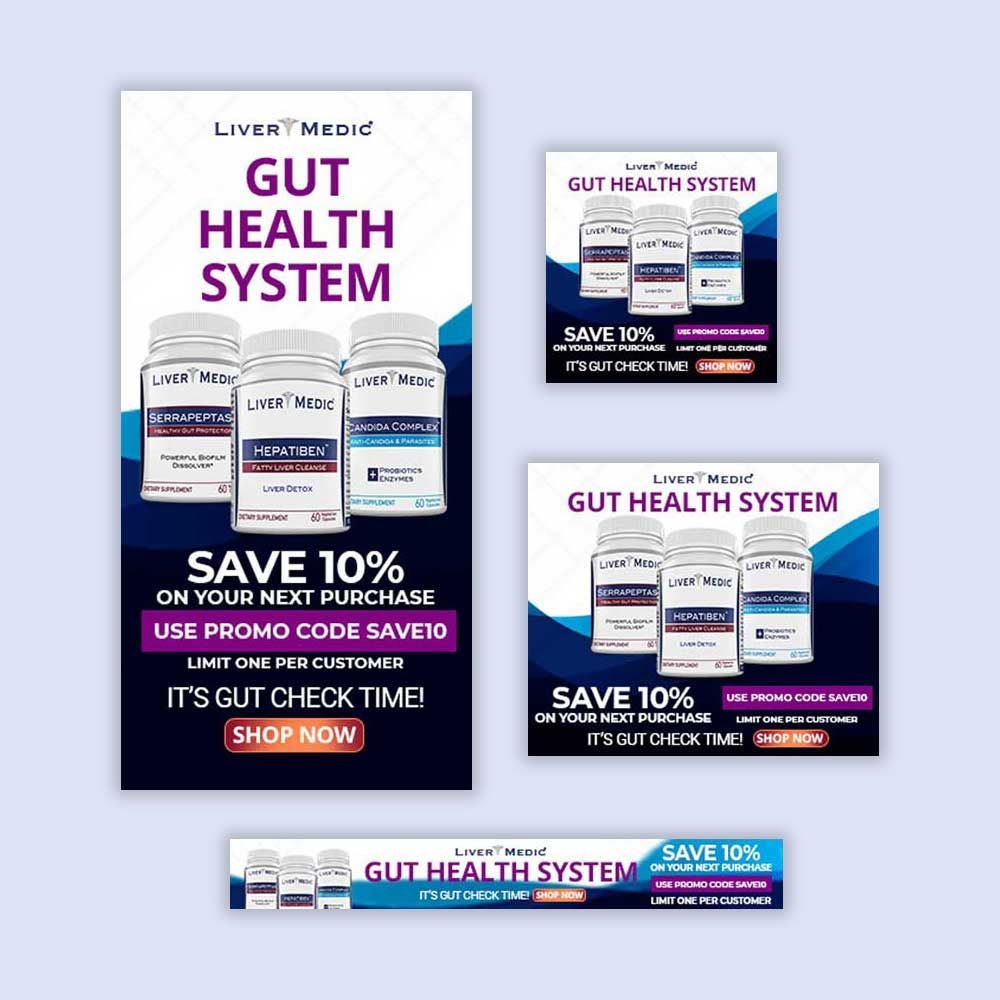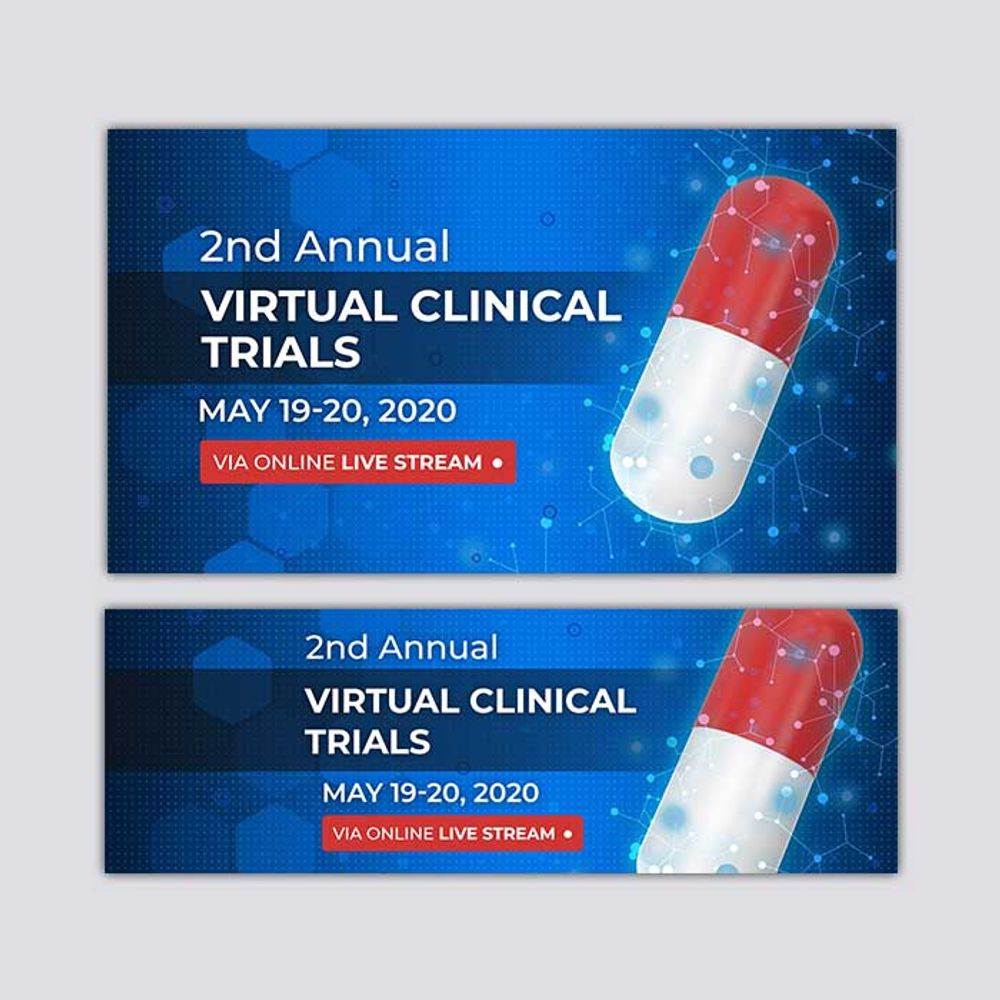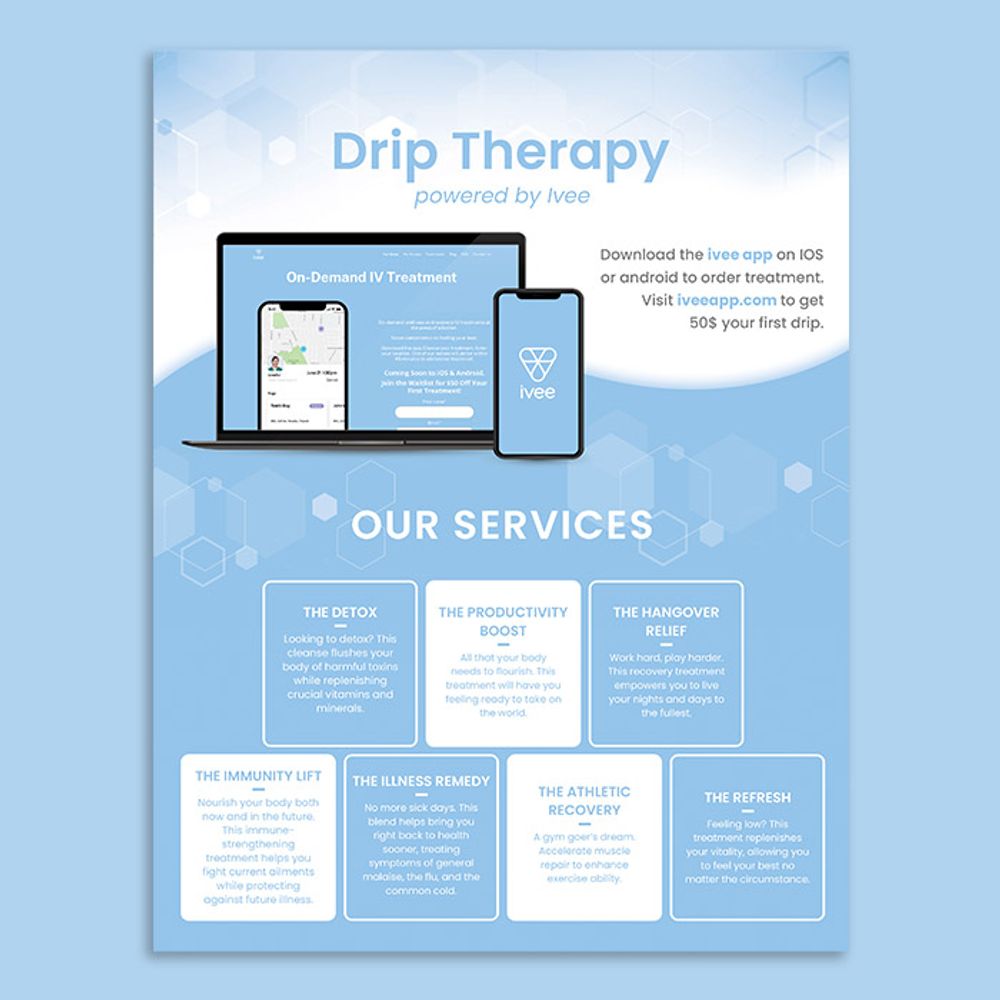 How to Request Compelling Healthcare Ad Designs?
Instill trust to your patients by publishing a well-designed and engaging healthcare ad. In doing so, request the best healthcare ad design through Penji. You can do it in three easy steps!
1: Create a Project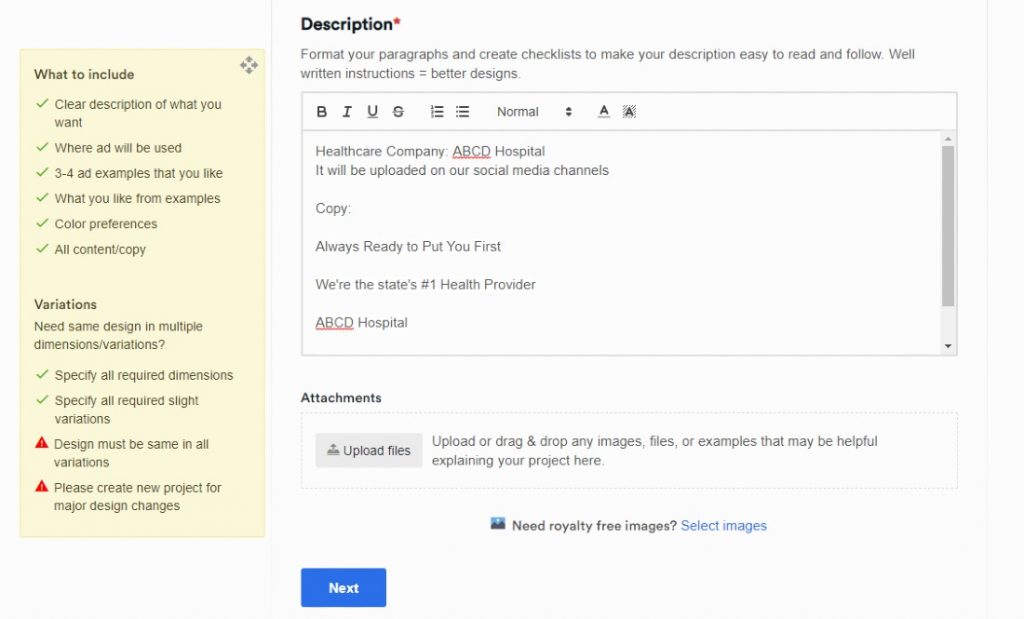 Don't forget to sign up for a Penji plan to create a design project on our platform. When you've signed up, log in and create a Project from your dashboard. Then, select any ad type for your campaign. Let's go with a Facebook social media ad.
Then, fill out the form with your design brief. Make sure to name the project and add details about the design you're requesting. If you can, add reference links so your designer will get an idea of the design you want.
2: Review the Design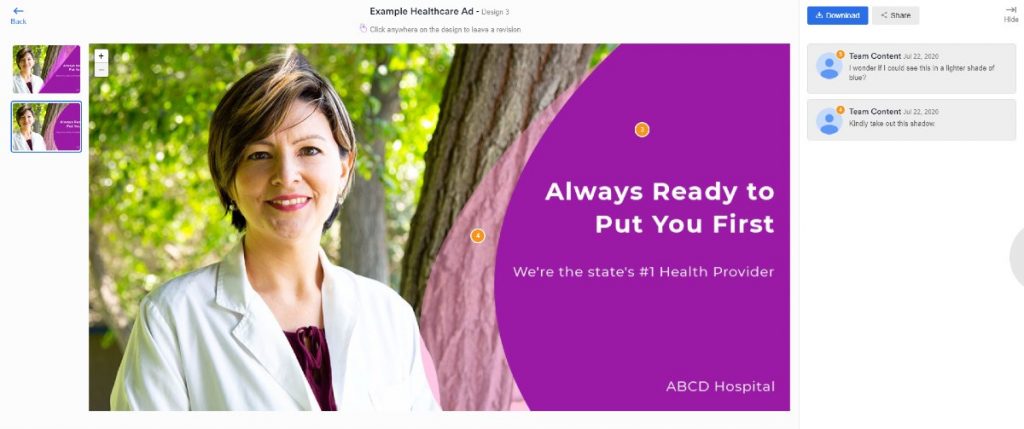 Once you finalize all project details, click on submit. From here, you'll be connected with a designer and they will start communicating with you.
Rest assured that your designer will submit a design within 24 to 48 hours. This way, you can review it and have it improved to your liking. Most graphic design services or even freelancers may take more than 48 hours to produce a design. You don't want that, especially if you're under a time crunch.
Do you think the designer could be better? Remember, you have unlimited revisions. So, provide the necessary feedback to get the most engaging and compelling healthcare ad design.
3: Download and Mark as Complete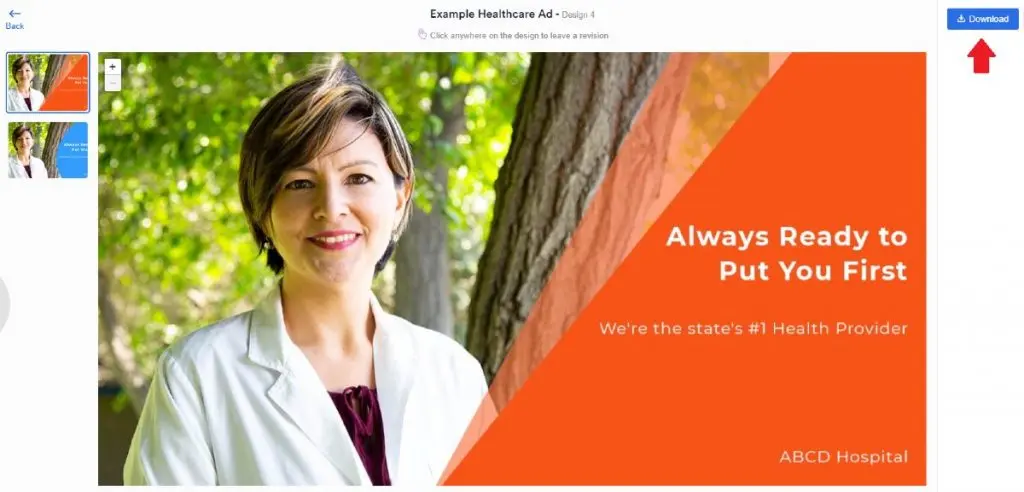 Download the design once you're 100% satisfied with it. In two clicks, you can get all the designs you need for your ad campaign. See, no fuss? No more external links or emails. The Penji platform is the all-in-one solution for all your graphic design needs. Watch a Penji demo to see Penji in action.
Subscribe to a Penji Plan
At Penji, we can create different types of healthcare marketing materials for you – from ads and social media posts to traditional posters and even billboard ad designs. Your mission to improve people's health is noble and one of the best ways to reach them is through beautiful graphic designs.
As you work on improving patient health, leave the designs to Penji. Your design is in good hands with the best designers in the industry. We're a design partner of CVS pharmacy, so you'll be in good company. For a flat monthly rate, you can request designs such as banners, web design, illustrations, and so much more!