Are you trying to set up your own eCommerce store?
If you are, congratulations! You're on the right track. Research says there will be 2.64 billion digital buyers in 2023, expected to swell to 2.77 billion in 2025. Despite vast opportunities, however, the competition can be cutthroat.
To gear your ecommerce store for success, let's review the best ecommerce sites and take note of the design best practices you can copy from them.
1. Amazon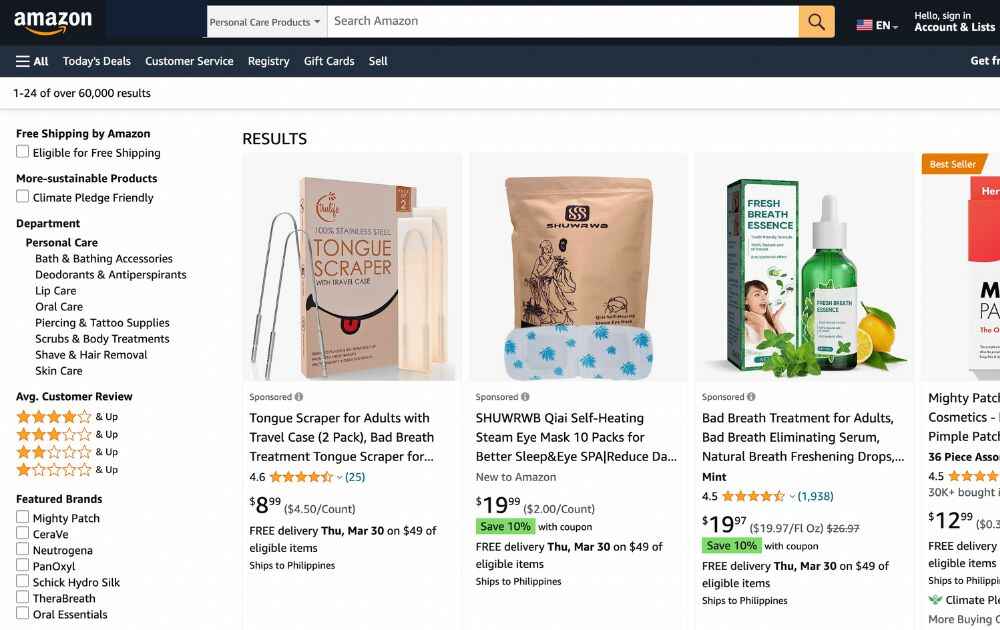 Amazon is one of the consistent top ecommerce websites in the world. With the platform selling around 12 million products, there's a huge need to use a clean grid and easy-to-navigate layout with product filters.
They also categorize their products into specific lifestyle themes. These include"Cat-tastic," "Dishes for your Lakehouse Kitchen," and "Camper Remodel."
Best design practices to learn from this site:
Themed categories
Clean grid design
Easy-to-navigate layout
2. Bon Bon Bon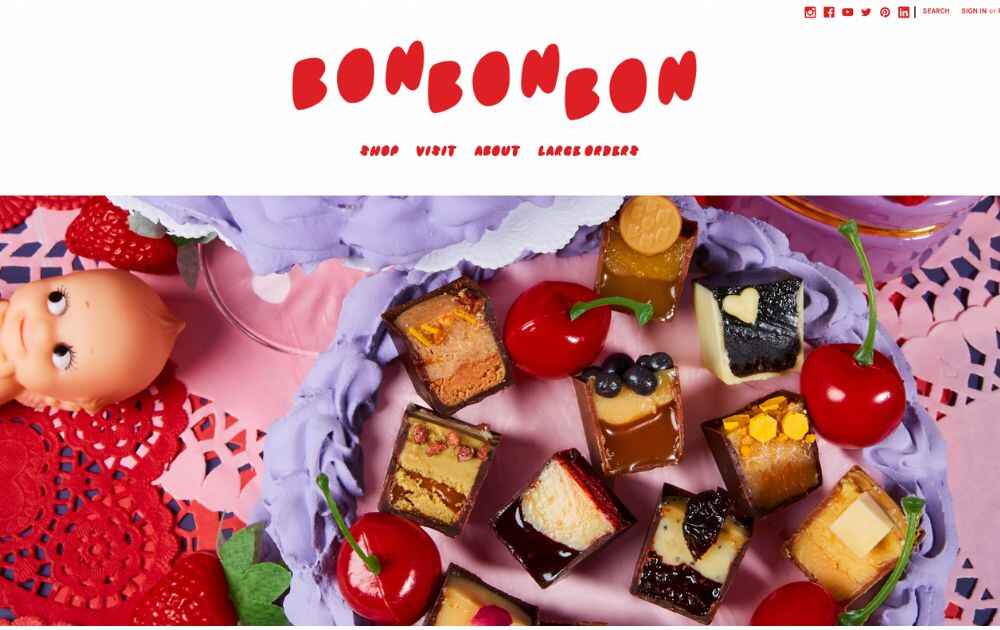 Next on our list of best ecommerce sites is Bon Bon Bon. This Detroit-based shop sells confections that look as luscious as they taste. The website design and copy are consistent with the venture's quirky branding. It also makes good use of white space to highlight the cute sweets.
The store offers specialized categories such as Gift boxes, Under $100, Vegan, and Avoids Gluten to make it easy for shoppers to find what they want.
Best design practices to learn from this site:
Consistent branding
Specialized categories
Good use of white space
3. Etsy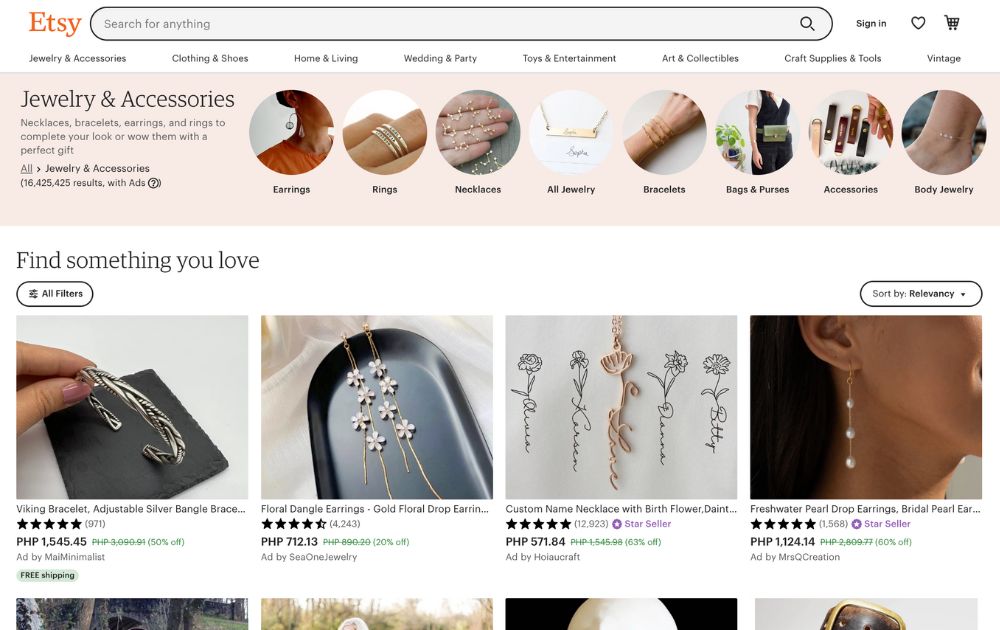 The best ecommerce website design tip we can get from Etsy is simplicity. The products are creative enough, so the web design has to take the backseat.
Best design practices to learn from this site:
Clean color palette
Contrasting shapes
Labels (e.g., Bestseller, Free shipping)
4. Zugu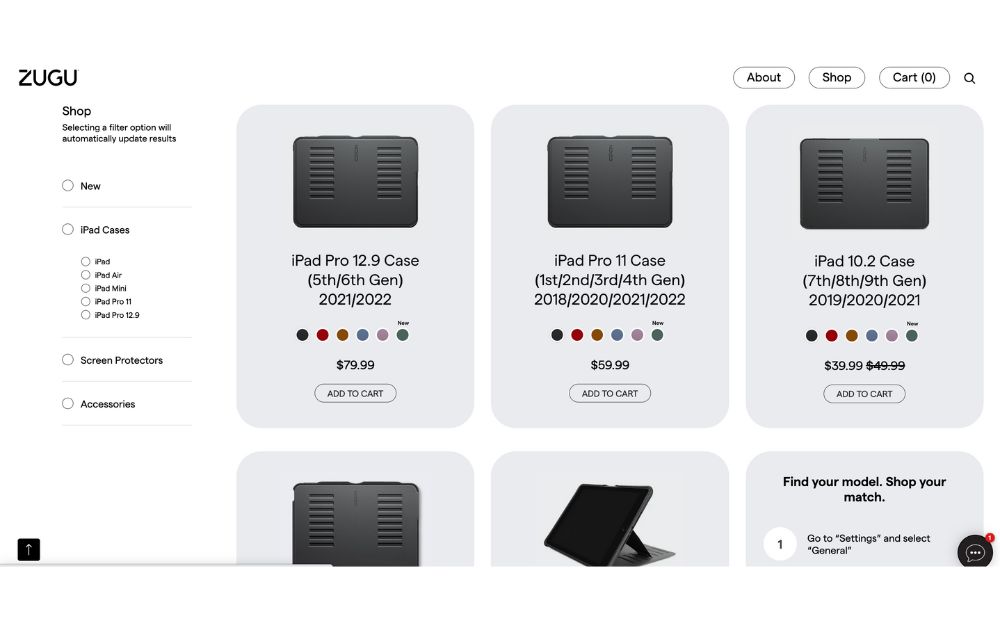 Zugu is another example of a shop with a minimalist design. The round-edged product tiles go well with the product's shape; each tile already shows available colors.
Best design practices to learn from this site:
Minimalist design
Good use of white space
Round-edged product tiles
5. Best Buy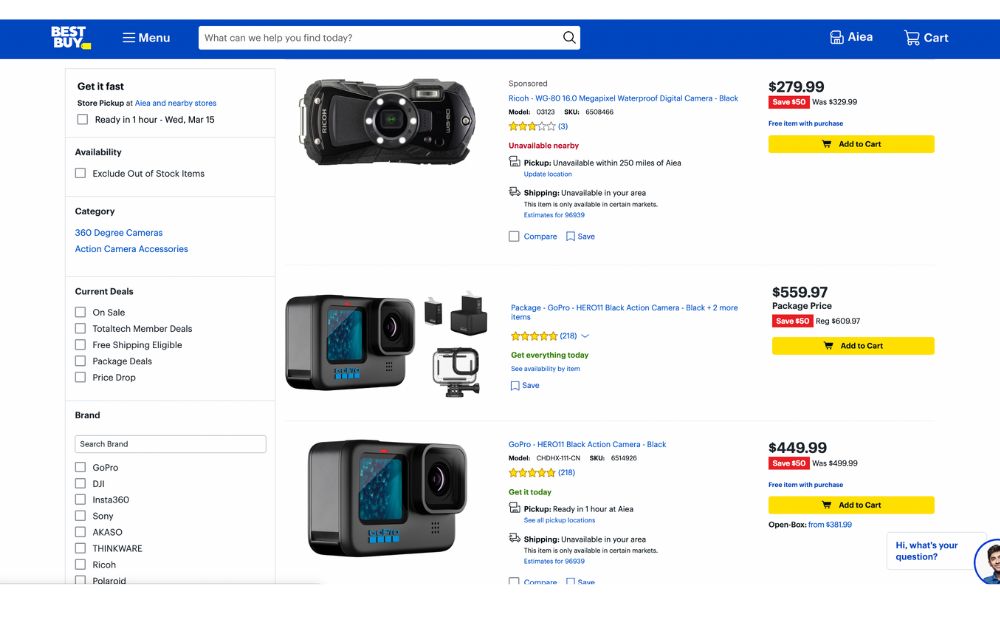 Best Buy is included in the best ecommerce sites that consistently get huge amounts of visits. As seen in the photo, the site features a prominent call-to-action button – the same yellow hue on its logo.
Best design practices to learn from this site:
Prominent call-to-action button
Customer care icon
Product filter bar
6. Allbirds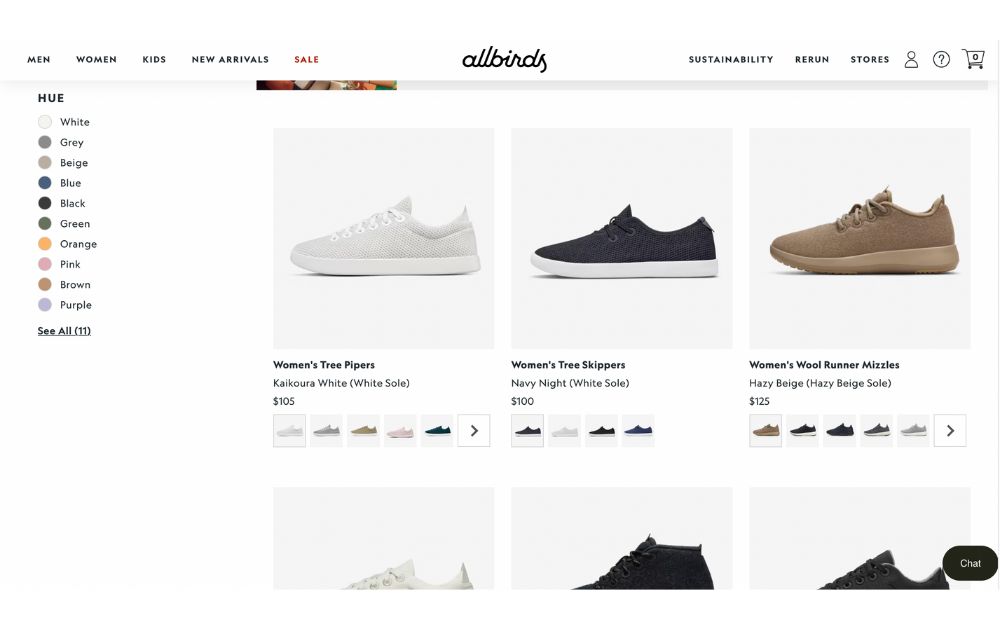 A simple yet powerful design tactic makes Allbirds' product page stand out: uniform off-white product photo background. The uniform background establishes each shoe's boundaries without competing for attention. This is a smart move since the brand also offers white shoes, which may blend right in with a white background.
Best design practices to learn from this site:
Consistent product photos
Uniform photo background
Product filter by hue
7. Macy's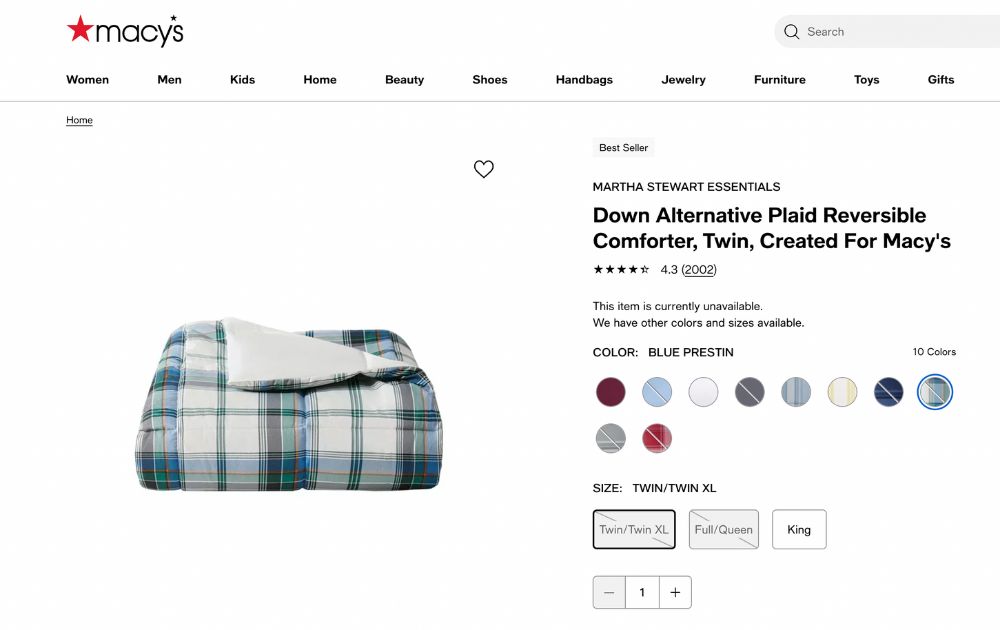 Macy's plain background serves as a good canvas for its wide variety of products. One extra feature adds interest to each product page – a video. Shopify, one of the leading ecommerce platforms, says videos can increase conversions, so adding one is surely worth considering.
Best design practices to learn from this site:
Clickable color variants
Plain background
Videos and lifestyle photos
8. IKEA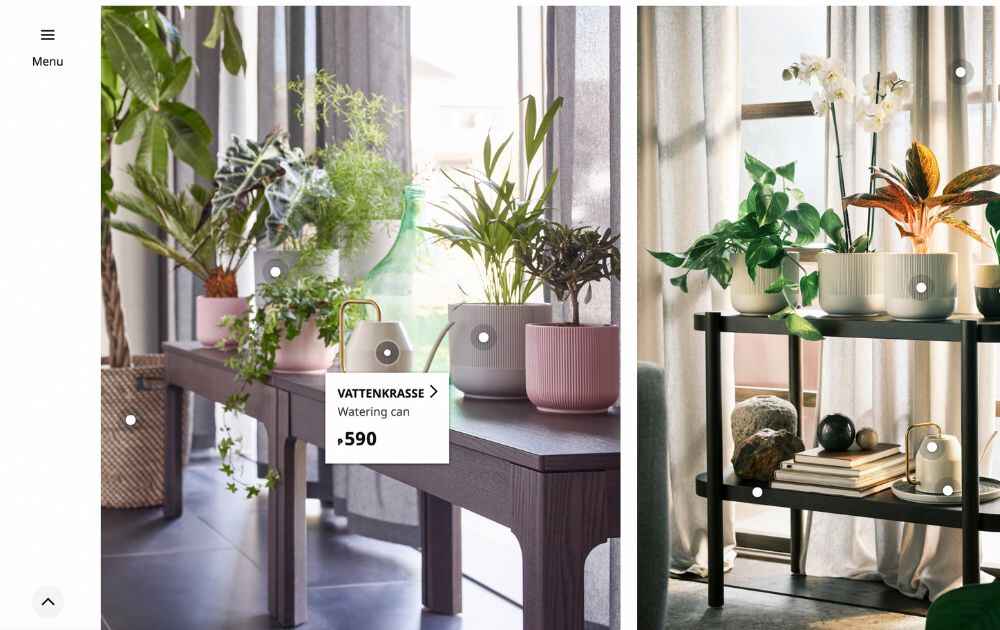 Also included in our e-commerce websites list is IKEA. Reminiscent of its physical stores, IKEA's online platform features lifestyle photos showcasing its products. Just like branding mockups, these images give shoppers ideas on how to use the items. The photos also feature hideable price tags, making them beautiful yet functional.
Best design practices to learn from this site:
Lifestyle product photos
Hideable price tags
Clean layout
9. Fronks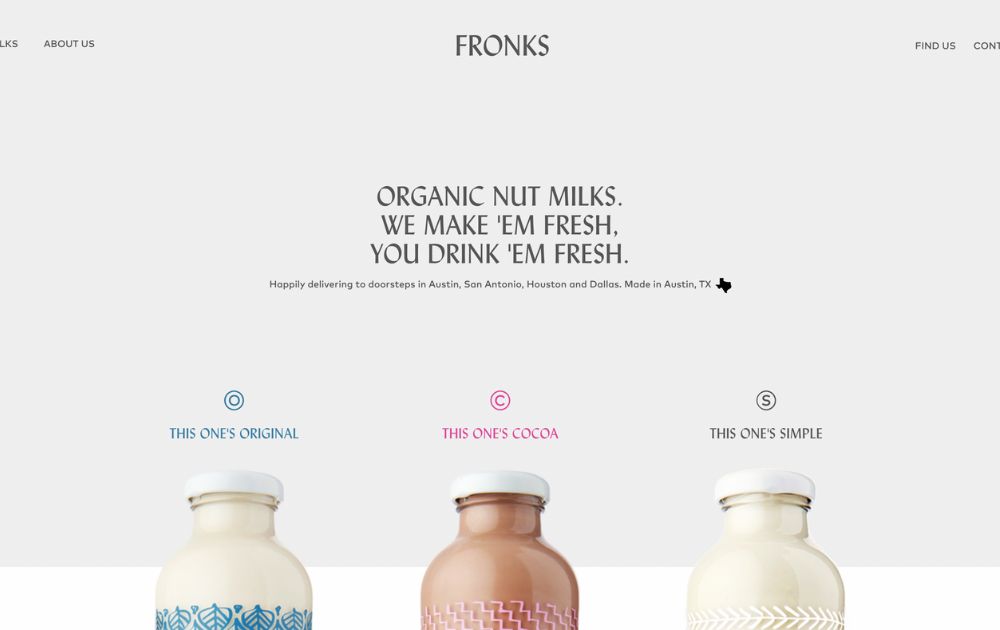 Next on our best ecommerce website design examples is Fronks. The website is minimalist and focuses on nut milk. The product page also features an interesting scroll experience, featuring the same bottle filling up with different variants as you scroll down. Websites like this show how professional design makes a good impression and sets a brand apart.
Best design practices to learn from this site:
Minimalist background
Interesting scroll experience
Good product images
10. Lush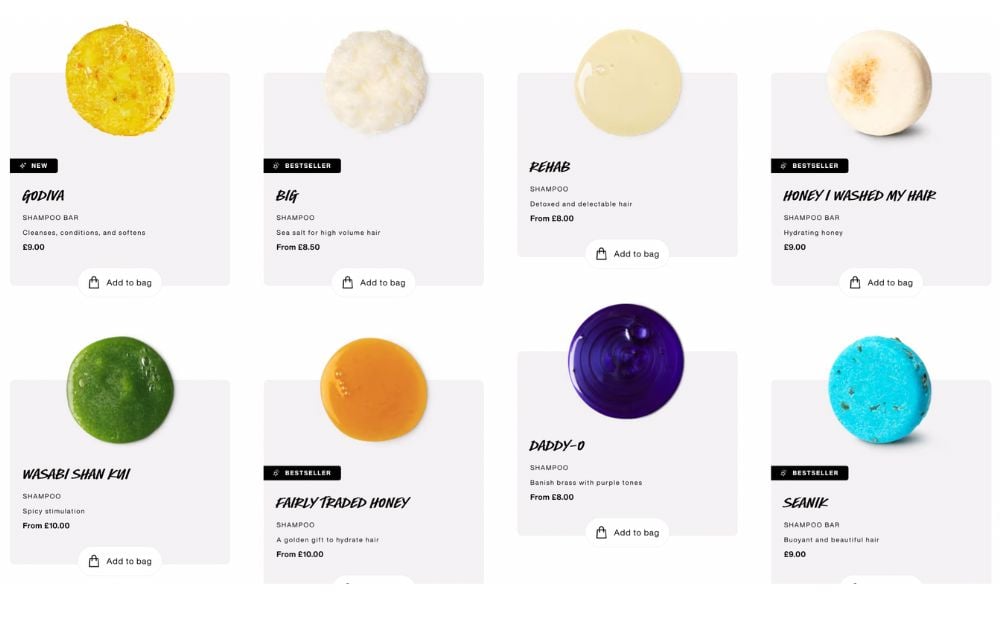 Lush is known for its awesome product packaging design, which mostly uses post-consumer plastic. But more than that, they also have one of the best ecommerce sites that would make any shopper click the checkout button. Just look at the product tiles of their products, and you'll see what I mean.
Best design practices to learn from this site:
Unique product tiles
Images that showcase products
Plain background
What is the best website for eCommerce?
Choosing the best ecommerce website builder depends on the unique needs of your venture. For example, if you're looking for an omnichannel selling platform, Squarespace can be an option. It offers attractive templates and an affordable Business plan that includes unlimited product selling, CSS and JavaScript customization, and a professional email address from Google.
Shift4Shop, on the other hand, offers a free e-commerce platform with robust features, unlimited staff accounts, and product variations. These features make it a good choice for those working on a tight budget. If you're dropshipping, Shopify is worth checking out because of its dropshipping integrations.
What is the best eCommerce site for beginners?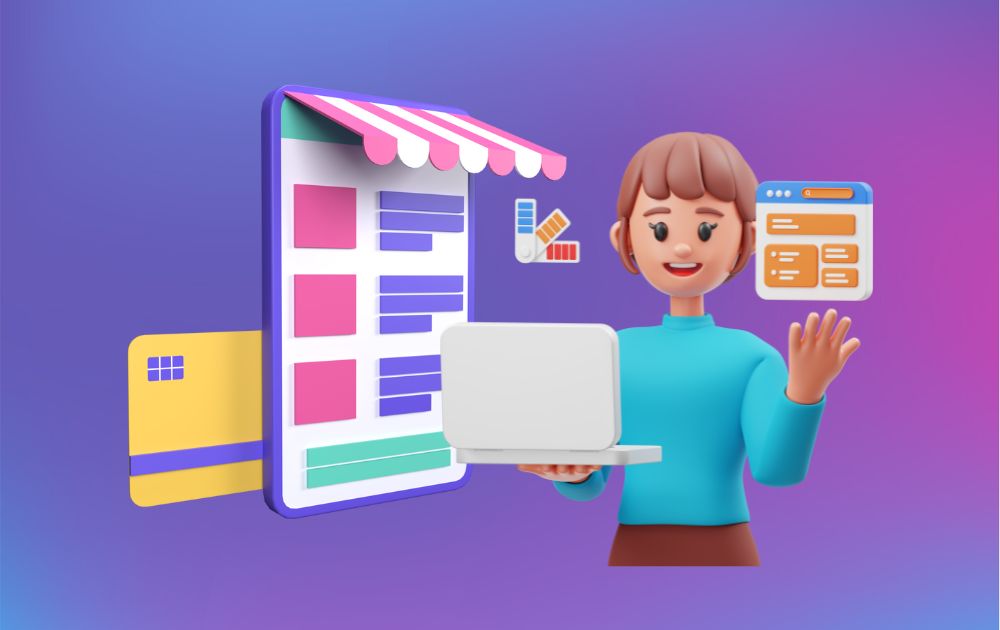 Wix is one of the best ecommerce platforms for beginners, thanks to its drag-and-drop editor and free online store templates. Its plans offer helpful features like unlimited product selling, abandoned cart recovery, and recurring payments. However, its storage is limited to 50 GB, making it pricey for large inventories and content-heavy sites.
What are the top 3 biggest online shopping sites?
Forbes Advisor says as of December 2022, Walmart.com had about 854.9 million monthly visits, making it the most visited e-commerce website. Ranking second was eBay, which got 669.5 million visits, followed by AliExpress, with almost 651.9 million visits.
As seen from the best ecommerce sites above, you can't afford to have a bad design in such a competitive sector. Try Penji's unlimited graphic design services made by the top 2 percent of designers, and it'll be the best money you'll spend on your ecommerce business.