Episode #31 of Shades of Success features Andrea Demichelis, a young Italian man striving to leave an impact in the world, one water donation at a time. His mission towards helping people in developing countries by providing them with clean drinking water is admirable. I was introduced to Elliot For Water, Andrea's social entrepreneurship project, from a list of social impact entrepreneurs who are changing the world. In this interview, we highlight what inspired Andrea to start the Elliot For Water project, the challenges he faced along the way, and how people can help in small ways. Listen to the episode here.
Andrea Demichelis
Andrea Demichelis is from a small seaside town in Italy. But the small coastal town didn't hinder Andrea's colossal goal to change the world. After high school, he moved to Paris and studied at the Paris ESLSCA Business School and took a second major which was Entrepreneurship. Andrea became a green stockbroker and earned from renewable energy and green investments.
Despite this, Andrea felt something was missing in his life and that the Wall Street path wasn't for him. He felt there was a huge void to fill. So Andrea began to take comfort in Paulo Coelho's book, The Alchemist, and live by example. He played everything by ear through the signs of the universe — or "omens" as described in the book. And one omen happened in one of his classes which made him realize he can accomplish anything with hard work and willpower. This epiphany led to the creation of the Elliot For Water project, a search engine that donates clean drinking water.
After he finally veered from the stockbroker path, he began working tirelessly on this project. But it wasn't always smooth sailing. He was juggling between jobs and working out to maintain a beautiful physique. He considers The Rock as his fitspiration. Though it sounds somewhat trivial, the active lifestyle gravely helps him power through the difficulties in operating this project.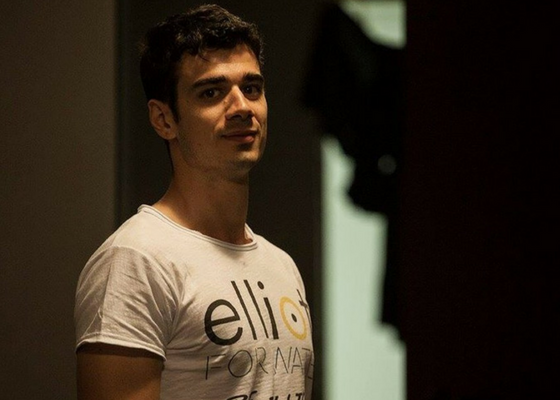 Elliot For Water
Elliot For Water is a search engine that is similar to Google. But what it lacks in the number of users, it makes up for in the social impact it leaves to developing countries. Every time someone searches, Elliot For Water donates clean drinking water to developing countries.
This social entrepreneurial project aims to donate safe drinking water to one million people by 2025. Andrea is a person with a determination and will like no other. He says the goal is to have 10 million searches per day. Although it's a steep number, his unrelenting pursuit will always drive him to give it 120% every time.
This project is encouraging everyone to make an impact by using this search engine. Through the power of technology, people from impoverished and remote countries will have access to clean drinking water. Also, they may do little changes in their daily lives by opting for more sustainable choices like reducing meat consumption, avoiding single-use plastic, and limiting shower usage.
This project is also inviting more businesses or social impact organizations to collaborate with them. Through a unified system geared towards the same mission, anything impossible is made possible.
Interview Highlights
[04:10] — What countries are actually being helped through this project?
The actual goal is to, in the future, bring water to millions of people. So I really want to spread it as much as possible. And now we are starting on the first country that we are focusing on which is Guinea Bissau, a very poor and remote country in West Africa. And it's composed of the mainland and some smaller islands. It's very difficult for people to go there because of these islands. So the people there are struggling to receive some help, and they don't have a lot of water sources.
[11:36] — What are some things that you've learned along your journey?
So, first of all, it's being patient, especially when we start a project like this. We all want things now and to make it right, but it's almost never like this. So whenever you have a timeline of three months, it's almost going to be like six or seven months. You have to be more patient, so everything is going to work out eventually. Because if you put the work in every day, there is also going to come, but it's going to take time. And something that I learned the hard way is that you need to be surrounded by better and smarter people.
[18:57] — For the people that are listening, why should they use your search engine over Google or Bing. What are some of the features that make it a better search engine?
So a better search engine than Google, we are still working on that. But obviously, the main thing is the focus on water. That every time they are making a search, they are donating safe drinking water. For example, after one month they can contribute to one month of school or one month of water to a kid. And what we are doing now is that we are rebranding the search engine. That way, the design will be so impactful, so beautiful that it will be a no-brainer to start using it.
Updated July 25, 2019