Just how important is an accounting website design? Picture this – seven out of ten clients judge a firm's credibility based on how its website looks.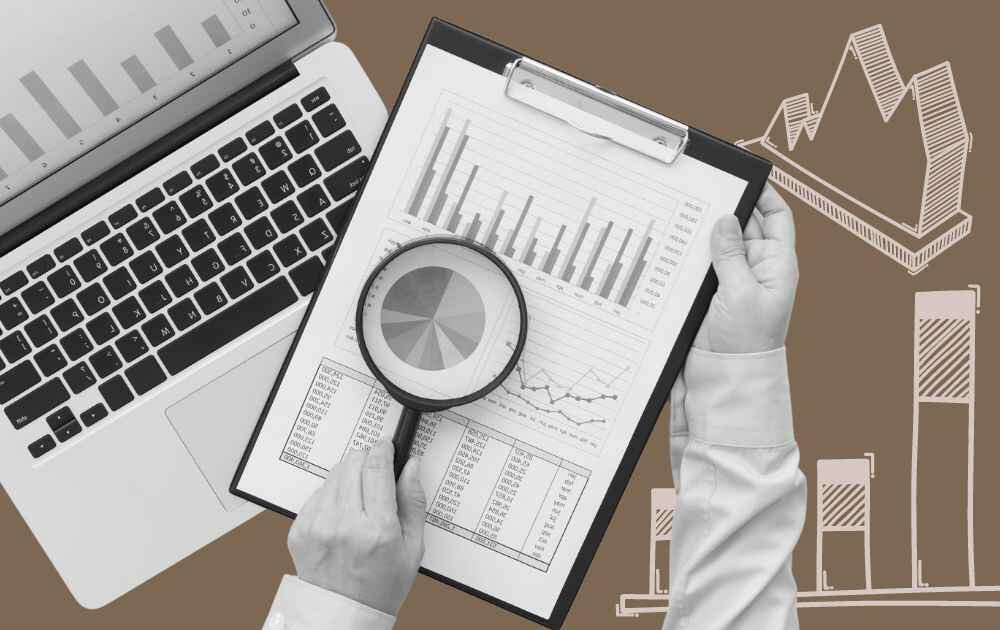 Given the number above, website design is crucial for any business – all the more for service providers that deal with finances and rely on credibility as the cornerstone of their business. Here at Penji, for instance, many of our accounting firm clients ask us to build them a website design that reflects their expertise and identity. After all, they know how vital it is to strike the perfect balance between professional and personal when it comes to representing their brand and creating a website design can be taxing for non-designers (see what I did there?)
Here are ten accounting website design ideas to inspire you as you brainstorm for yours.
1. DHG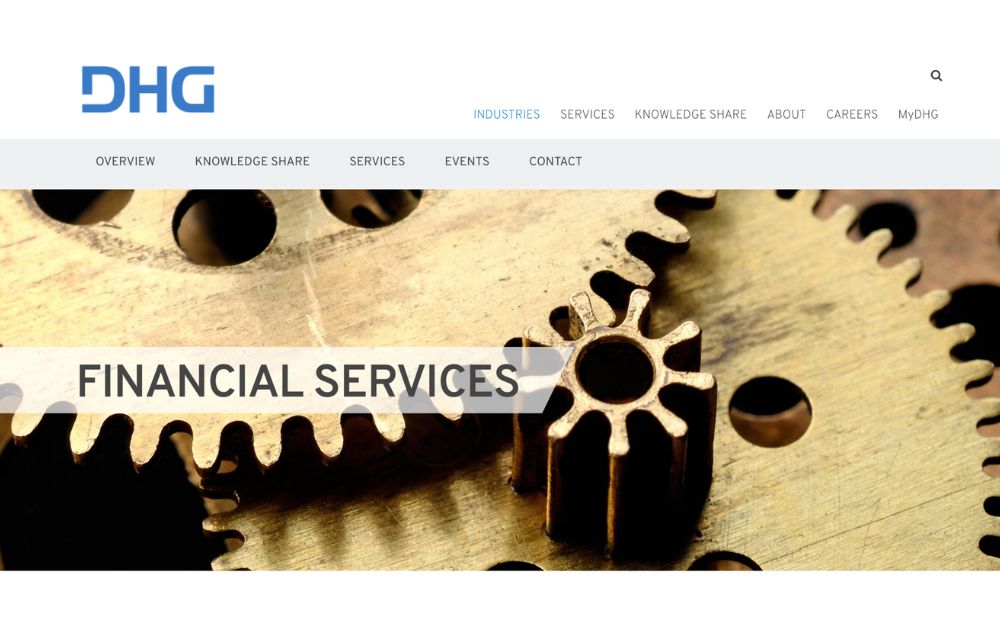 DHG is a leading firm offering assurance, tax and advisory services to clients not only stateside but also across the globe. Because they bank on their strength in industry intelligence and technical knowledge, the website design reflects exactly that strength. In the same vein, the clean and simple look invites visitors to dive right in.
Key Takeaway: Highlight your technical expertise by including images that provide that context.
2. Moss Adams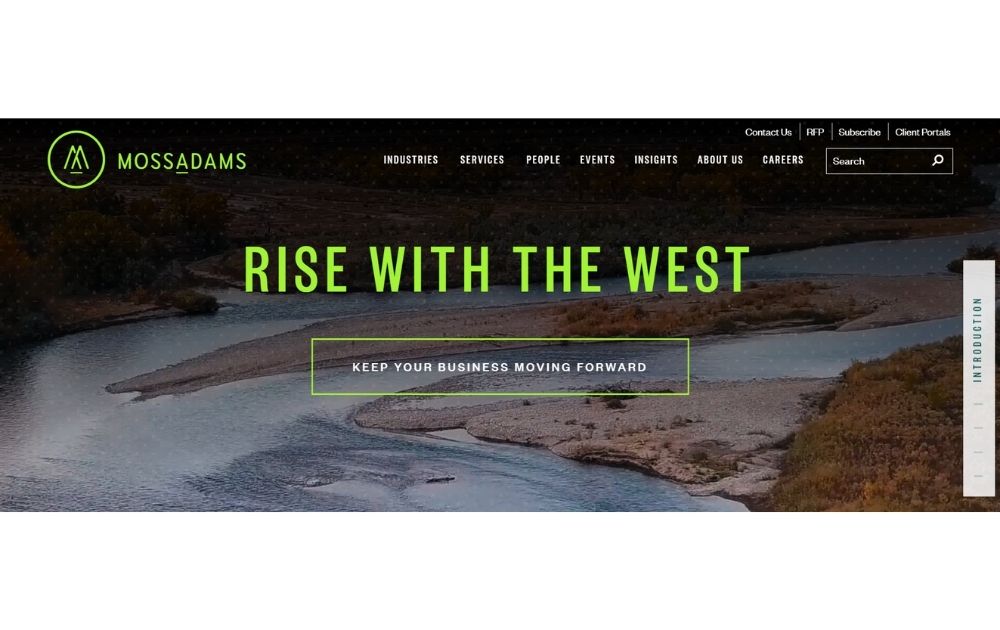 With offices throughout the US, this company is a fully integrated professional services firm that assists clients not just in growing and managing their finances but also in protecting assets. If you're looking for fresh accounting website design ideas, Moss Adams' website should surely be on your list.
Unlike many accounting website templates that use corporate images, this company takes a different route. In fact, its website banner is a landscape banner but it works well with their brand messaging.
Key Takeaway: You can explore images and design styles that break away from common industry practice.
3. Plante Moran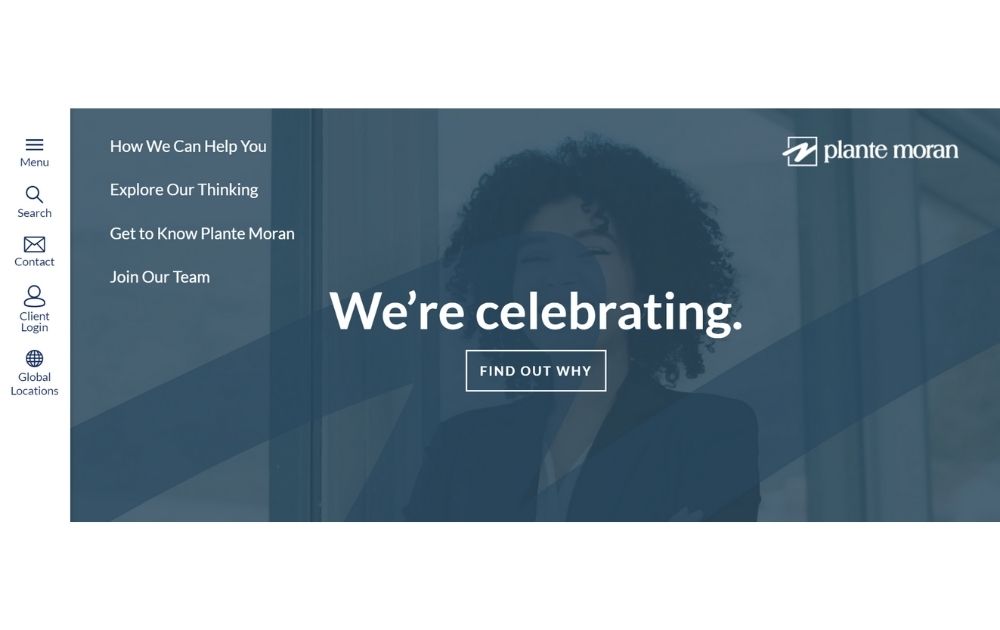 Plante Moran offers a myriad of services from audit and data analytics to finance and accounting. The website features a vertical menu on the left side of the screen, making it stand out from other sites that use a top menu bar. In addition to that, the website looks young and exciting without being too noisy to the eyes. In fact, landing on this page and seeing the welcome banner makes you want to immediately click on the "find out why" link.
Key Takeaway: Spark excitement by pairing a clever accounting firm website content or copy with an appropriate image.
4. CliftonLarsonAllen LLP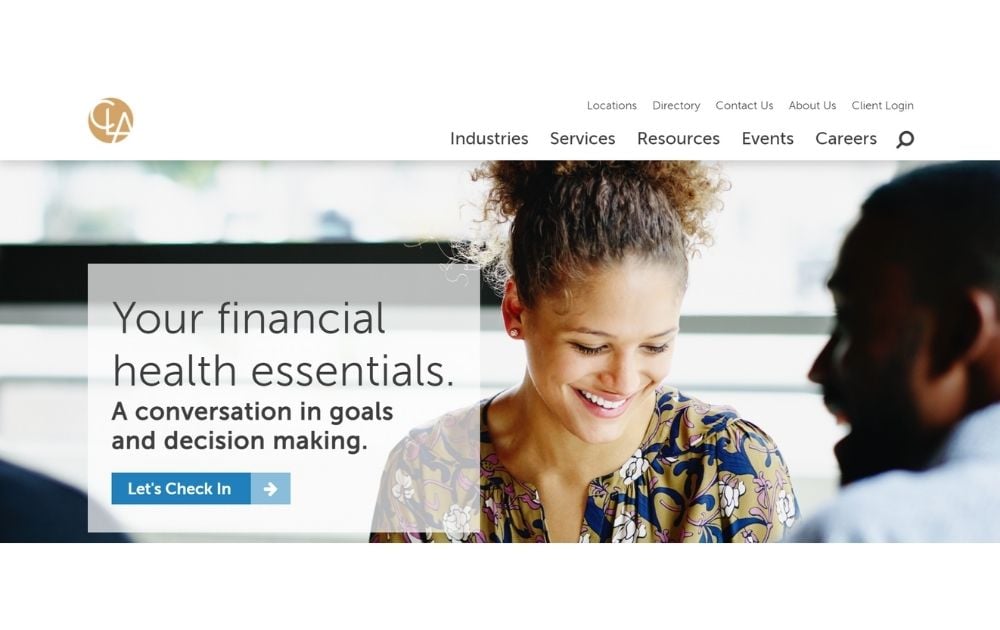 If you're looking for website designs for accountants, this is an awesome example. CliftonLarsonAllen LLP or CLA offers guidance and planning to clients from their offices across the US. Unlike most firm websites that use corporate images, this design highlights a person smiling. As a result, the website looks more friendly and personal – it makes the visitor think that the firm sees them as humans and not just as a number on their clients list.
Key Takeaway: Integrate personal images to add a touch of humanity to your services.
5. CBIZ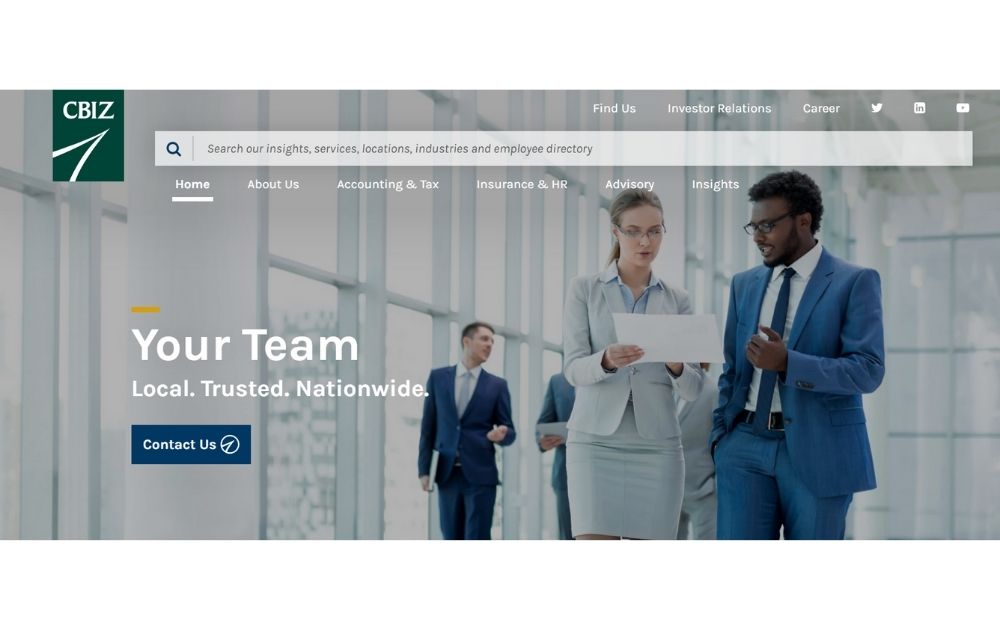 If you're looking for the best accounting firm website design that projects professionalism, CBIZ is an awesome example. With offices across the nation, the company promises top-notch service while providing personal attention to clients.
The website features a bluish undertone. And with color psychology identifying blue as a hue that conveys security and orderly, the color choice suits the brand very well.
Key Takeaway: Consider color psychology when choosing key colors and undertones for your website.
6. Grant Thornton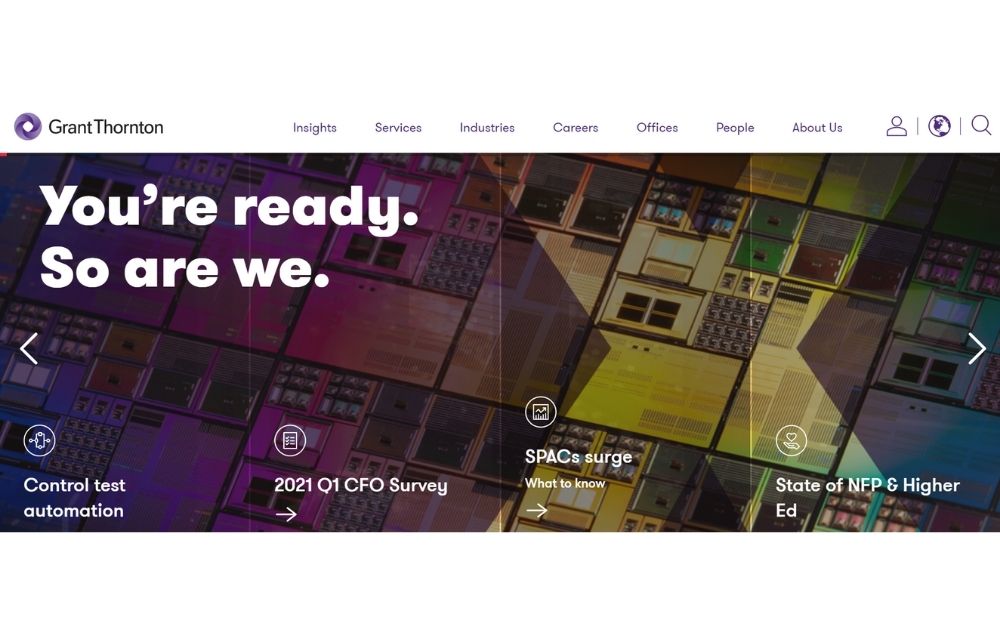 With offices across the US, Grant Thornton's financial management consultants help clients navigate their finances through custom-tailored solutions. That being said, their domain is one of those accounting website examples that show how vibrant colors can add interest to a site, even one for an accounting firm.
Key Takeaway: Don't be afraid to use lively hues, as long as it goes along with your brand identity.
7. BDO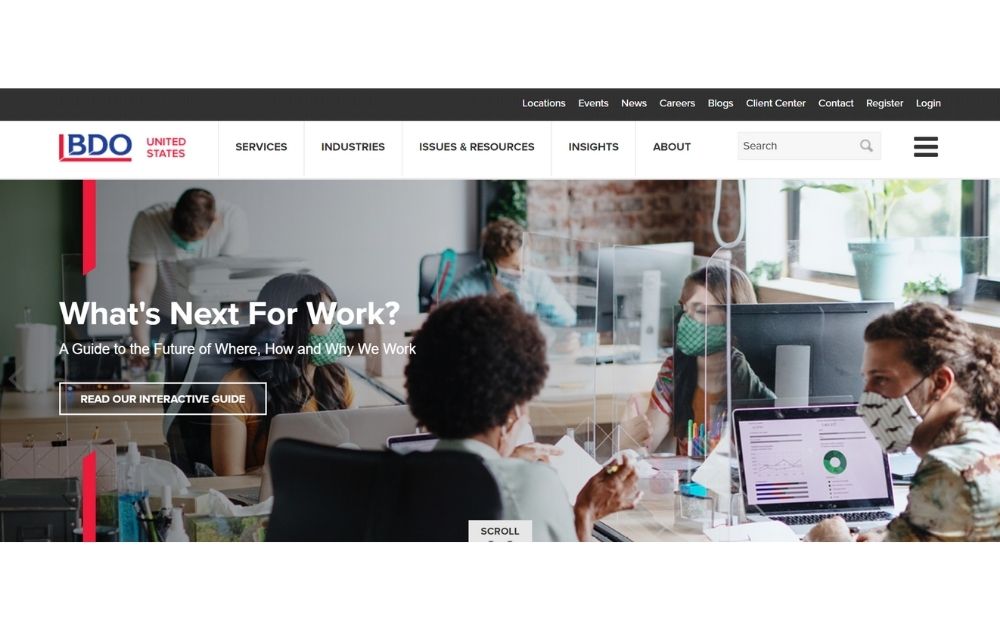 BDO offers tax, assurance, and financial advisory services not only within the states but also around the globe. The website features an attention-grabbing banner photo that paints a typical scene at work. In addition to that, the crimson lines that coordinate with the hues of the logo also add a good contrast against the image.
Key Takeaway: Match a minimalist layout with pops of colors and interesting images.
8. Deloitte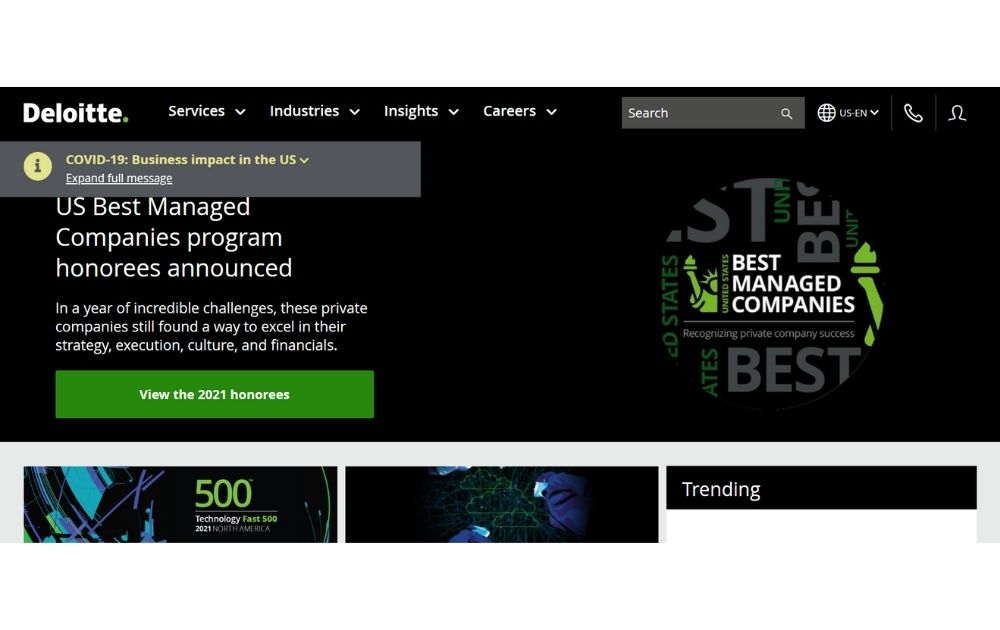 Deloitte operates through its office across the states and offers tax, audit and assurance along with a myriad of other services. Now, not a lot of accounting websites have black as a main color but this firm dared to do so. The result? A unique cyber domain that stands
Key Takeaway: Consider a dark color palette paired with white and bright hues for accent.
The Lowdown
After reviewing accounting website design ideas above, the next step is execution. If you're looking for the best website builder for accountants and firms, look no further because Penji can do it for you!
We offer unlimited graphic design at a flat monthly rate. So, you can have all the designs you need without breaking the bank. From custom web design services to graphic design websites, leave the design heavy-lifting to us.
Here are some of the website designs we've done in the past: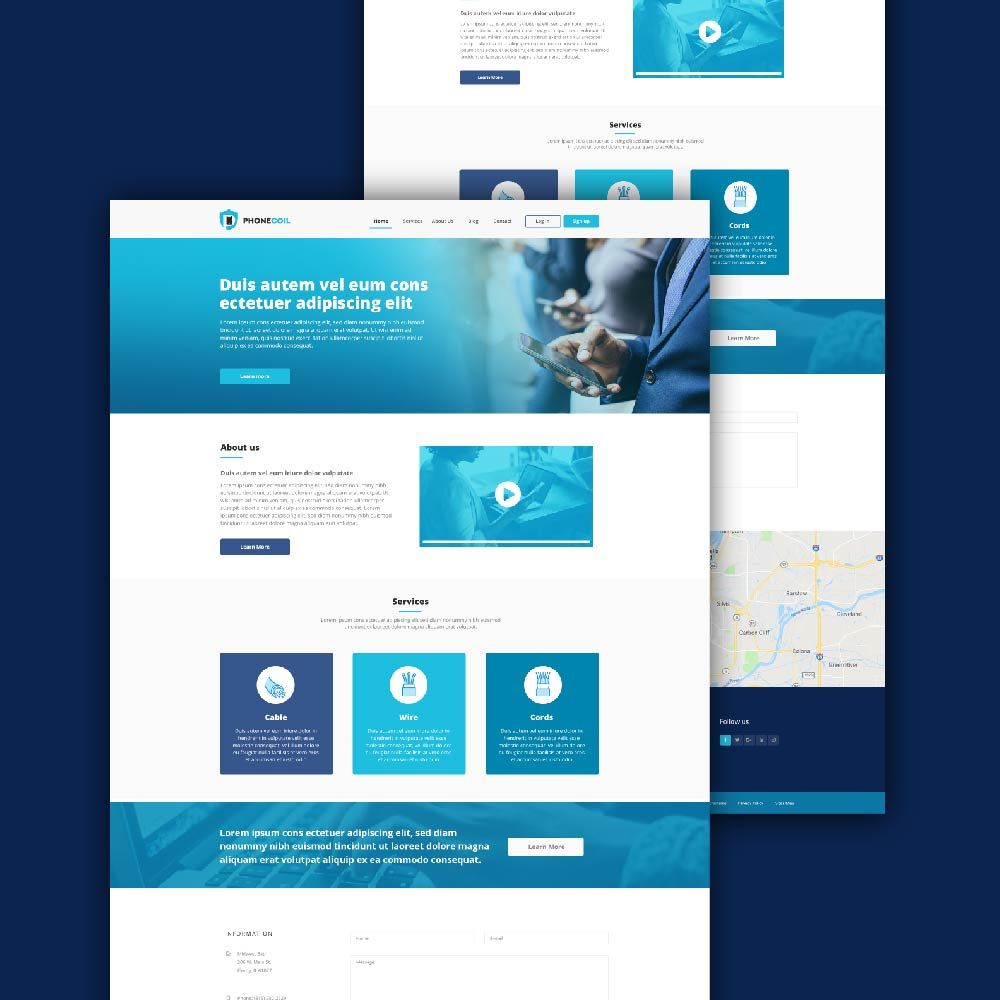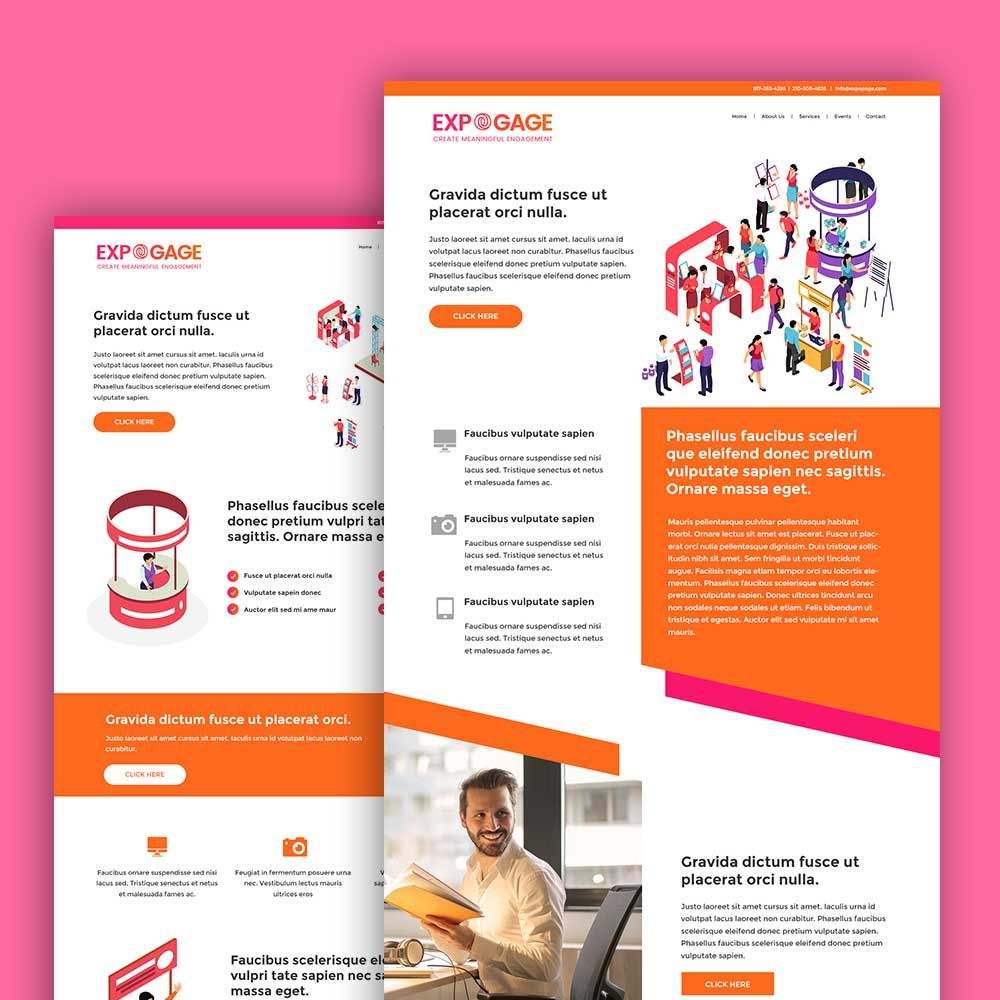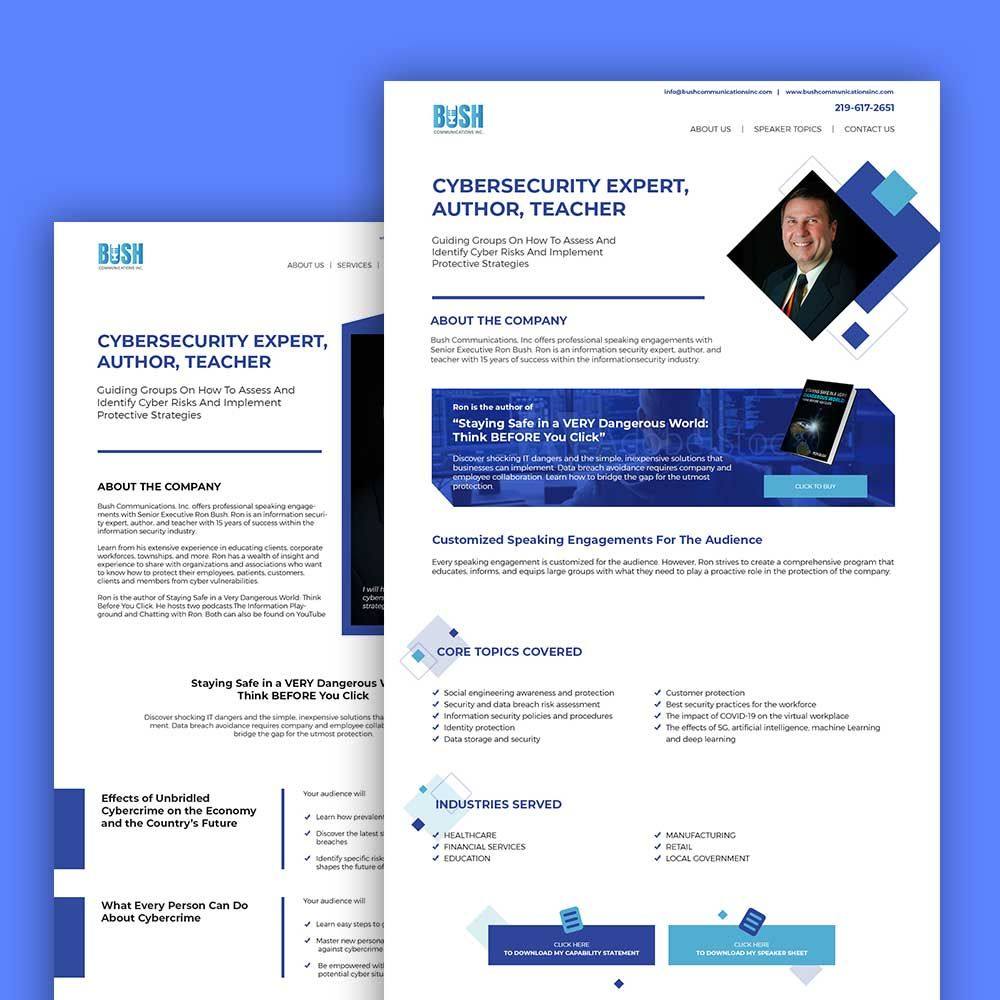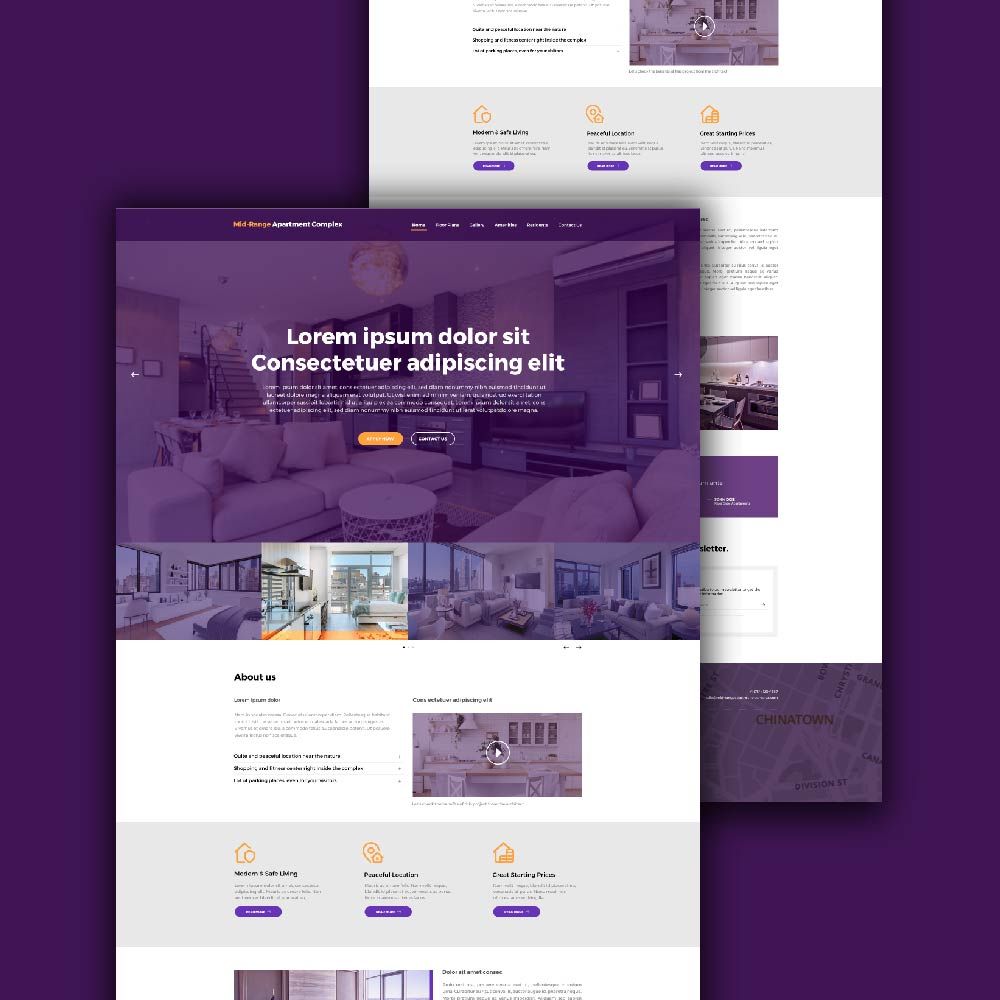 We have the top 2 percent of designers, so you can rest assured that we can help you develop a design that puts your brand in the best light.
Sign up now by clicking this link to enjoy 15% off the first month of any plan. And the best part? You can try any of our packages risk-free for 15 days.